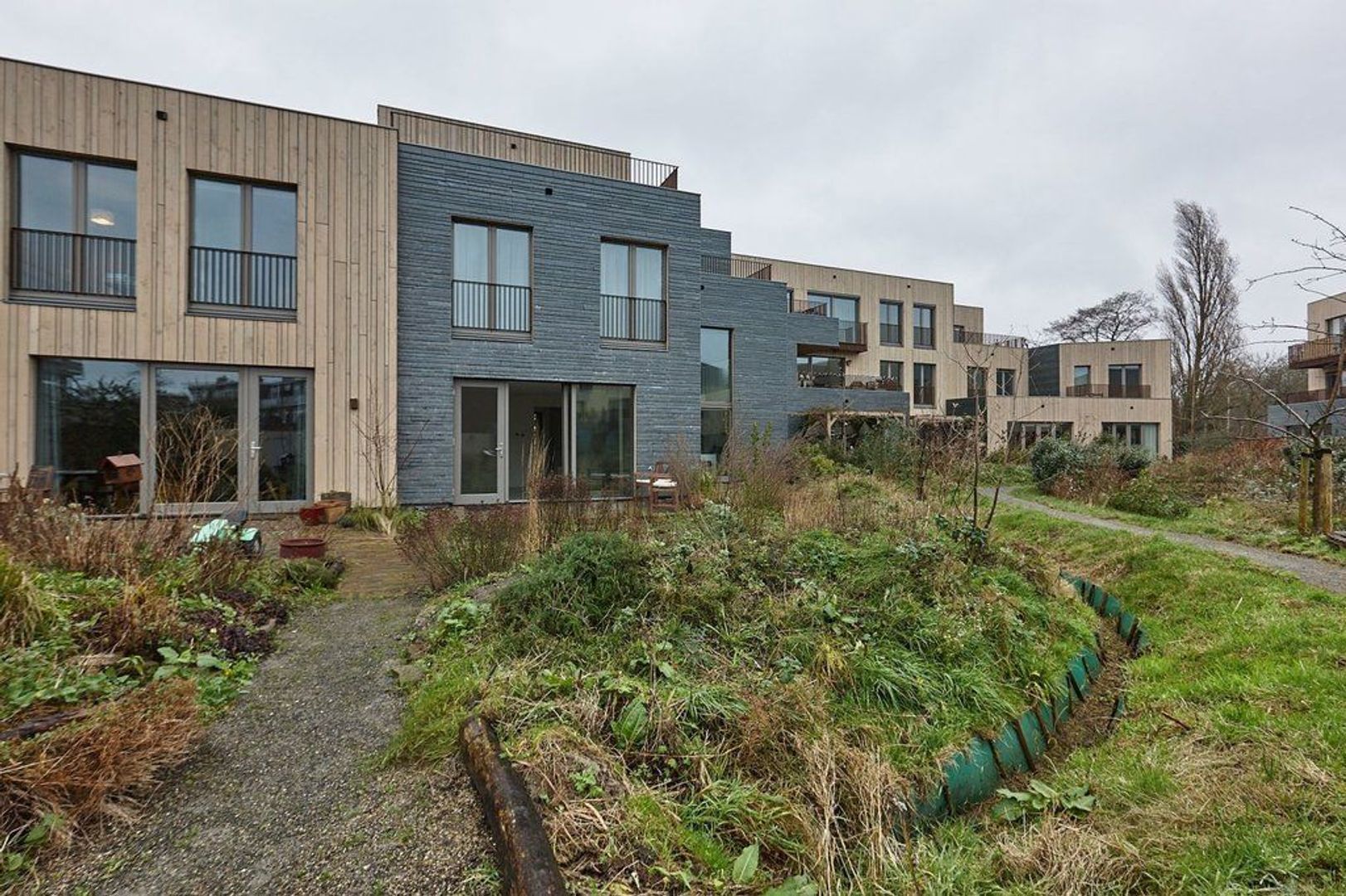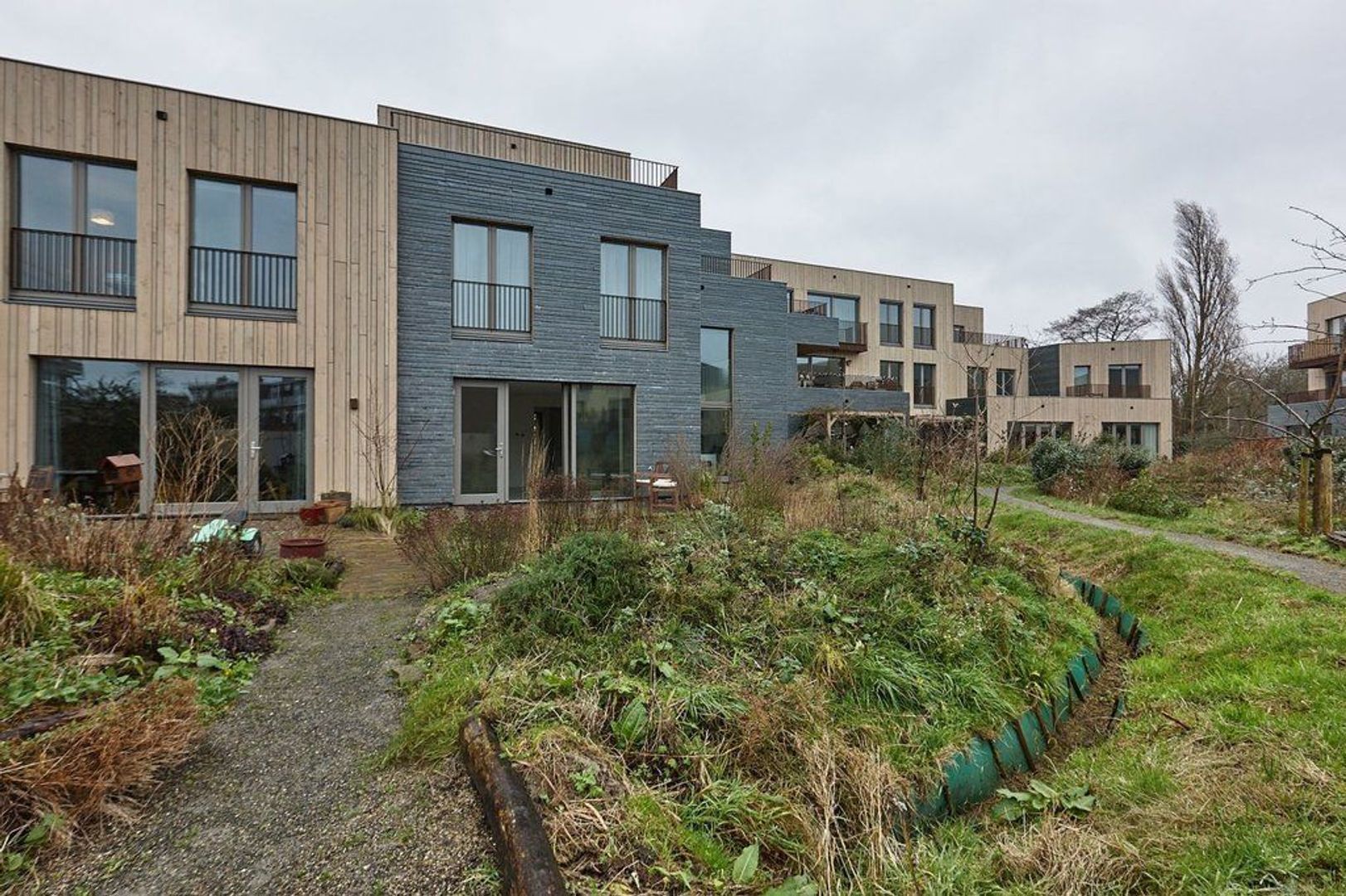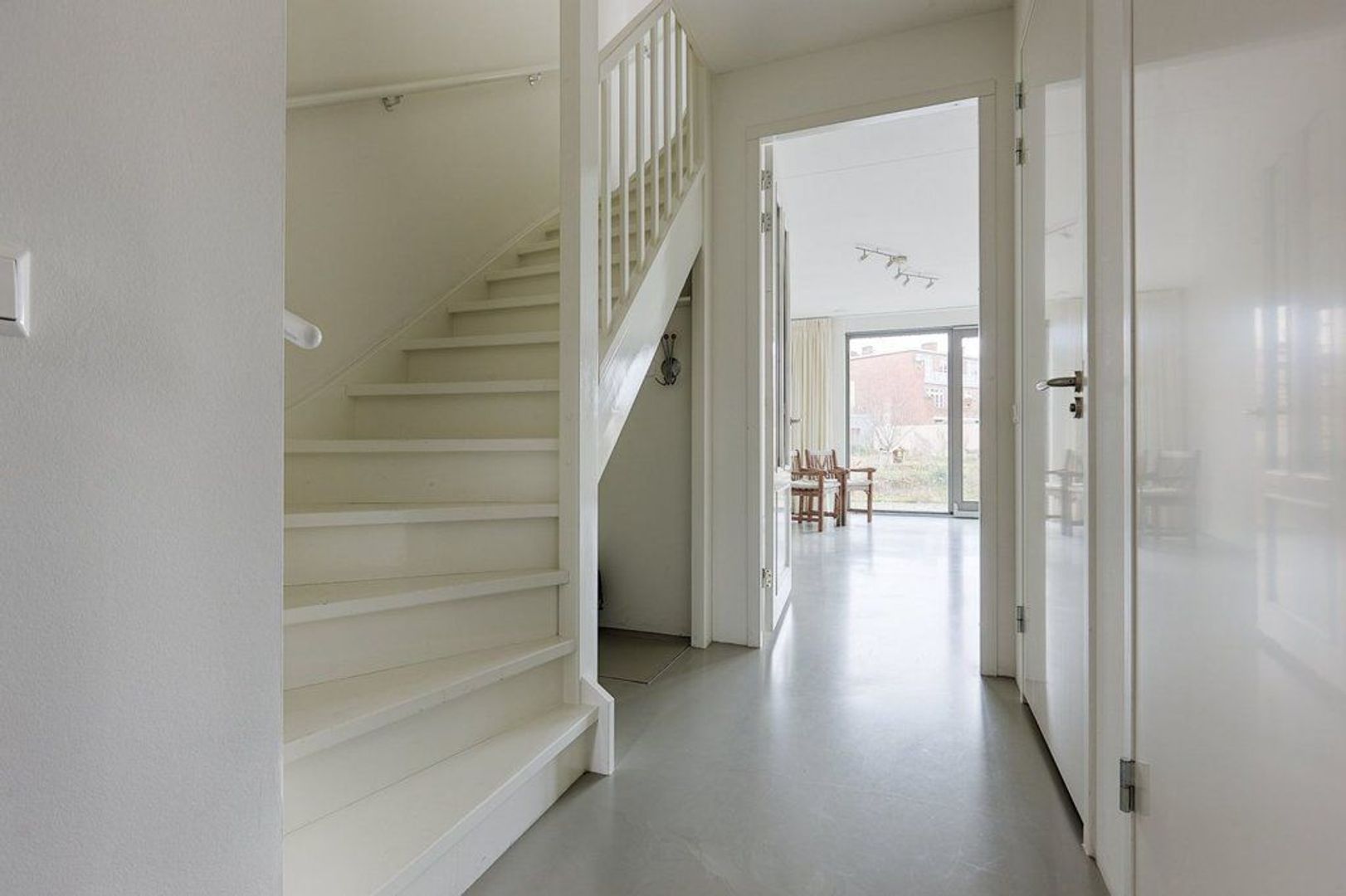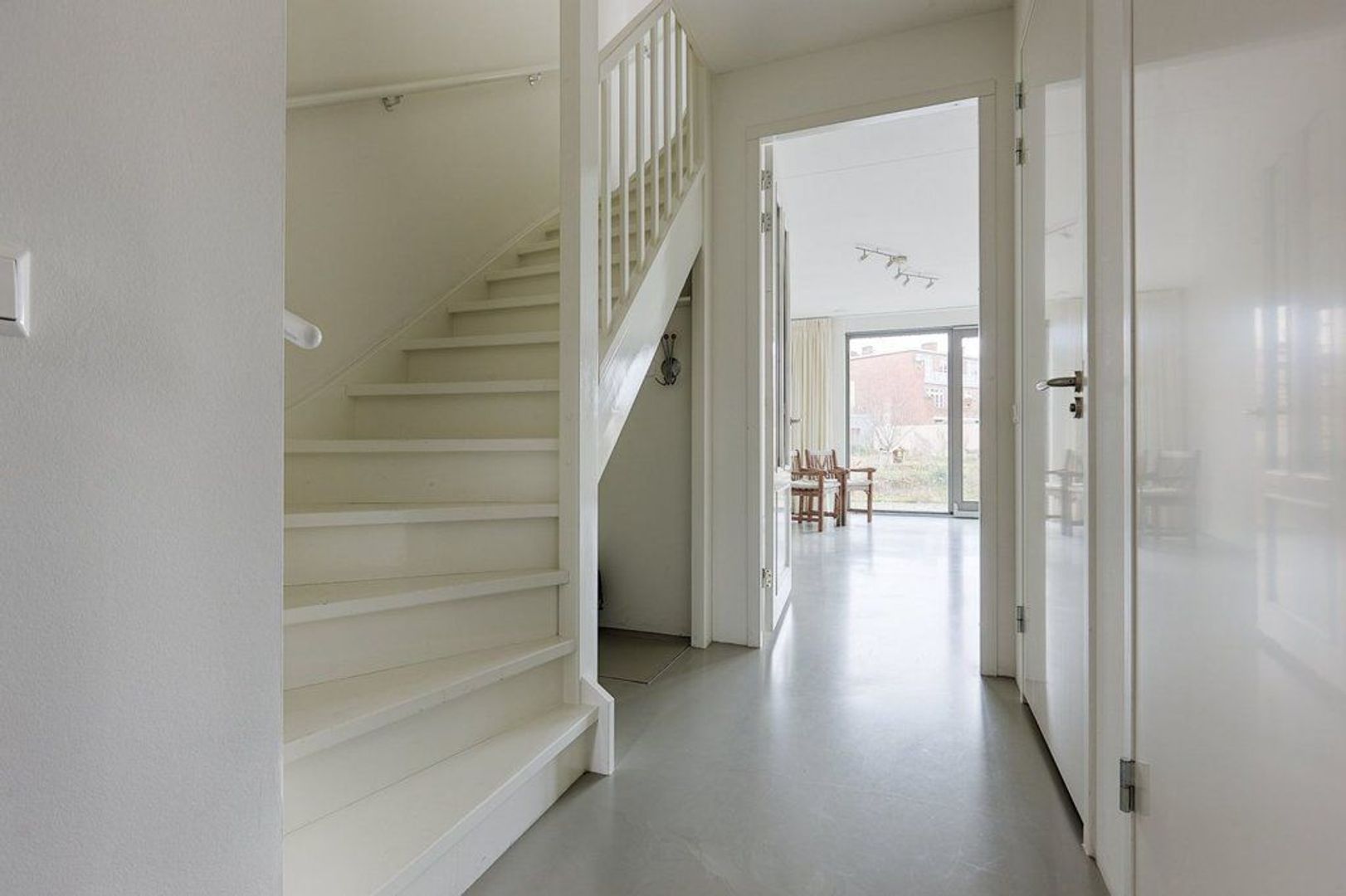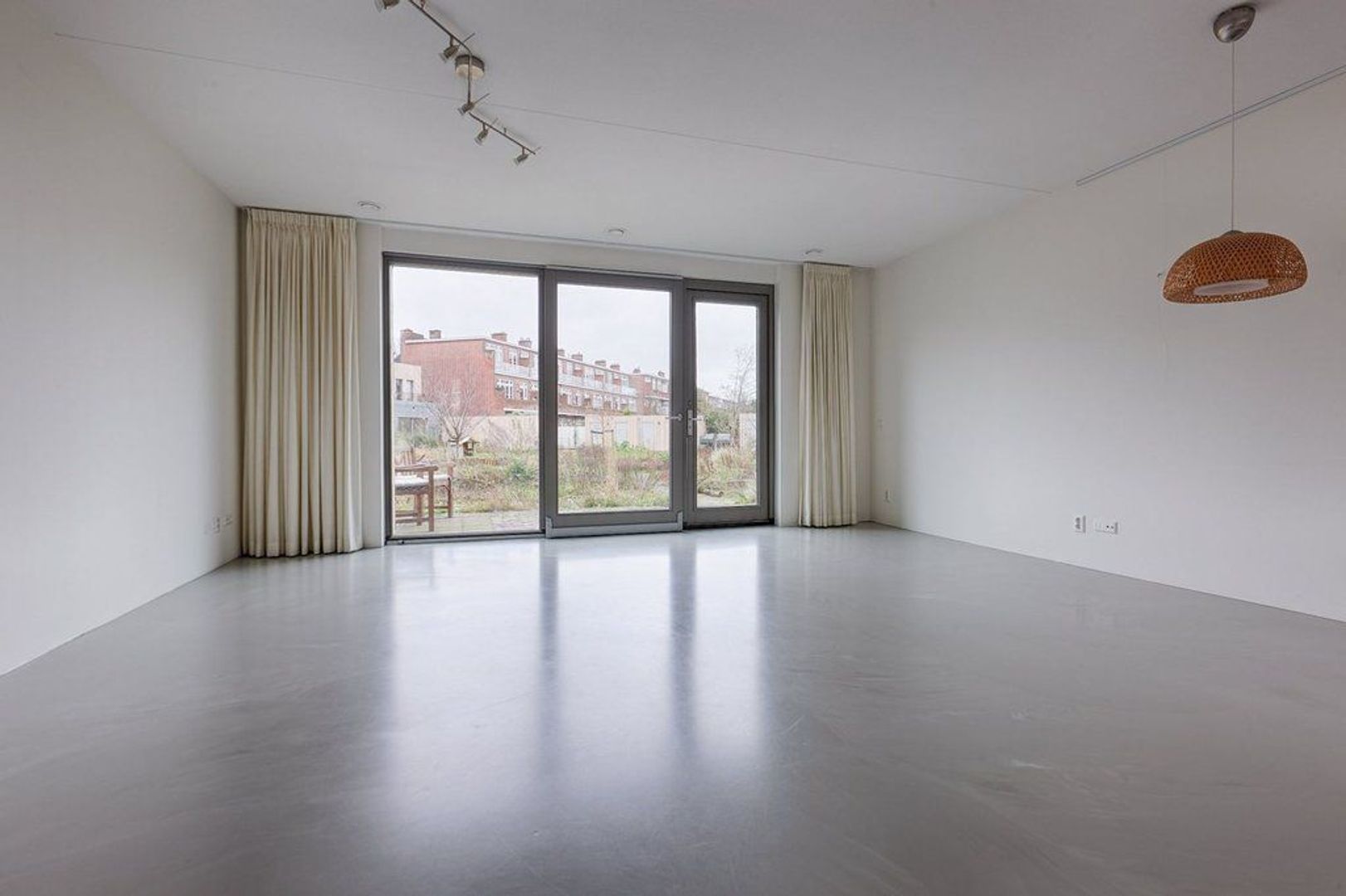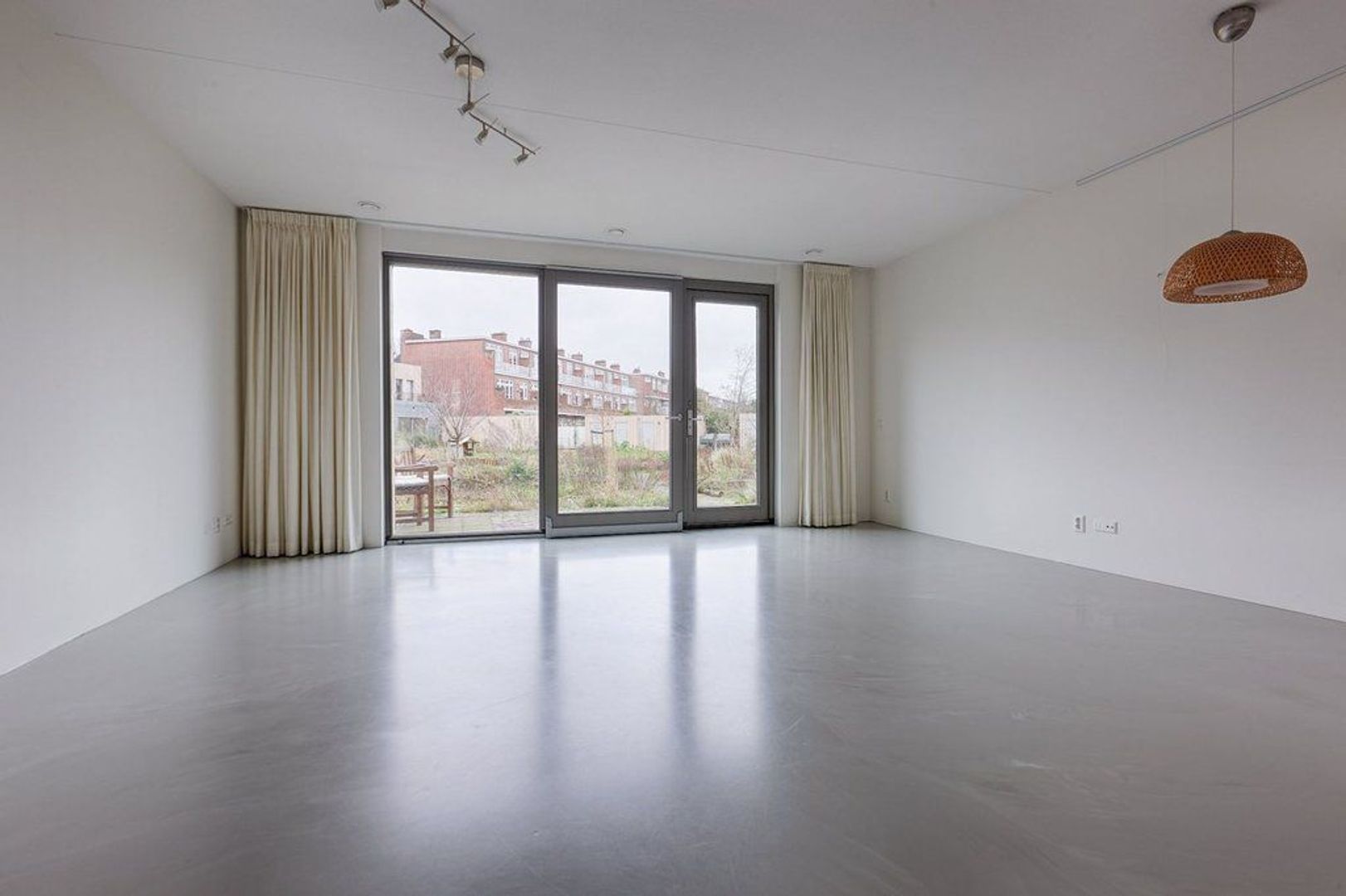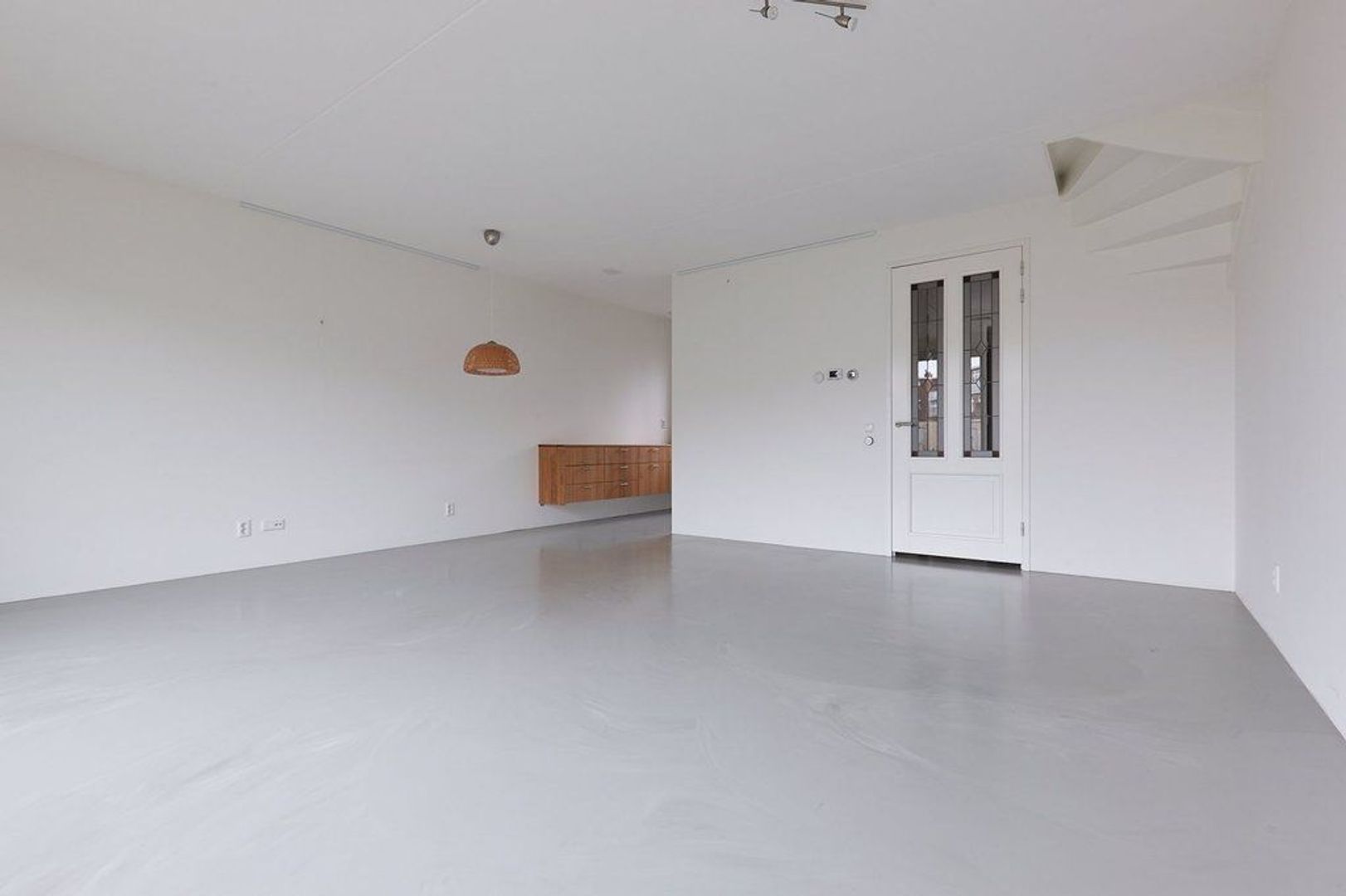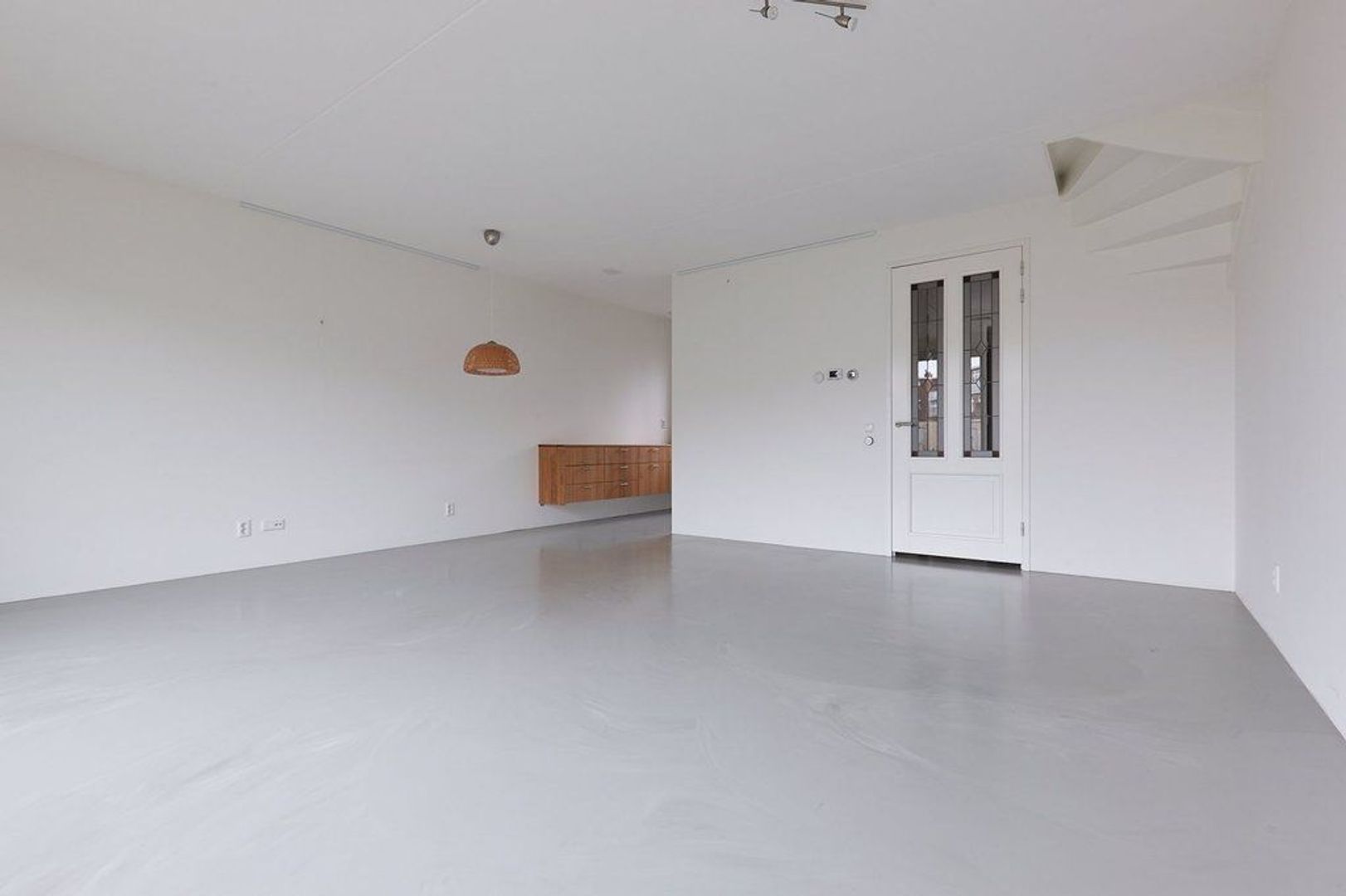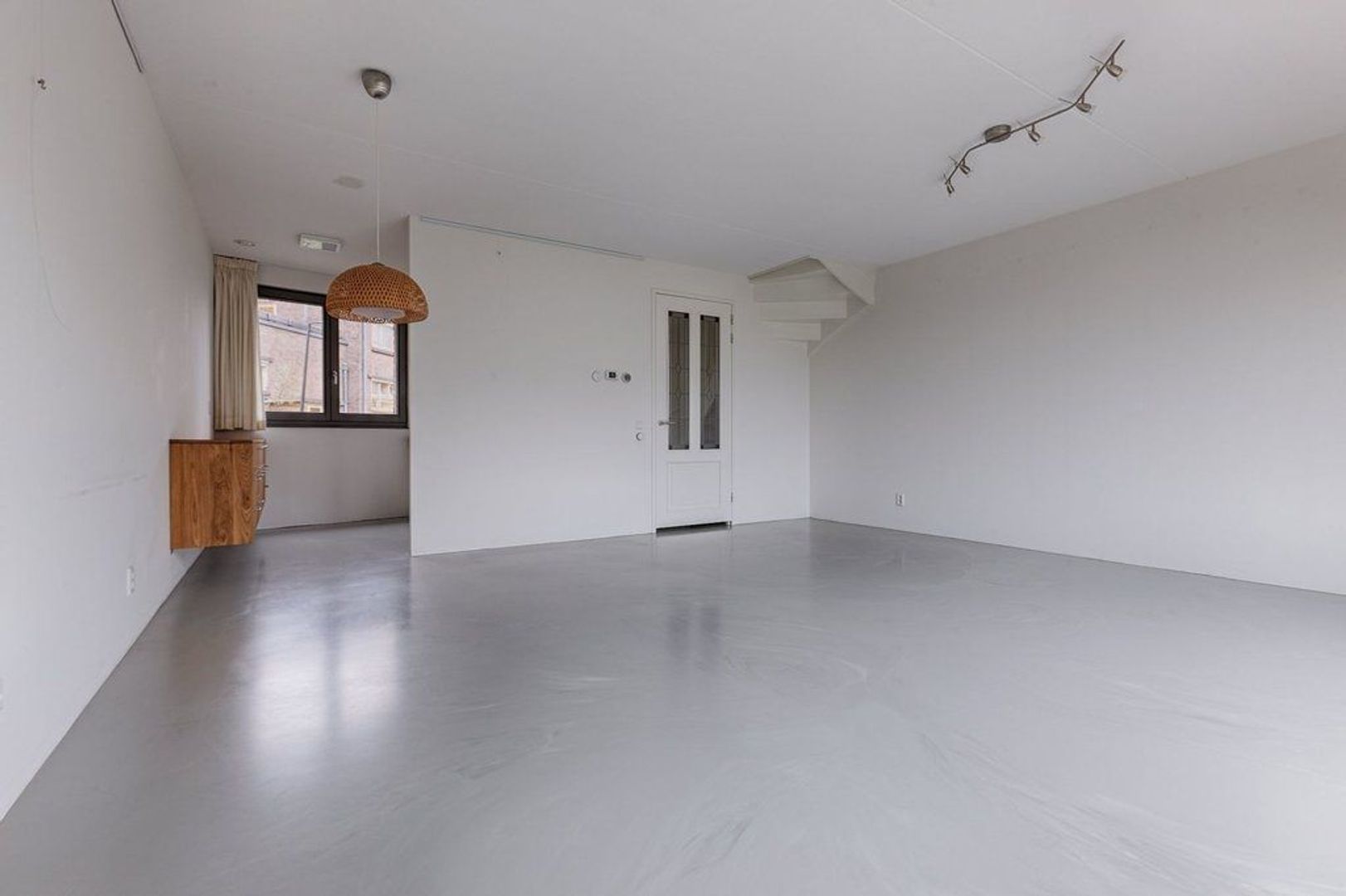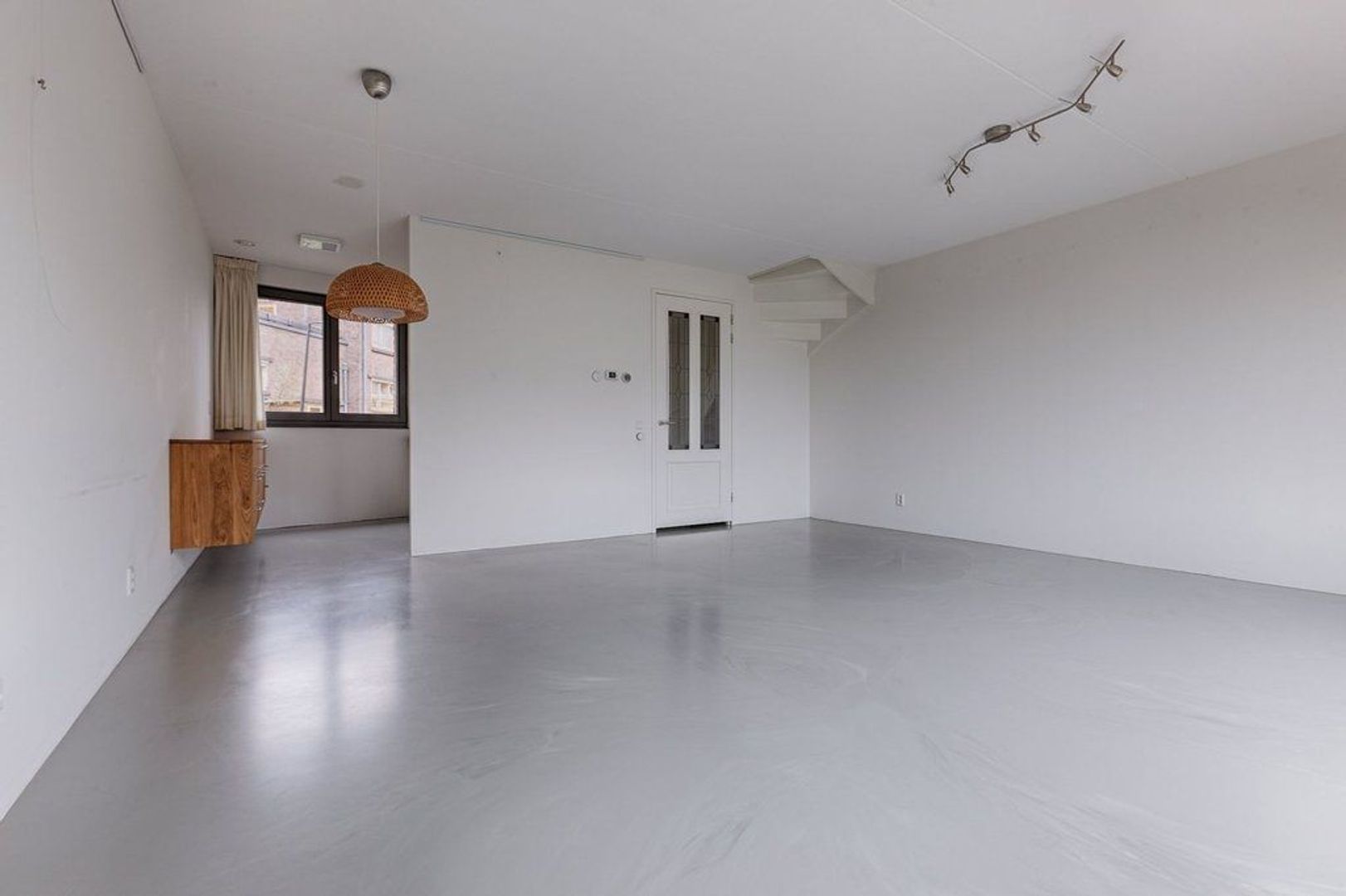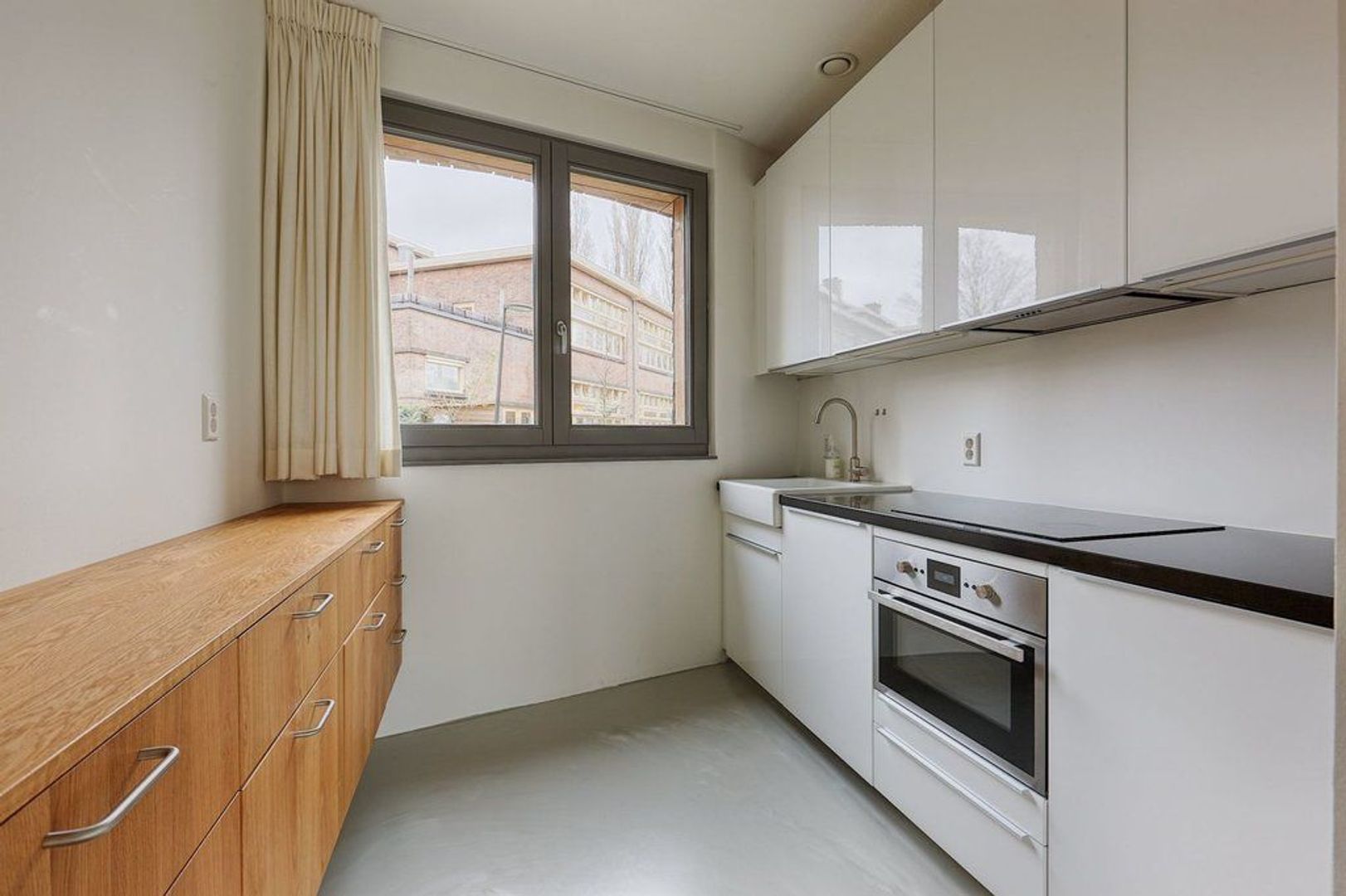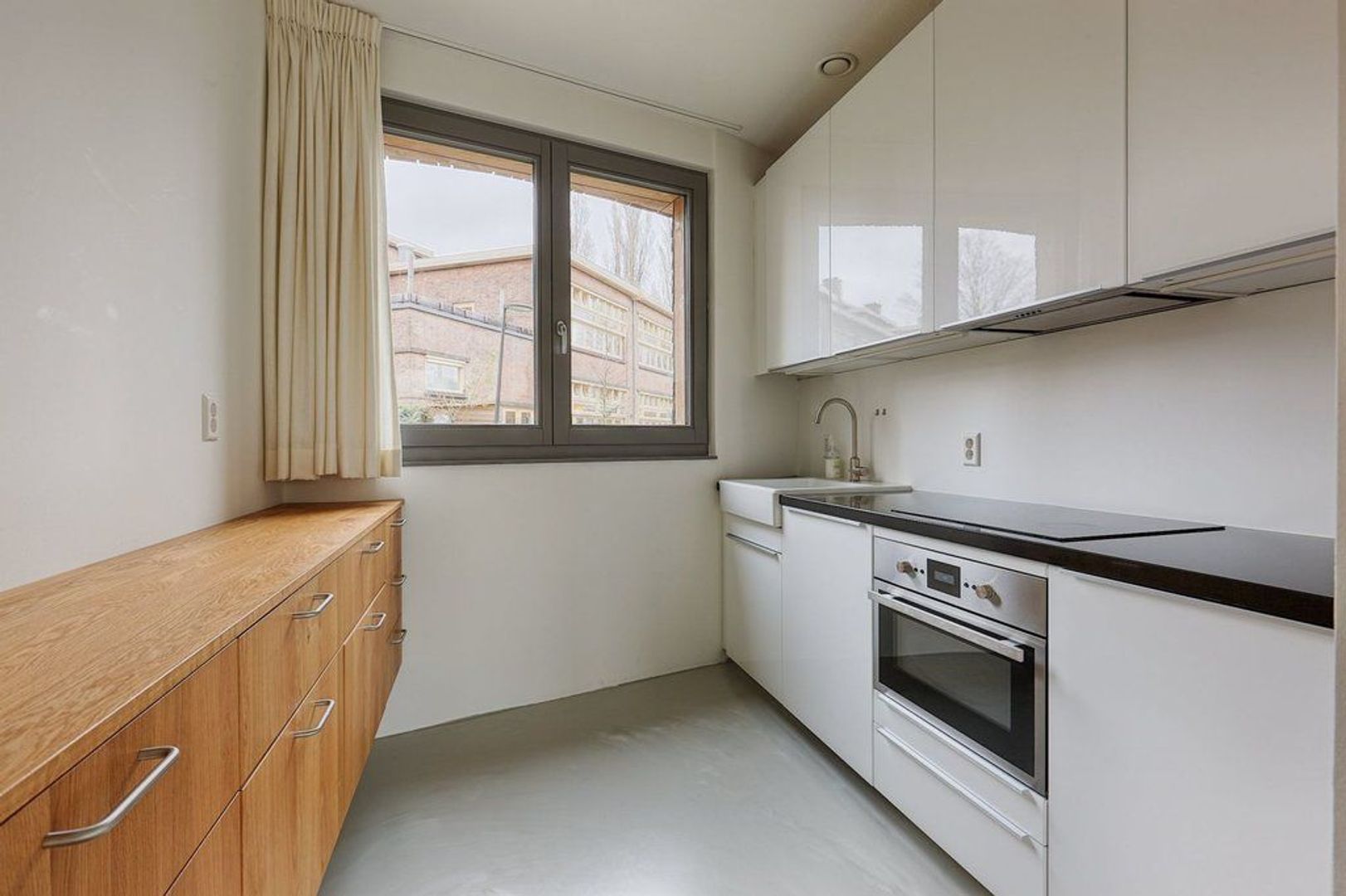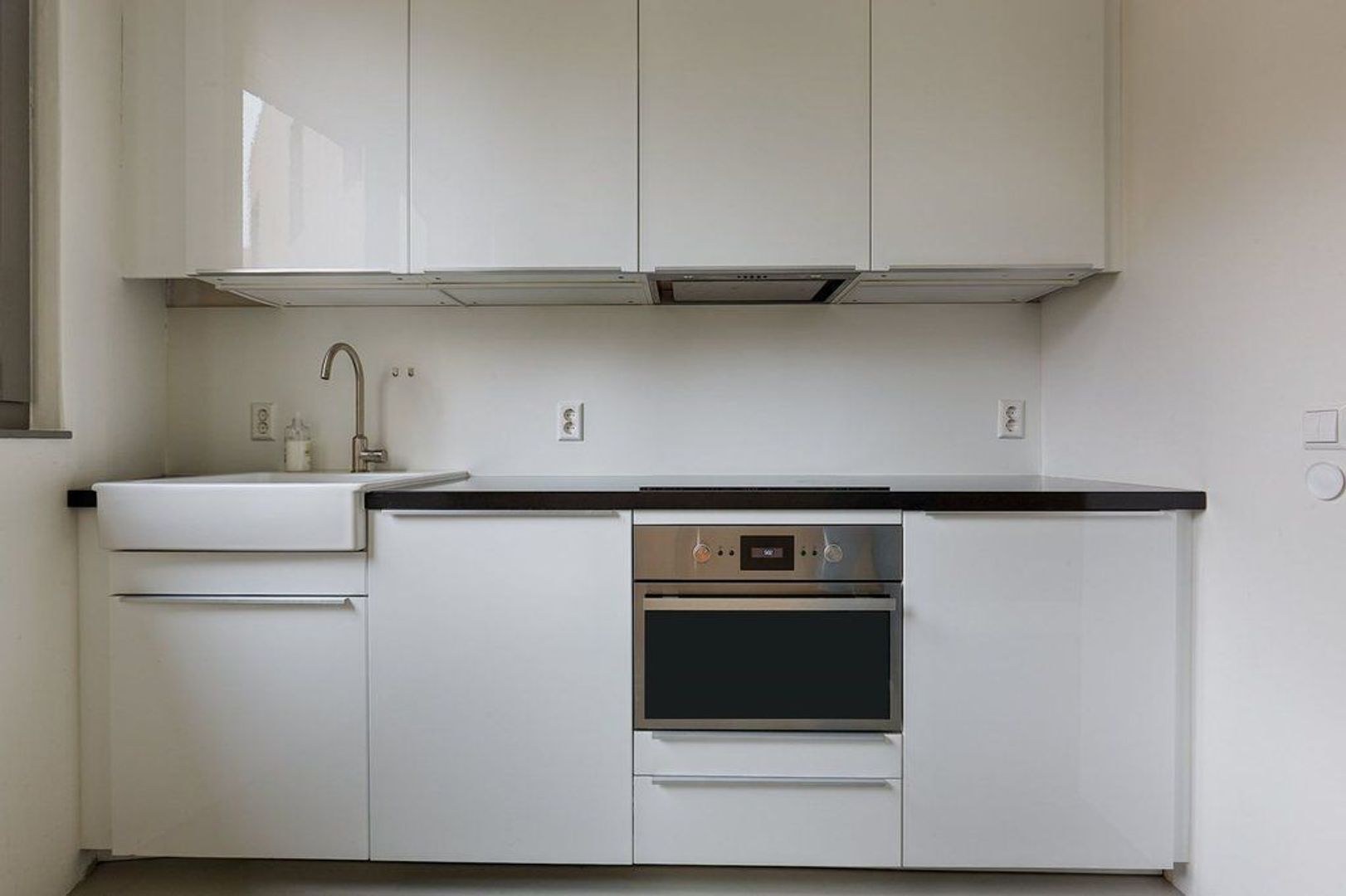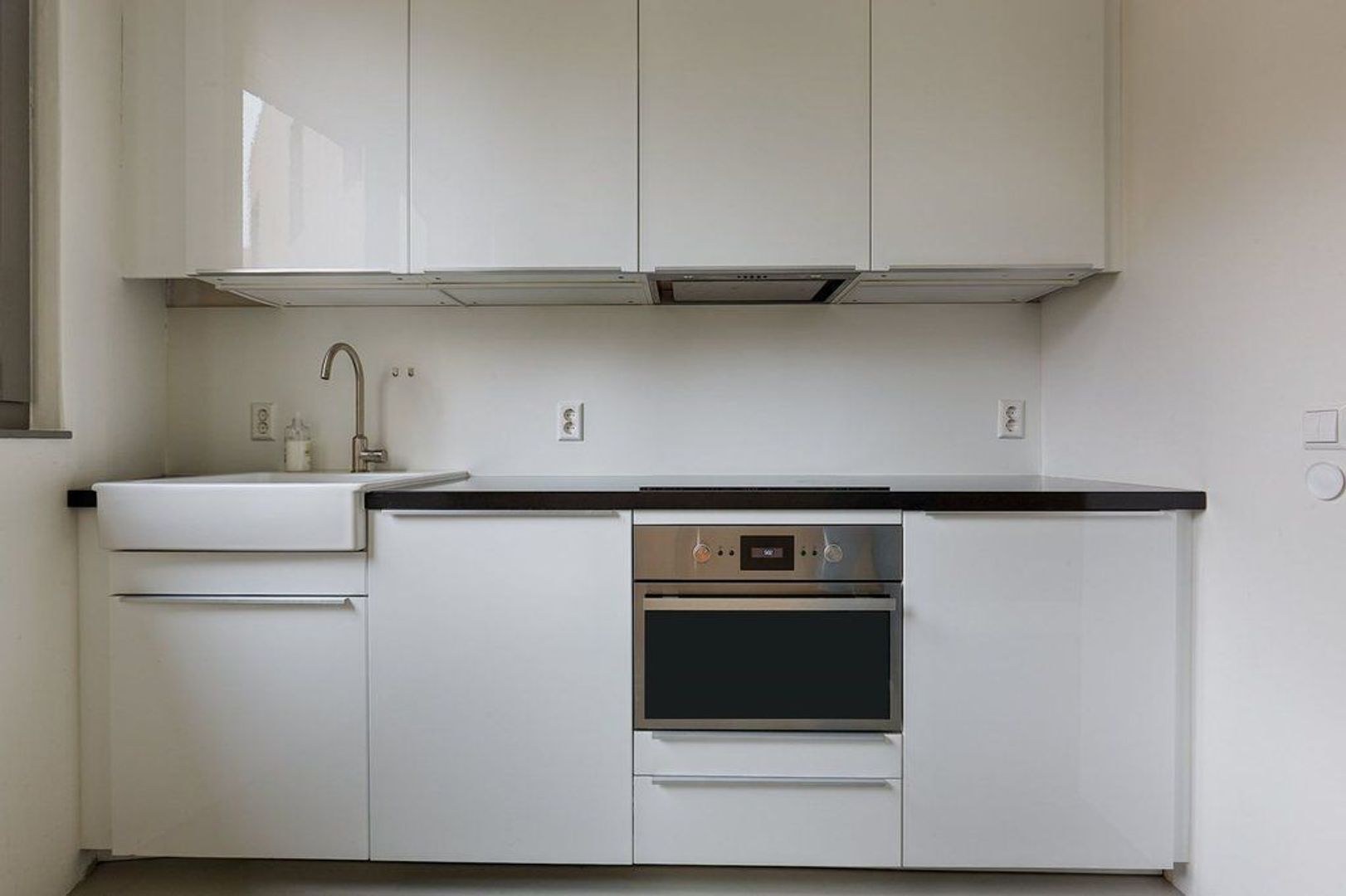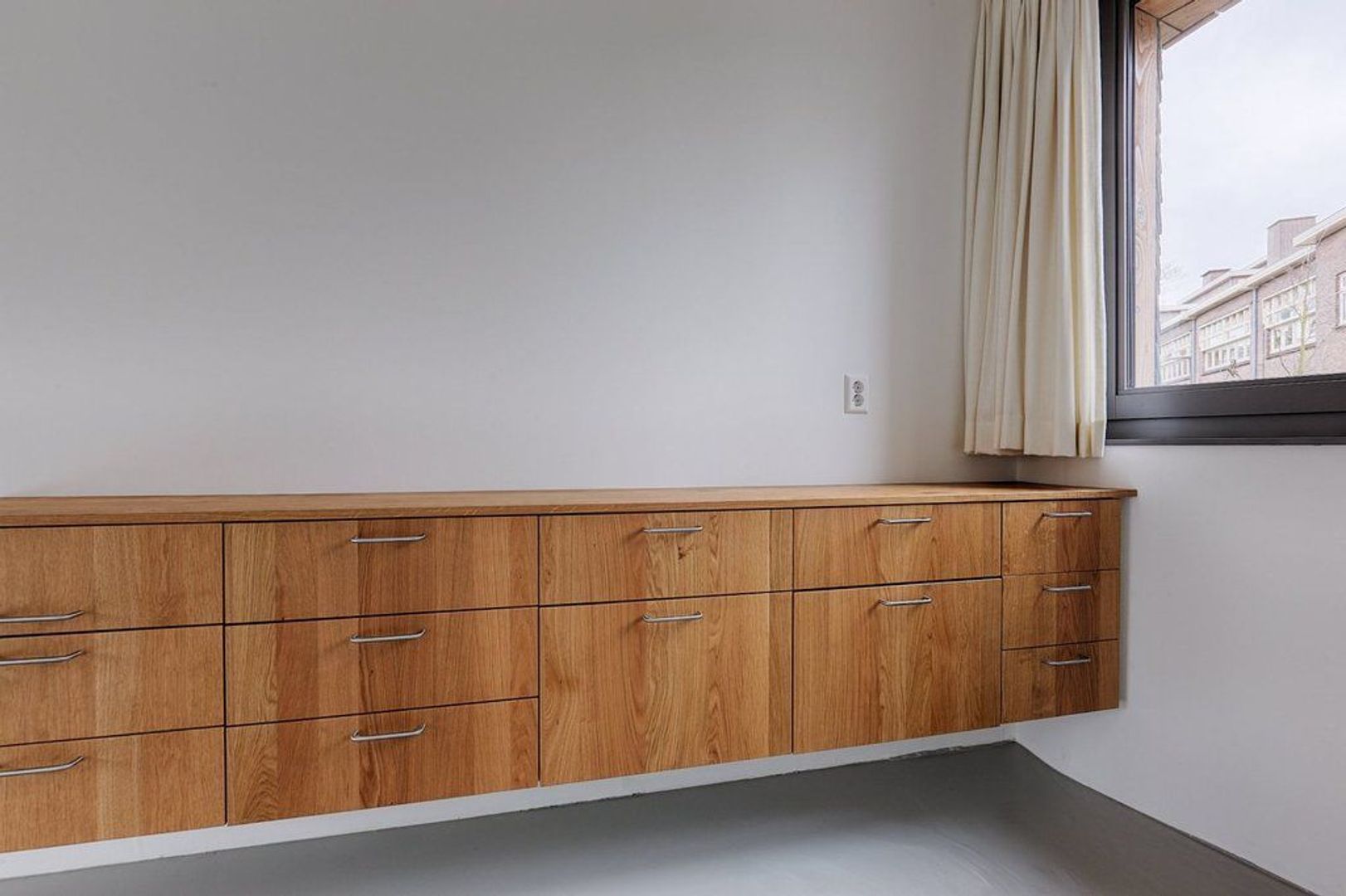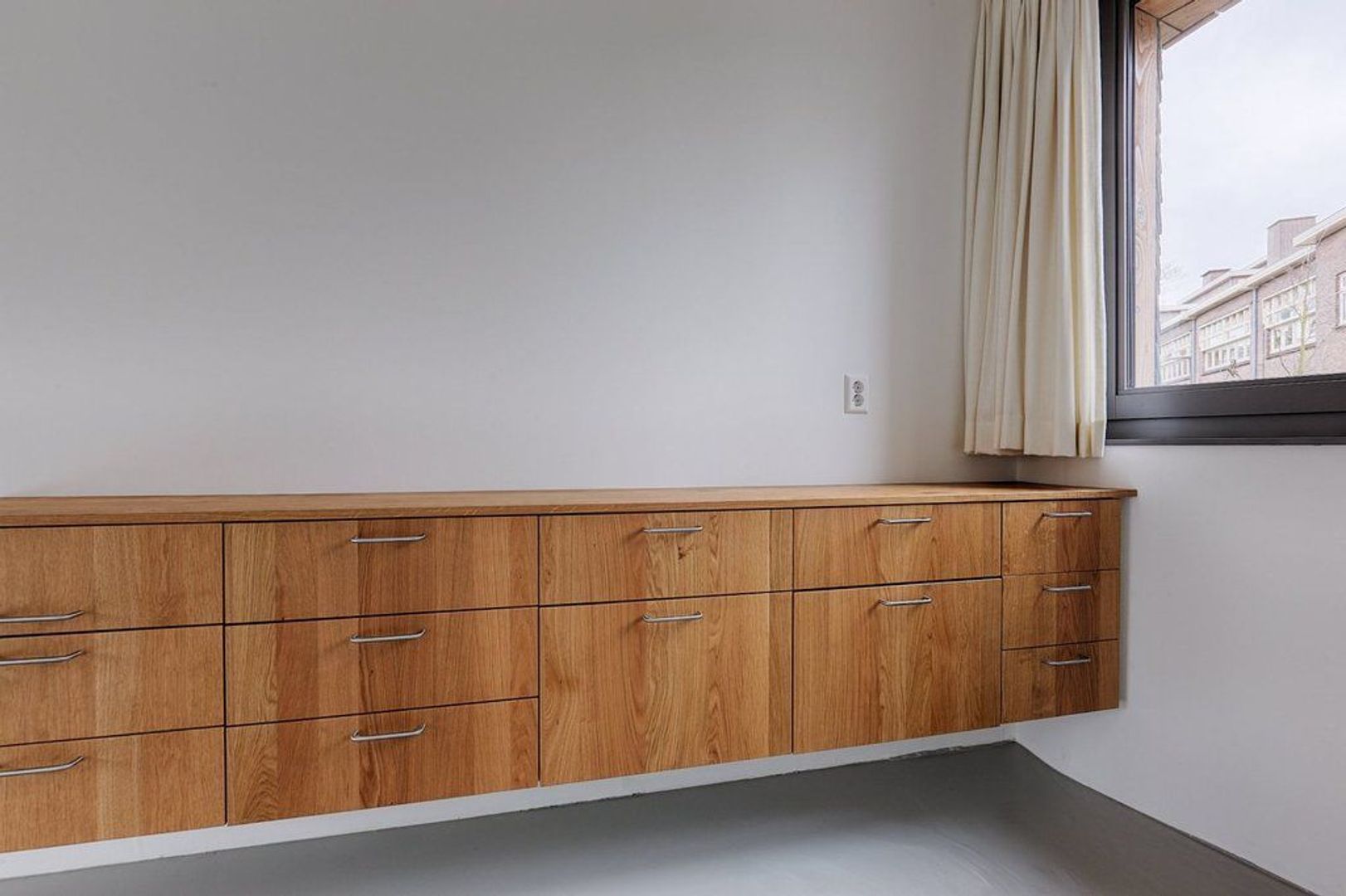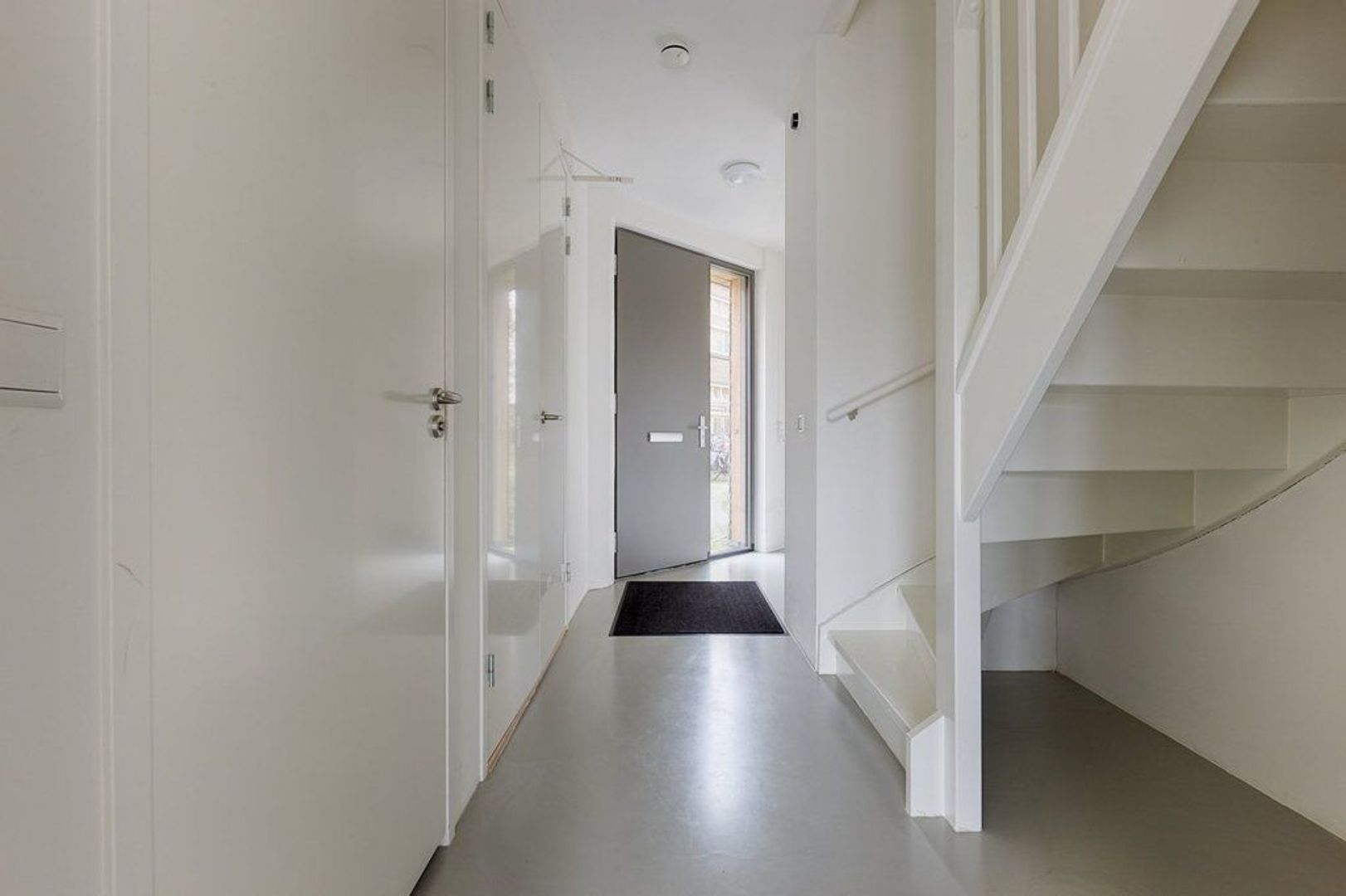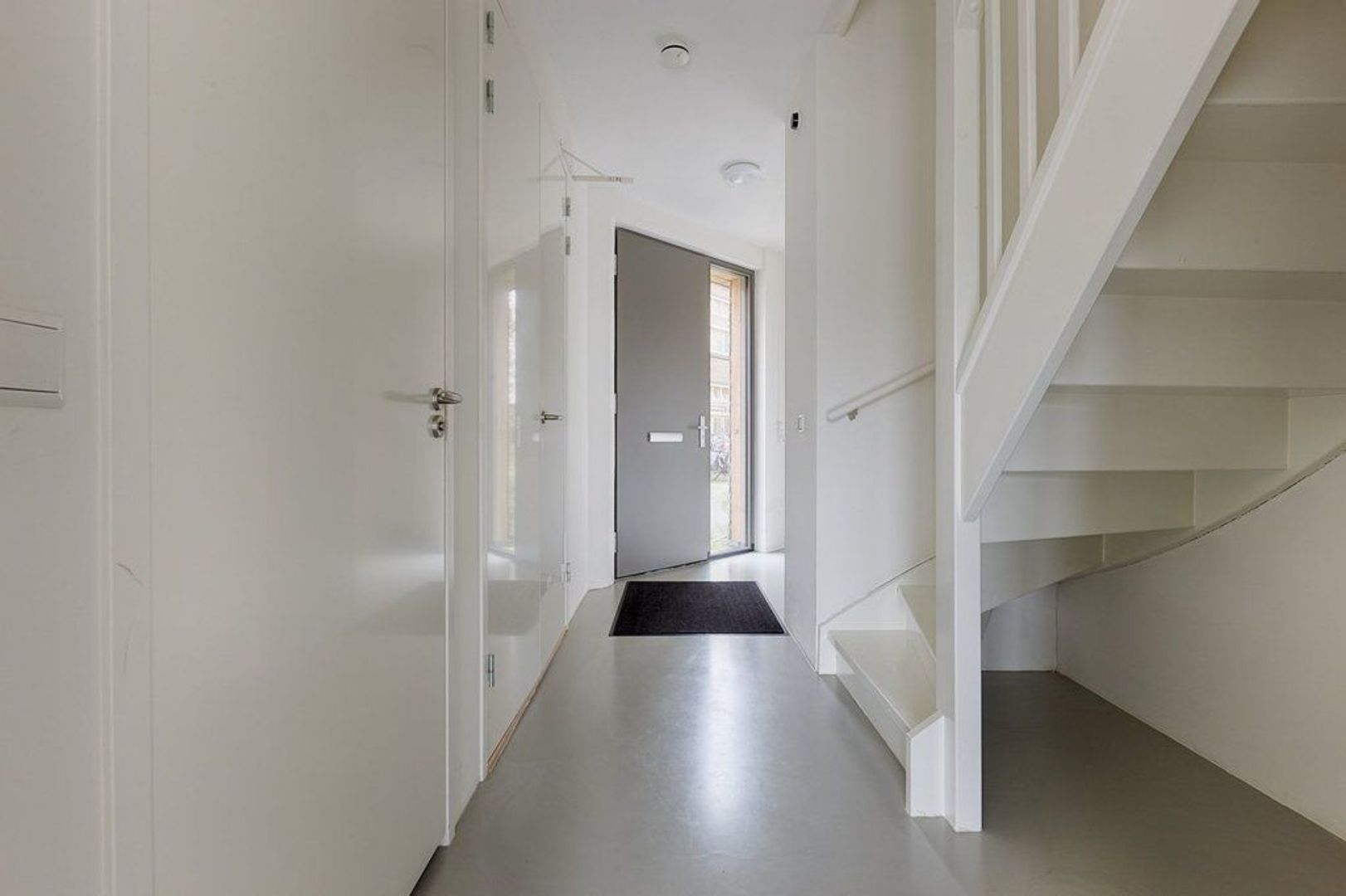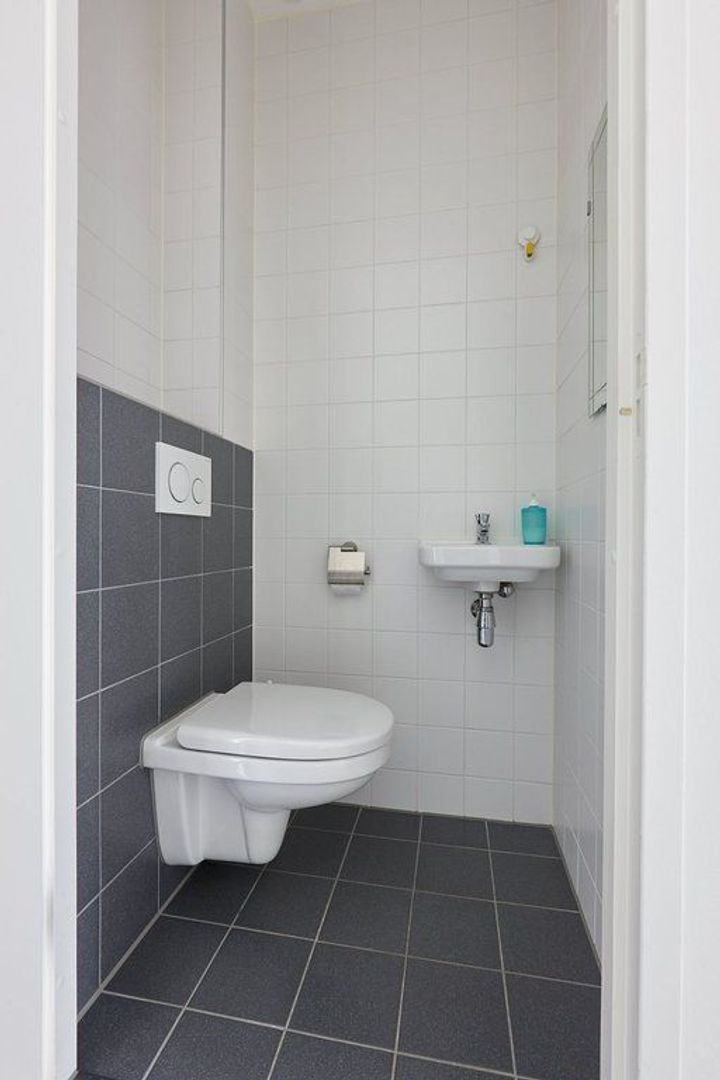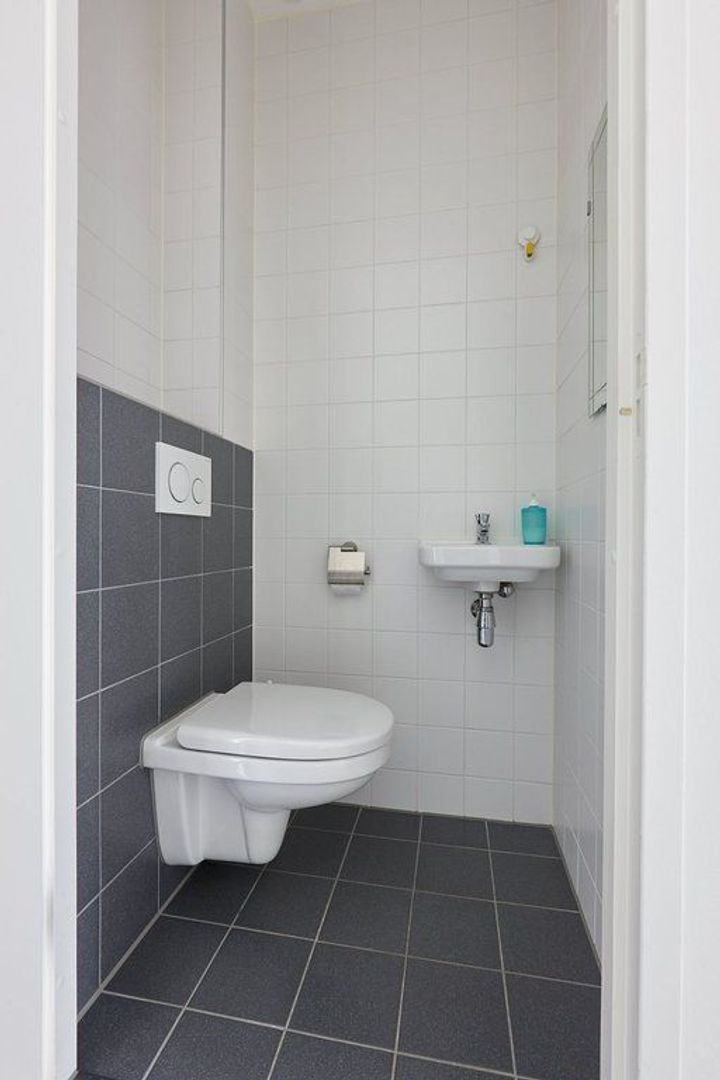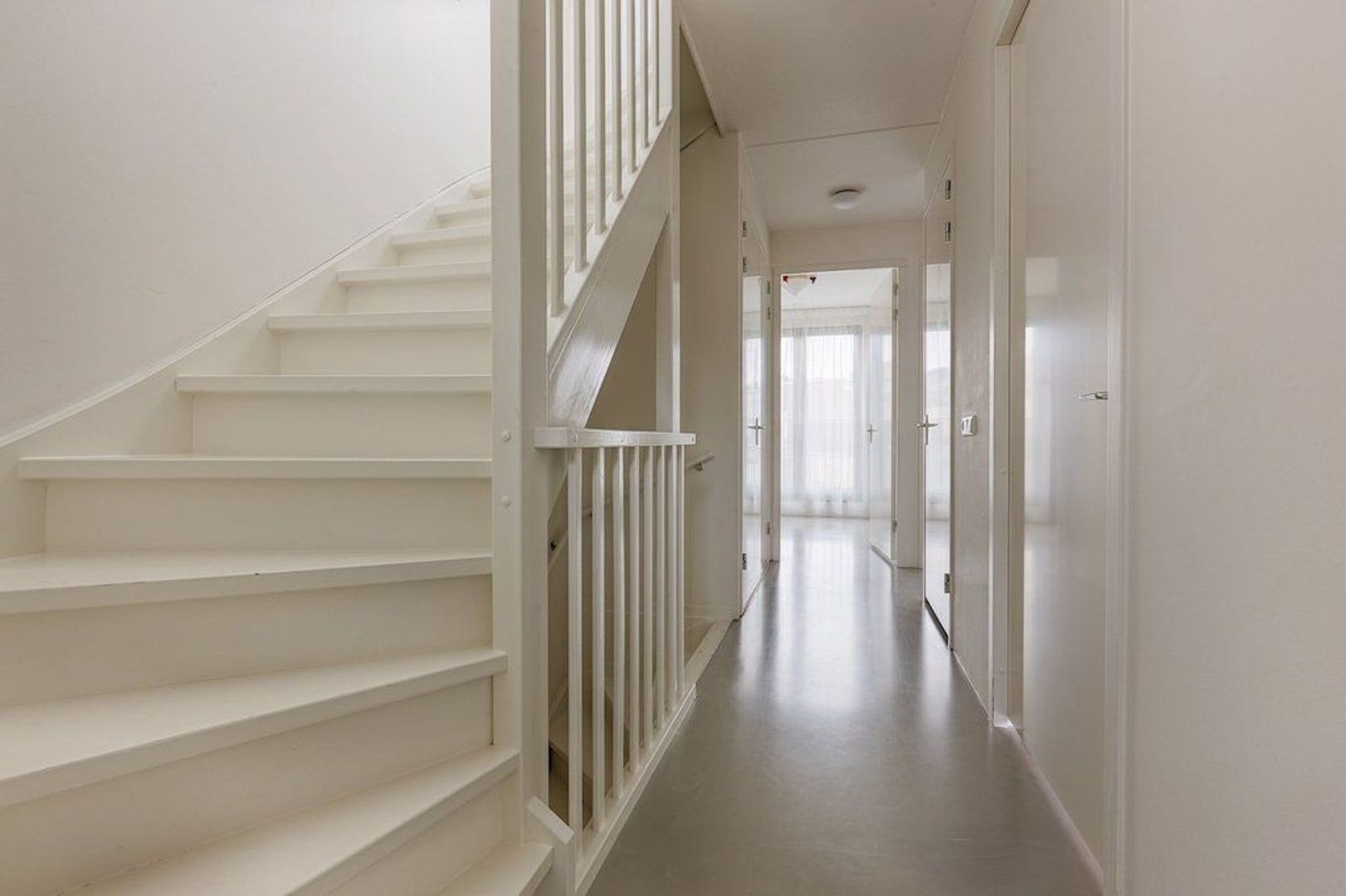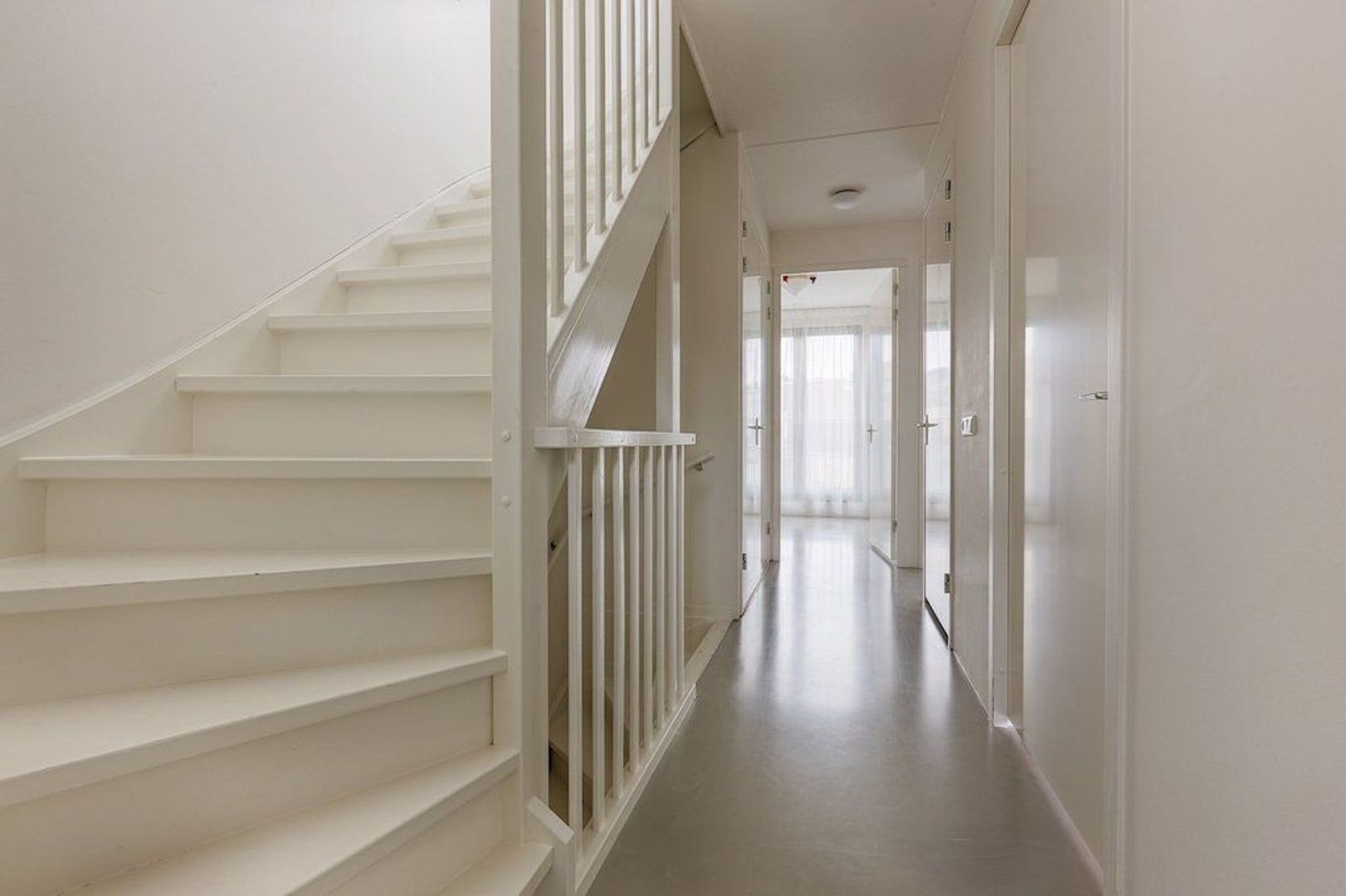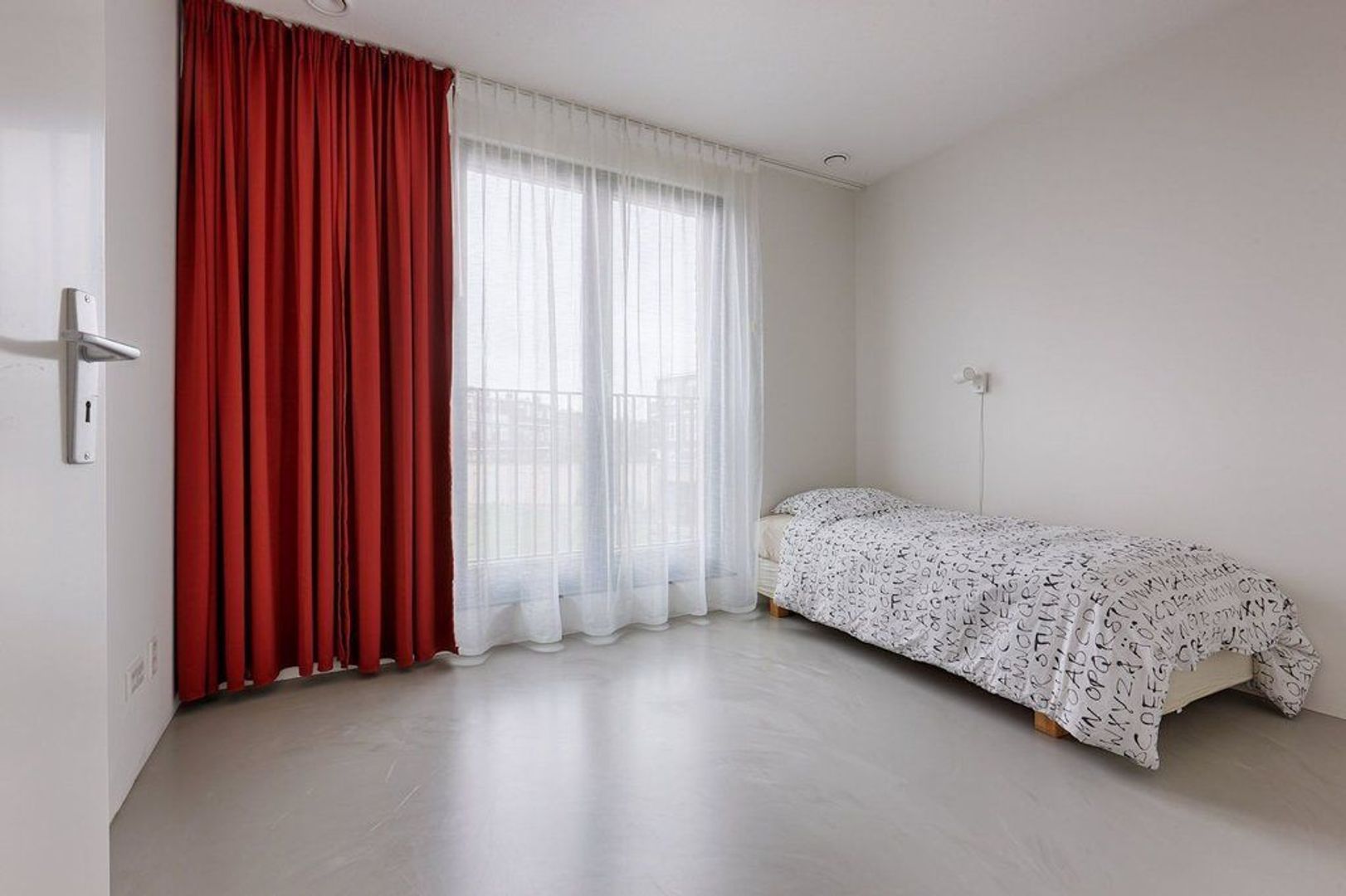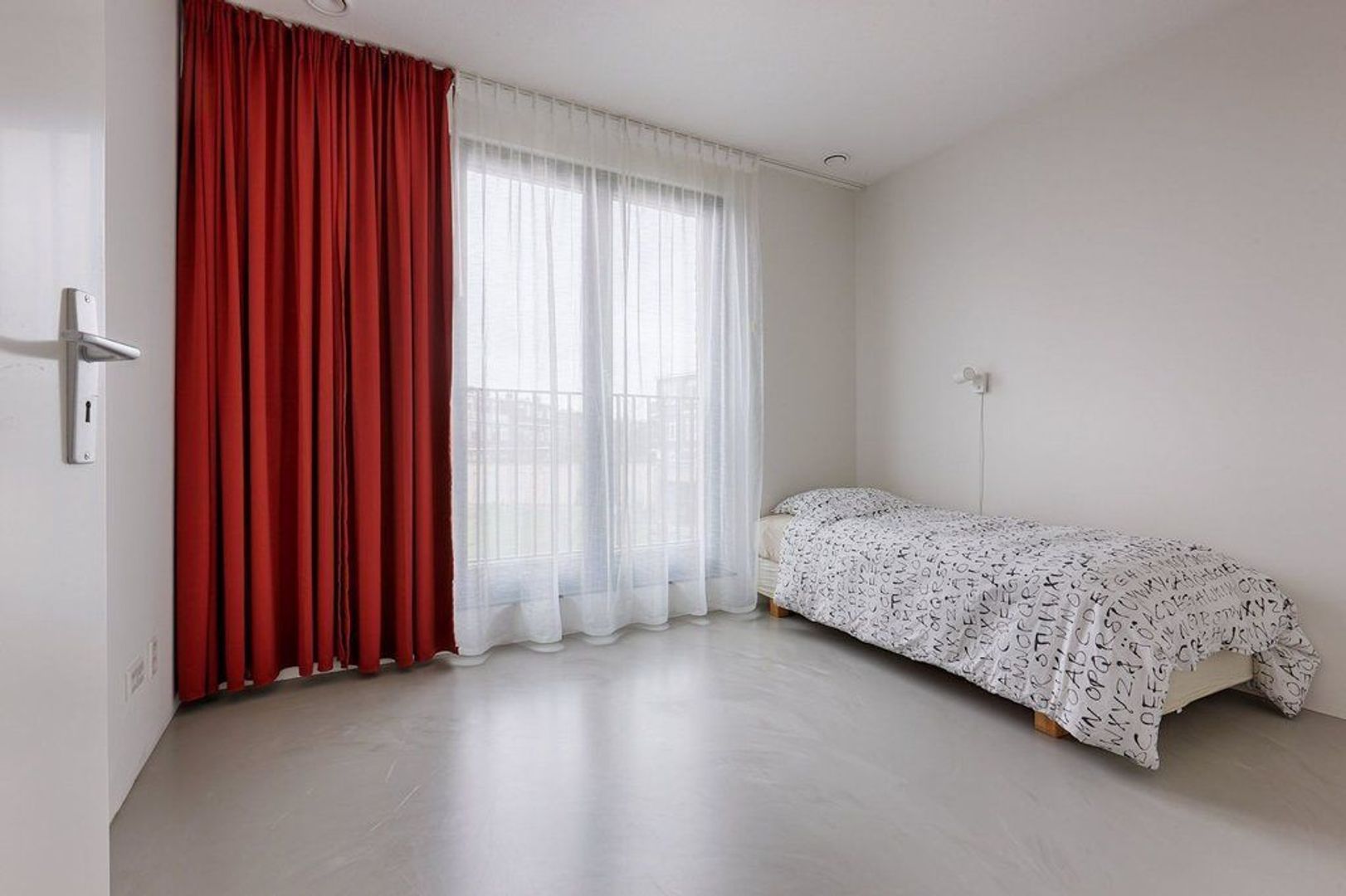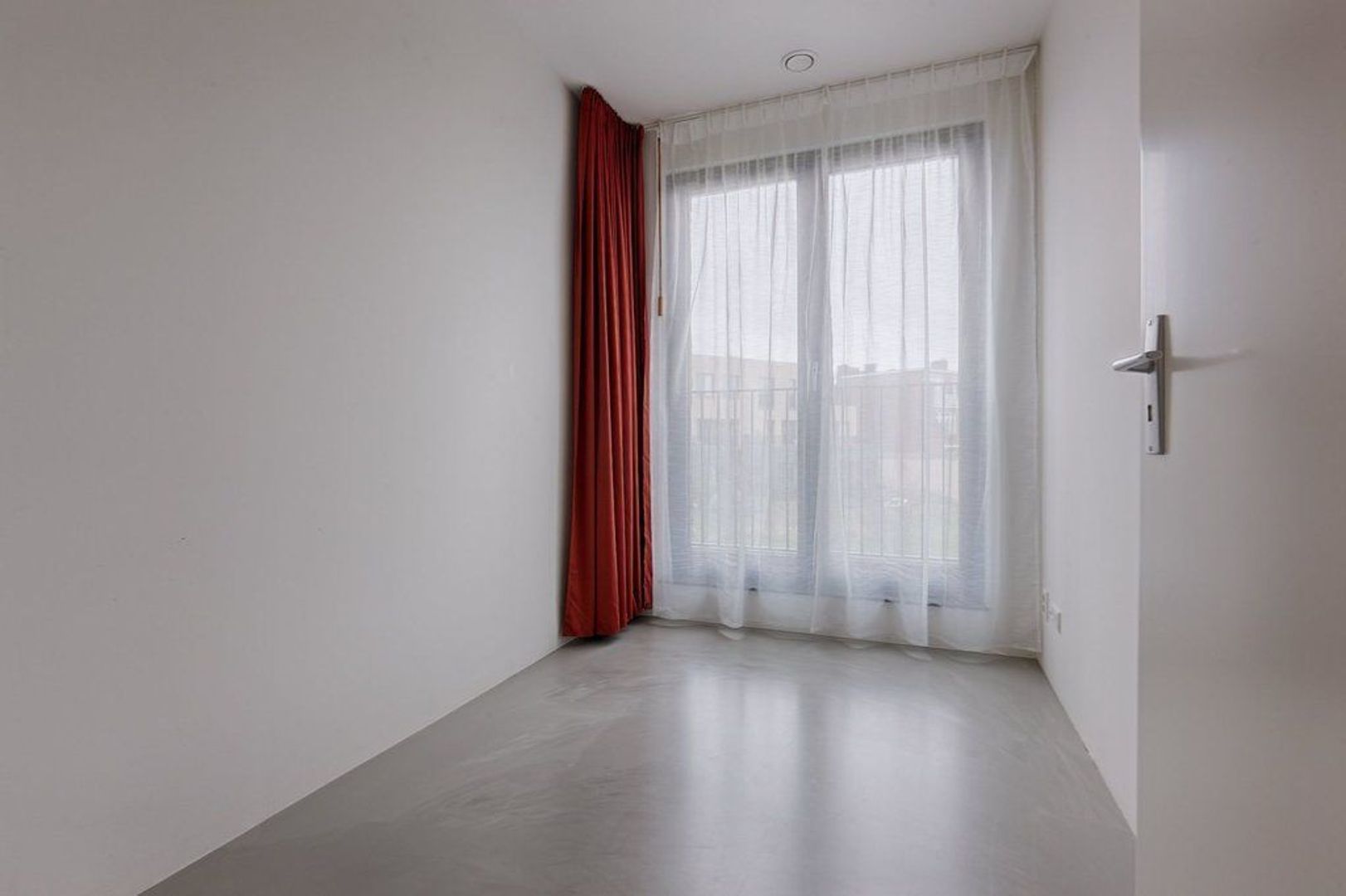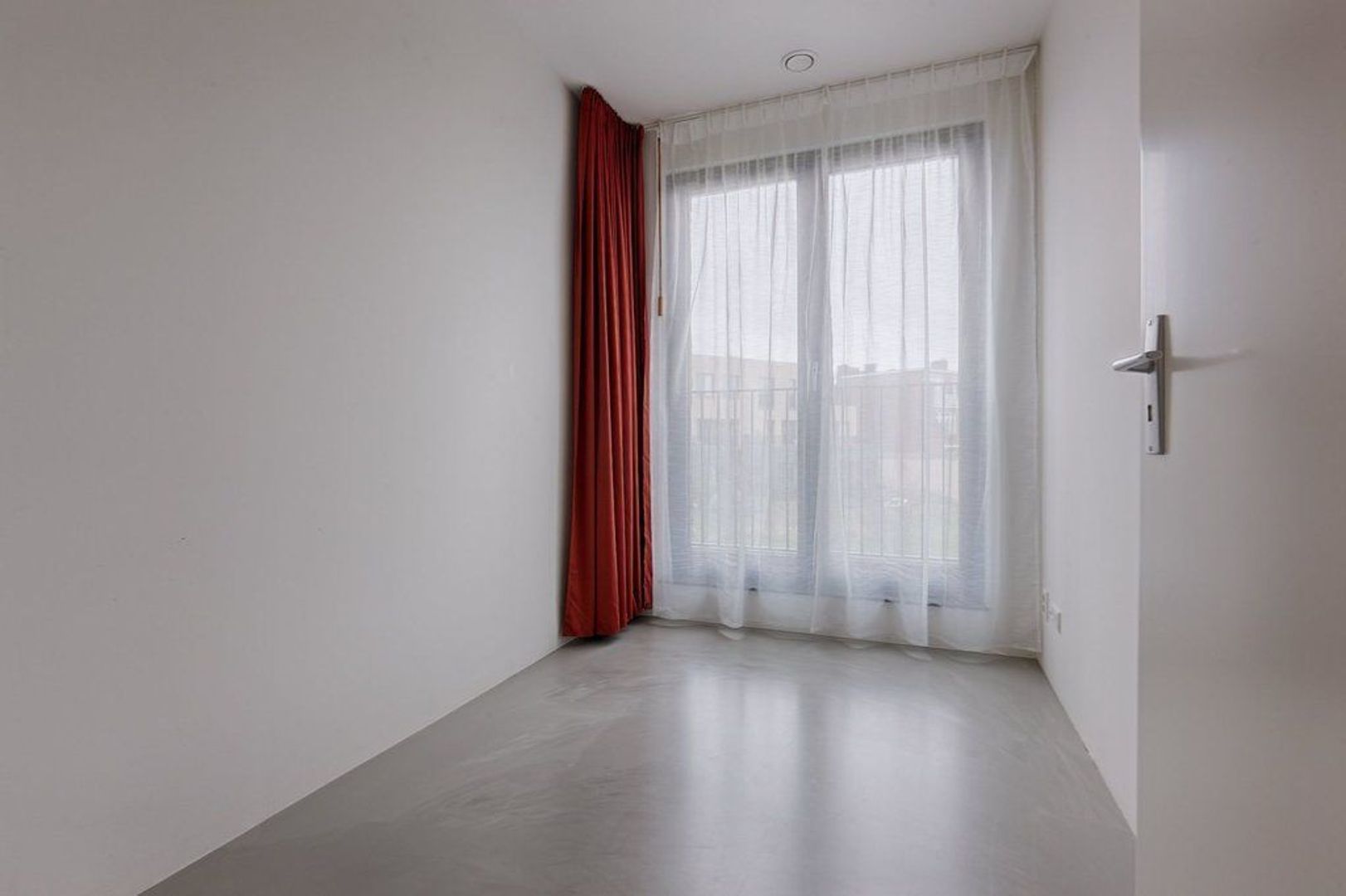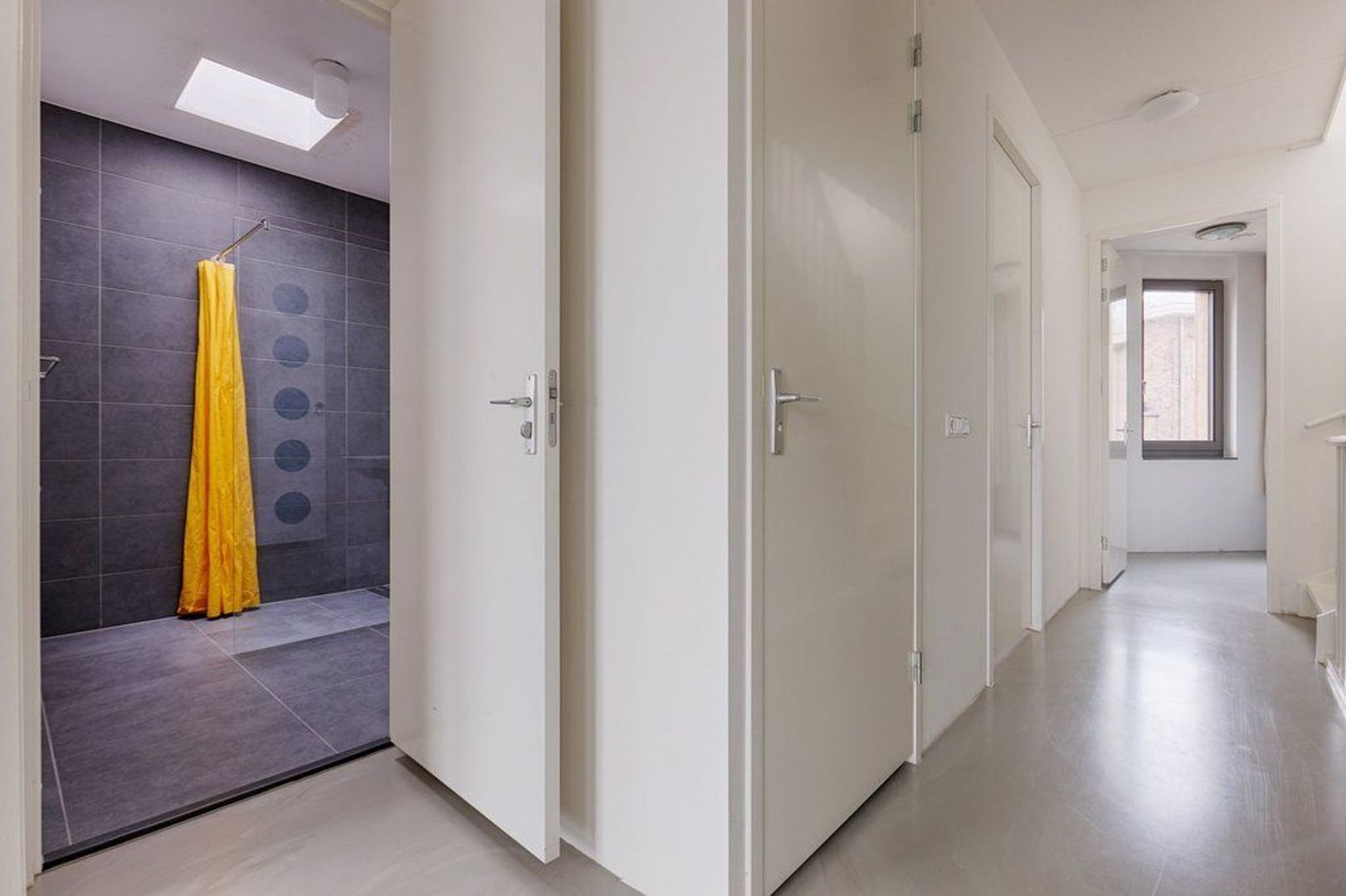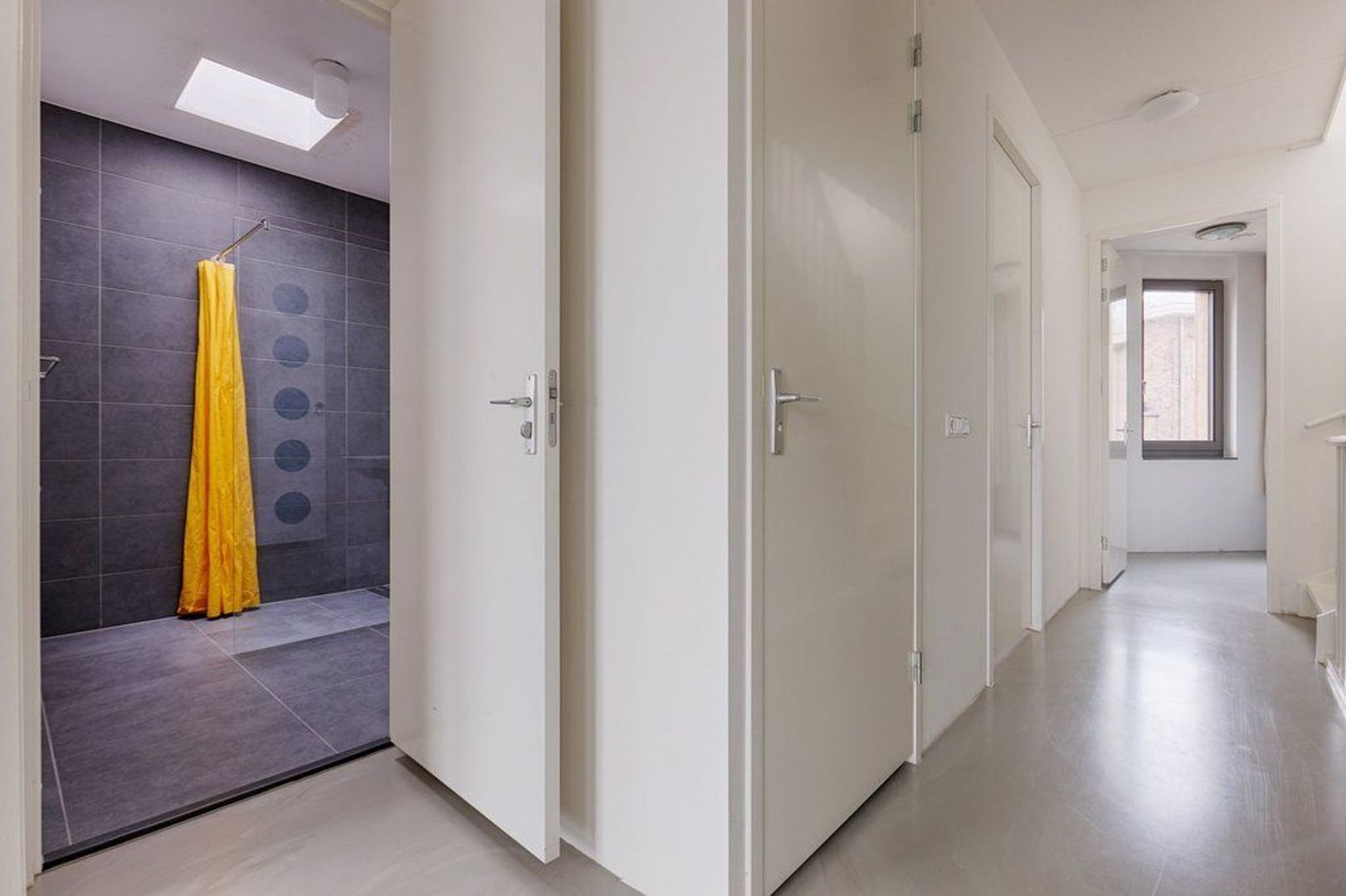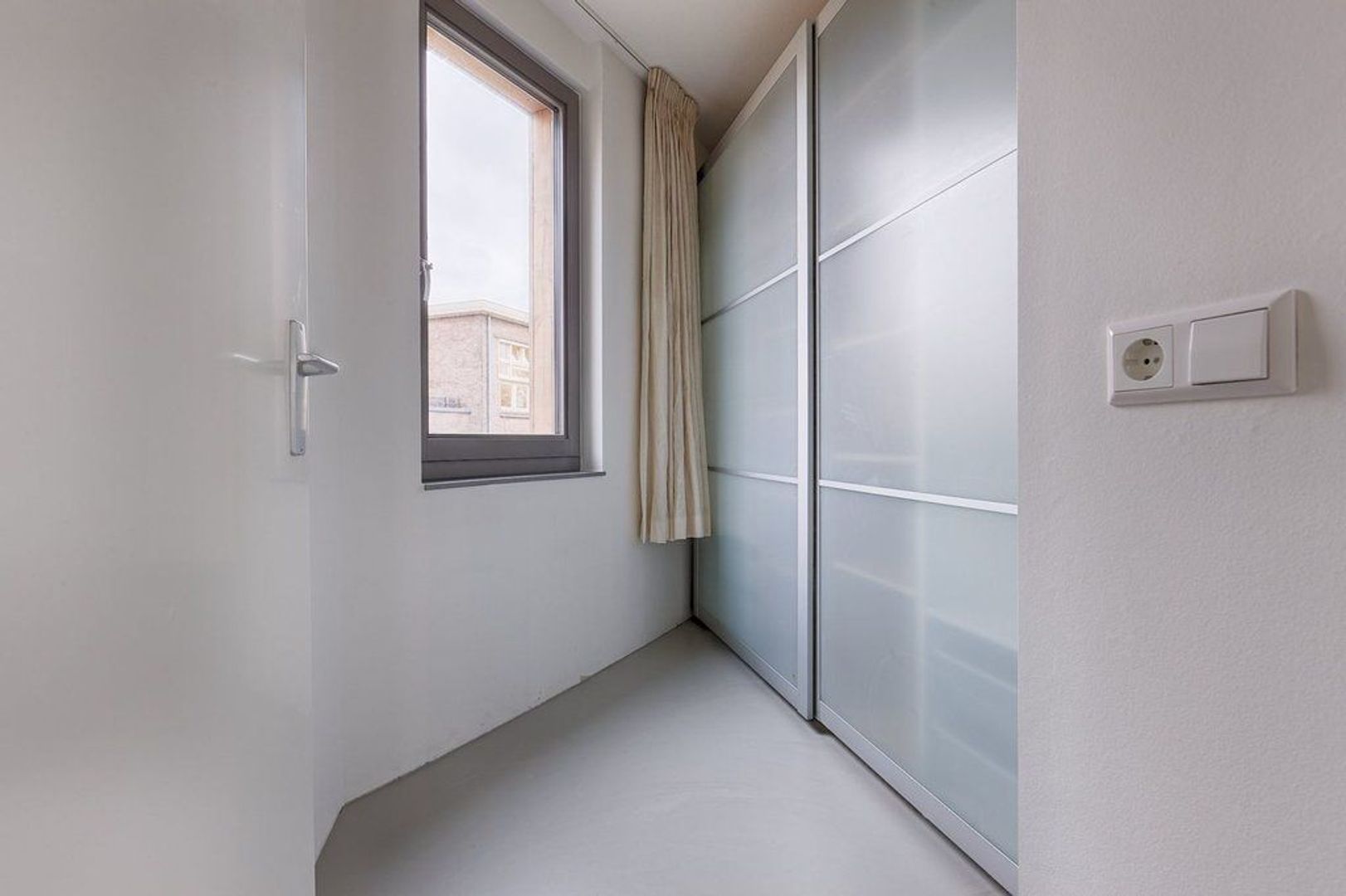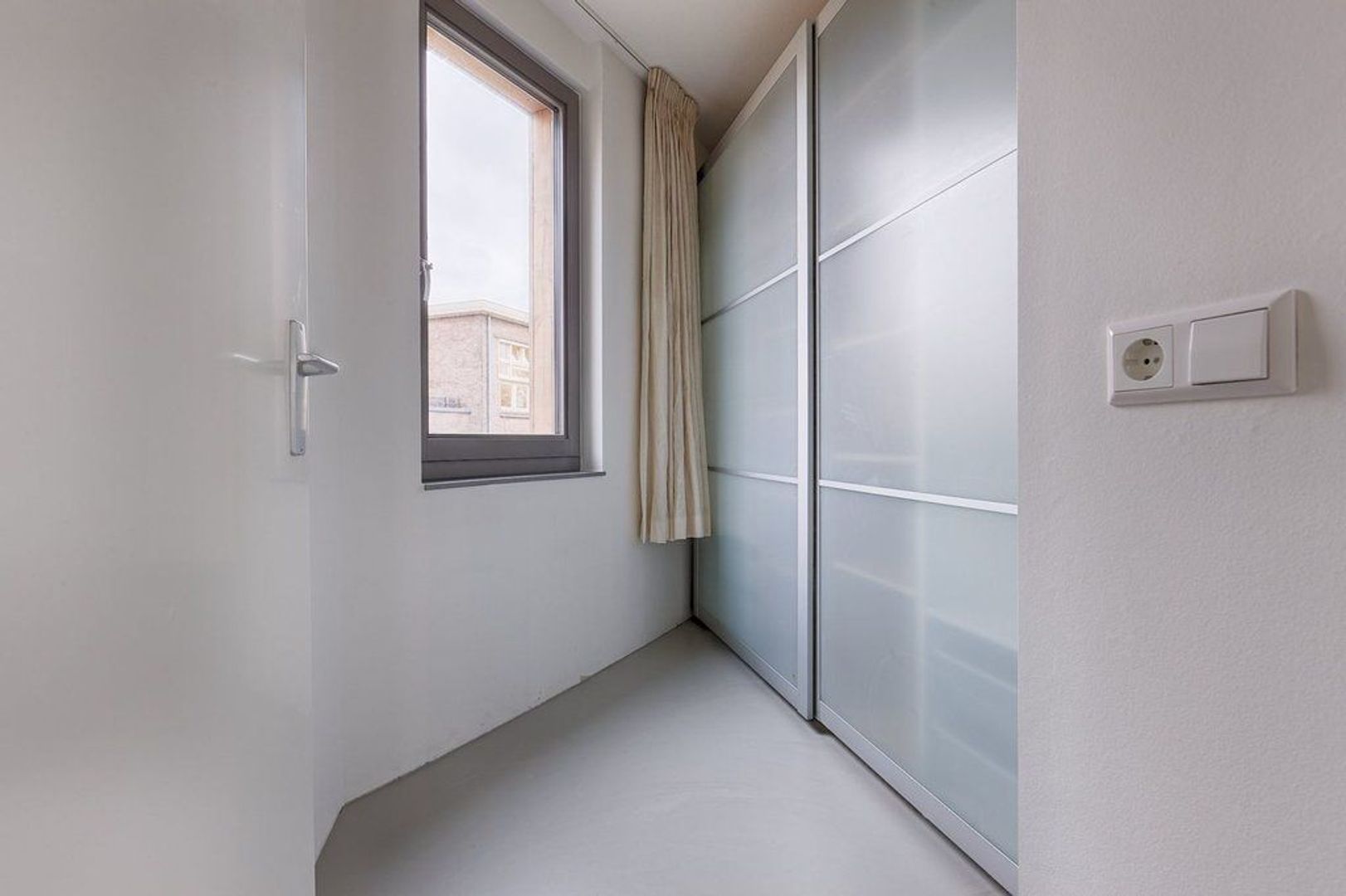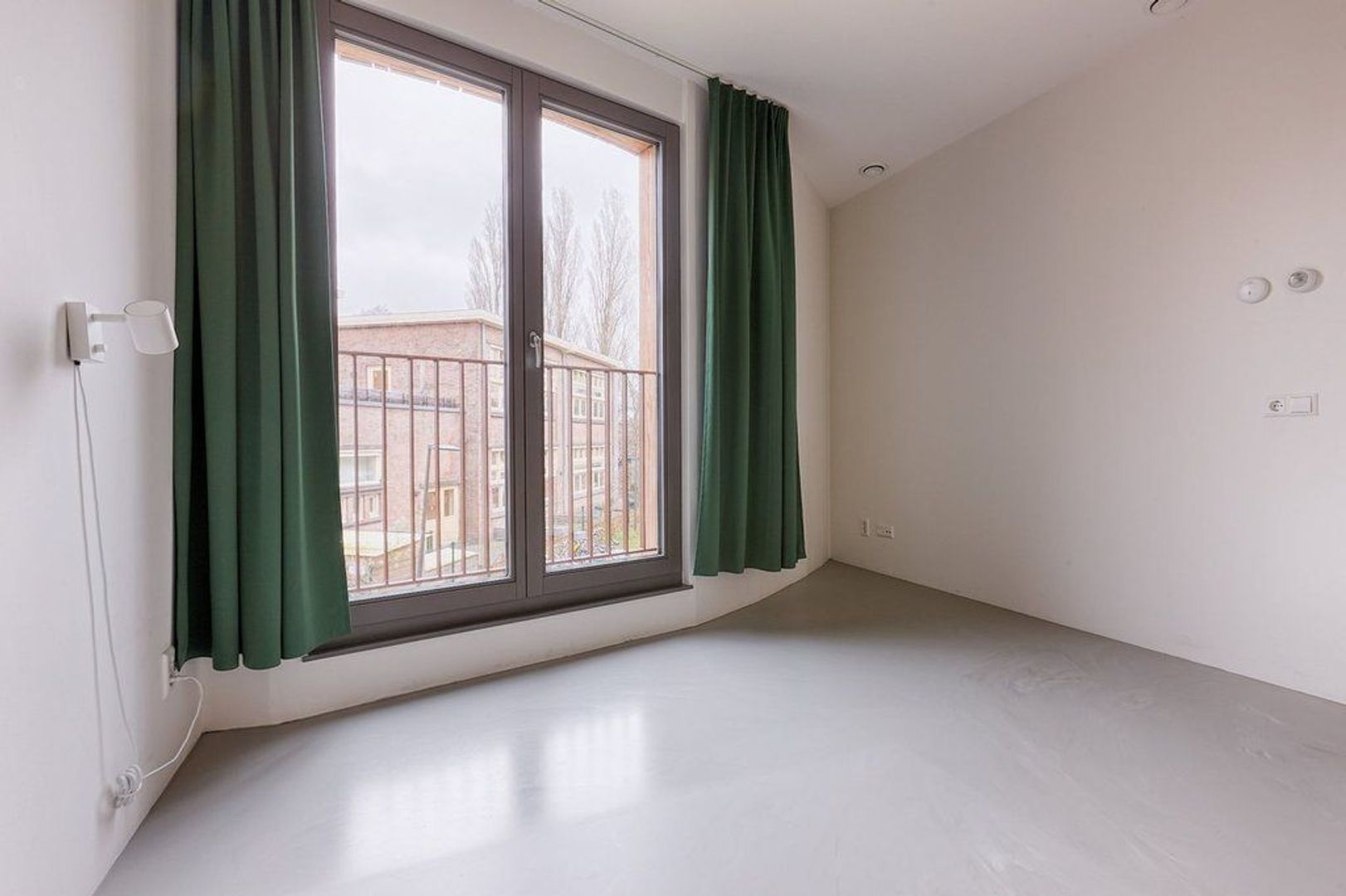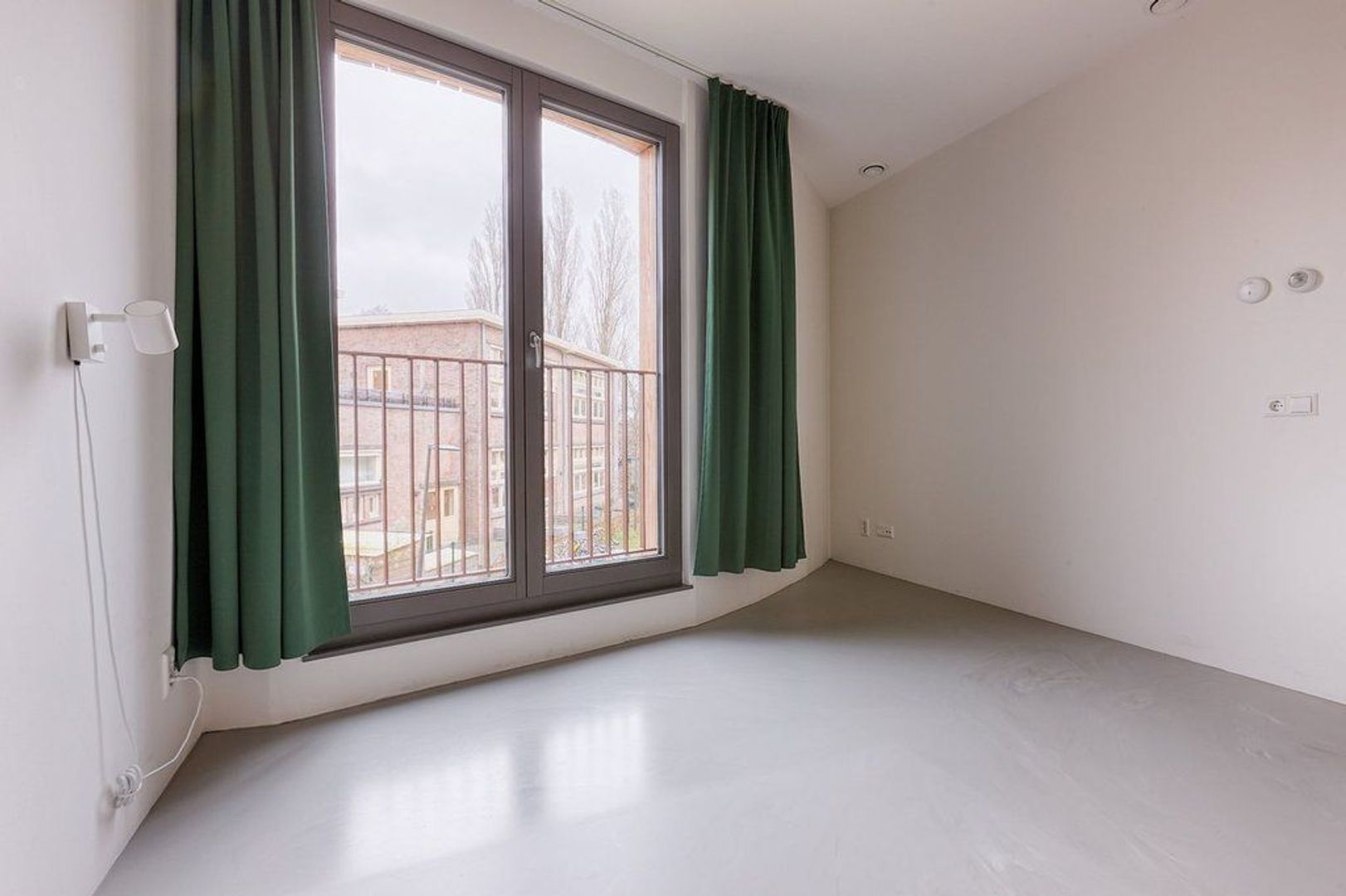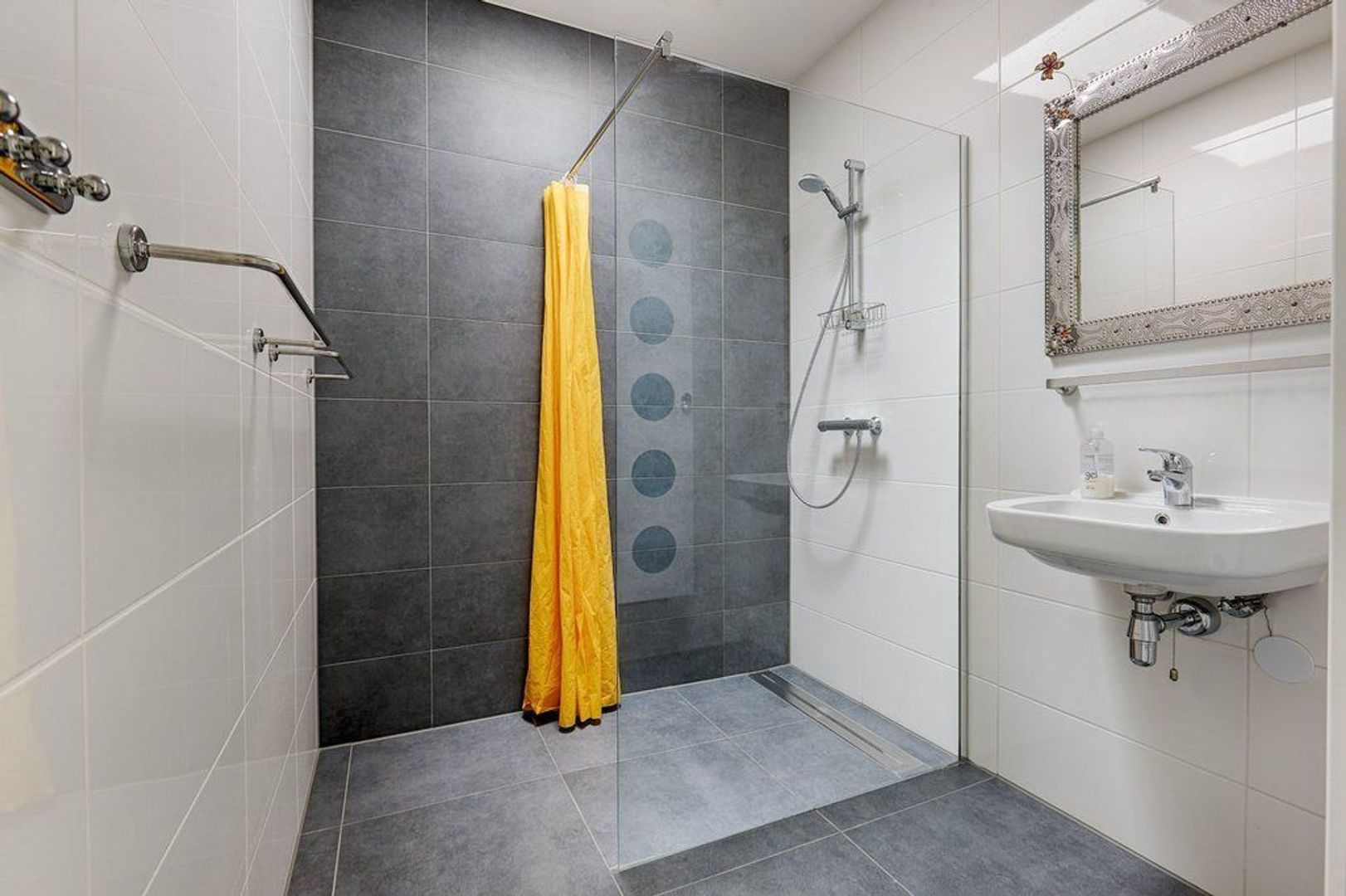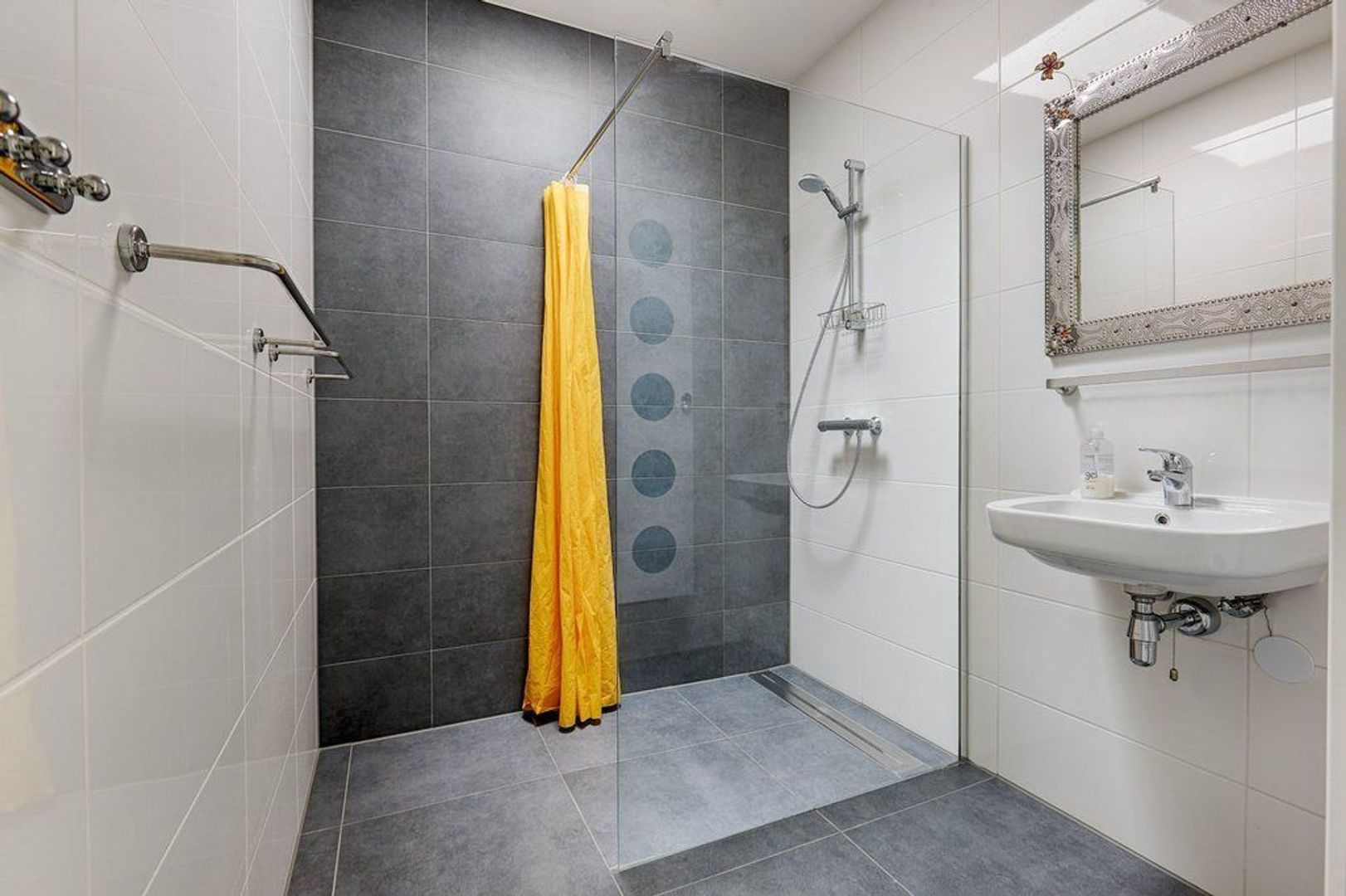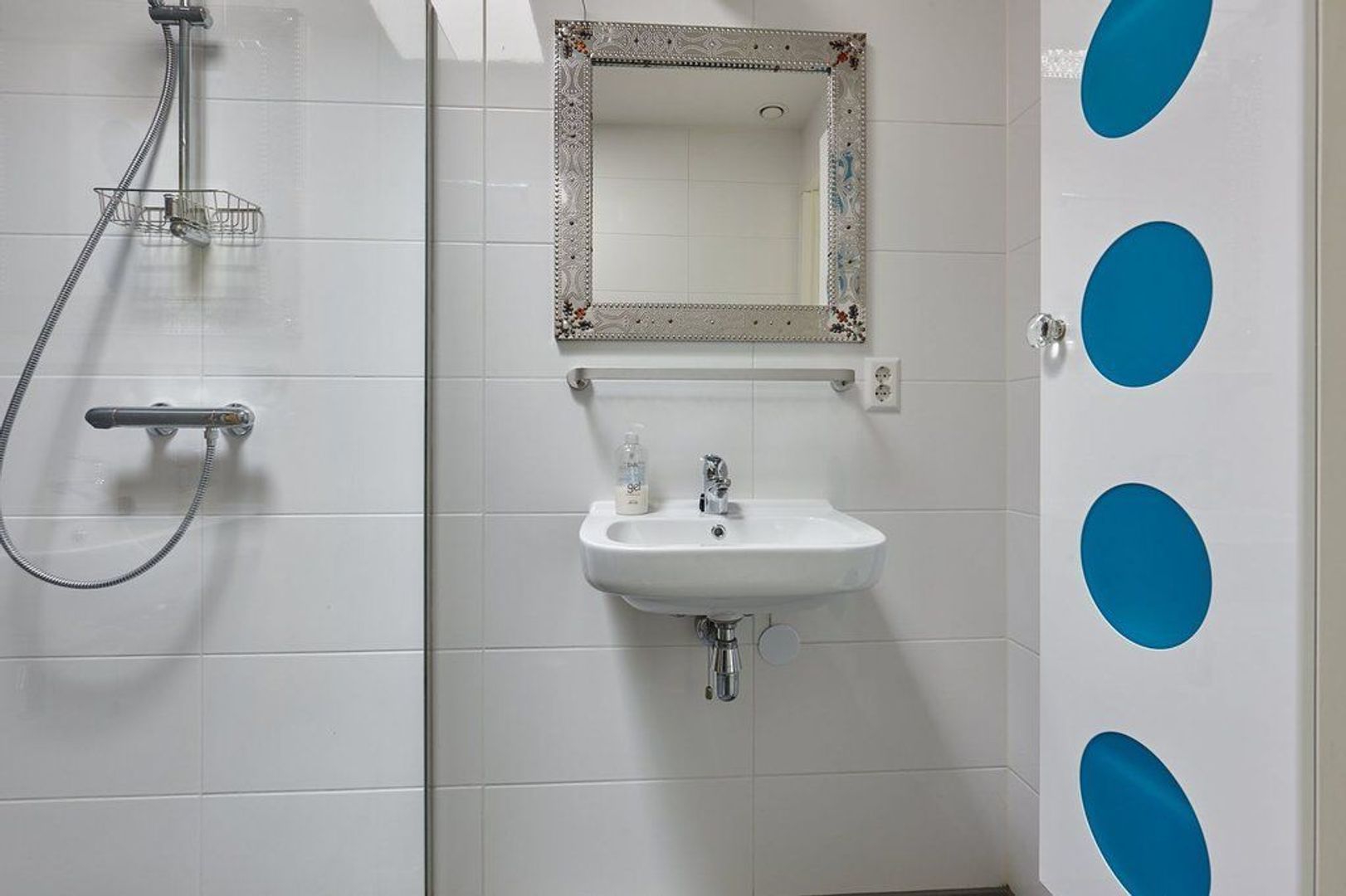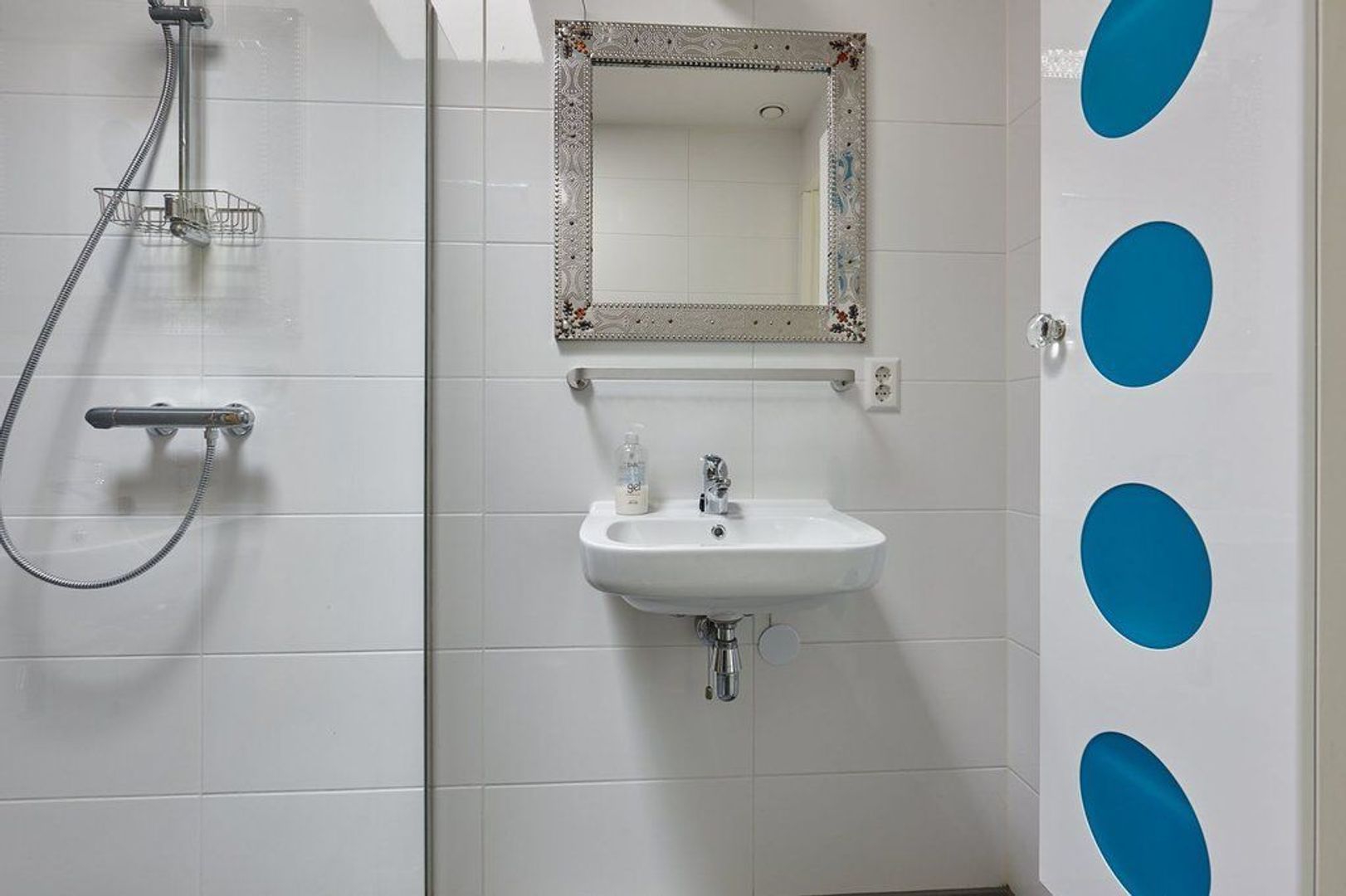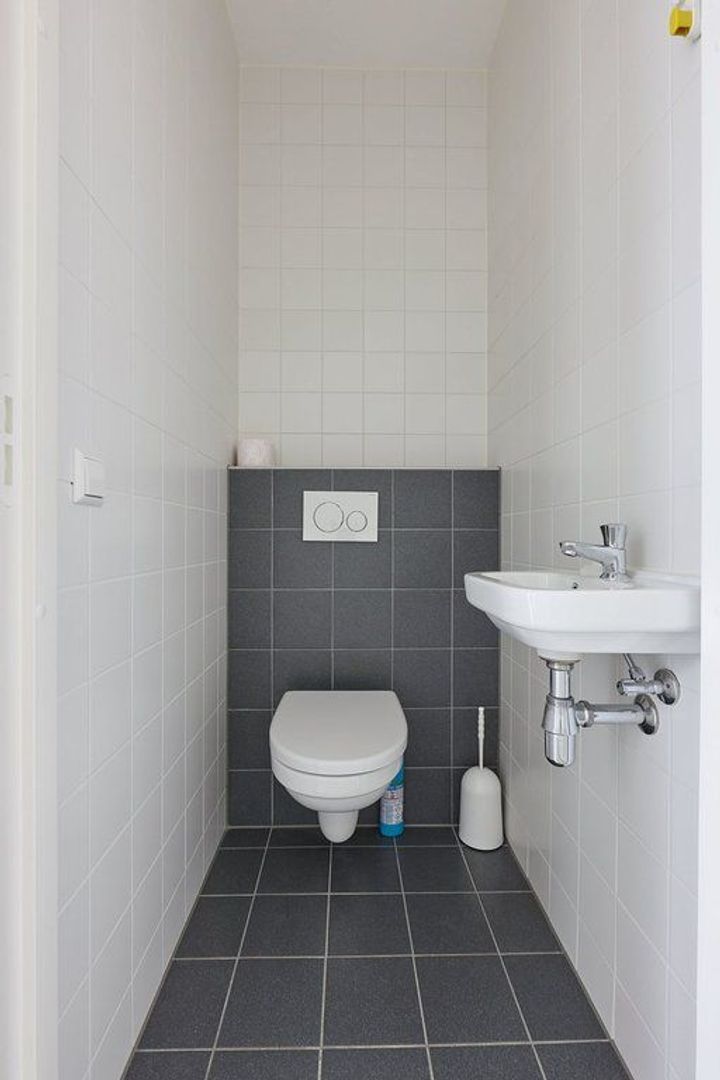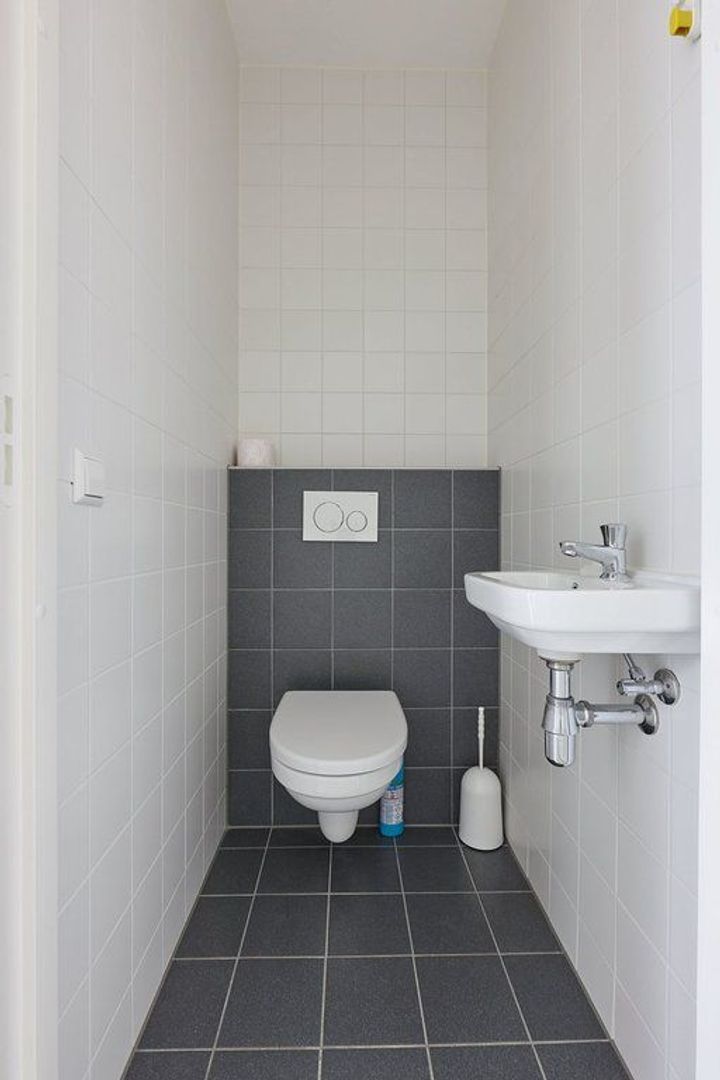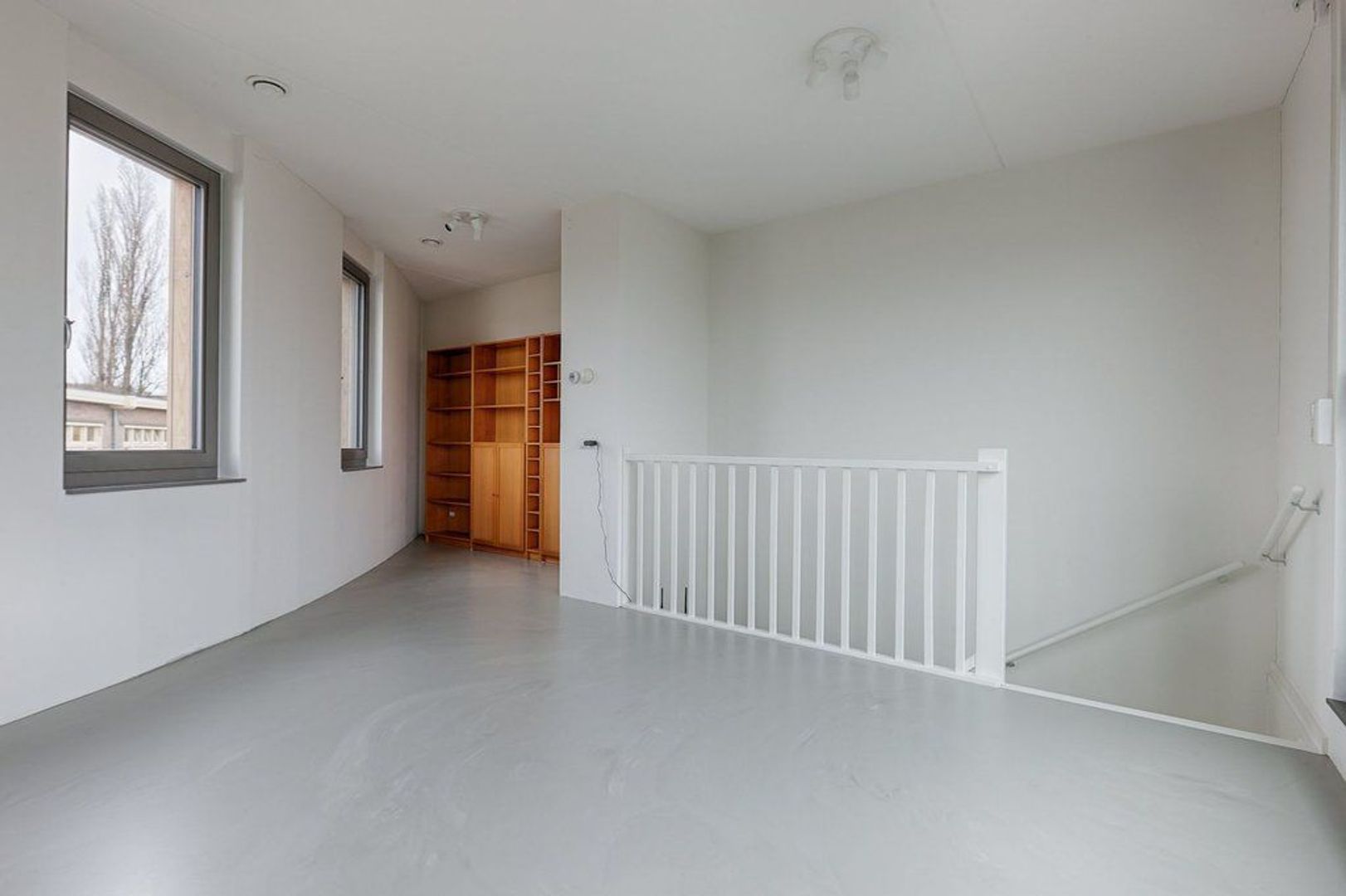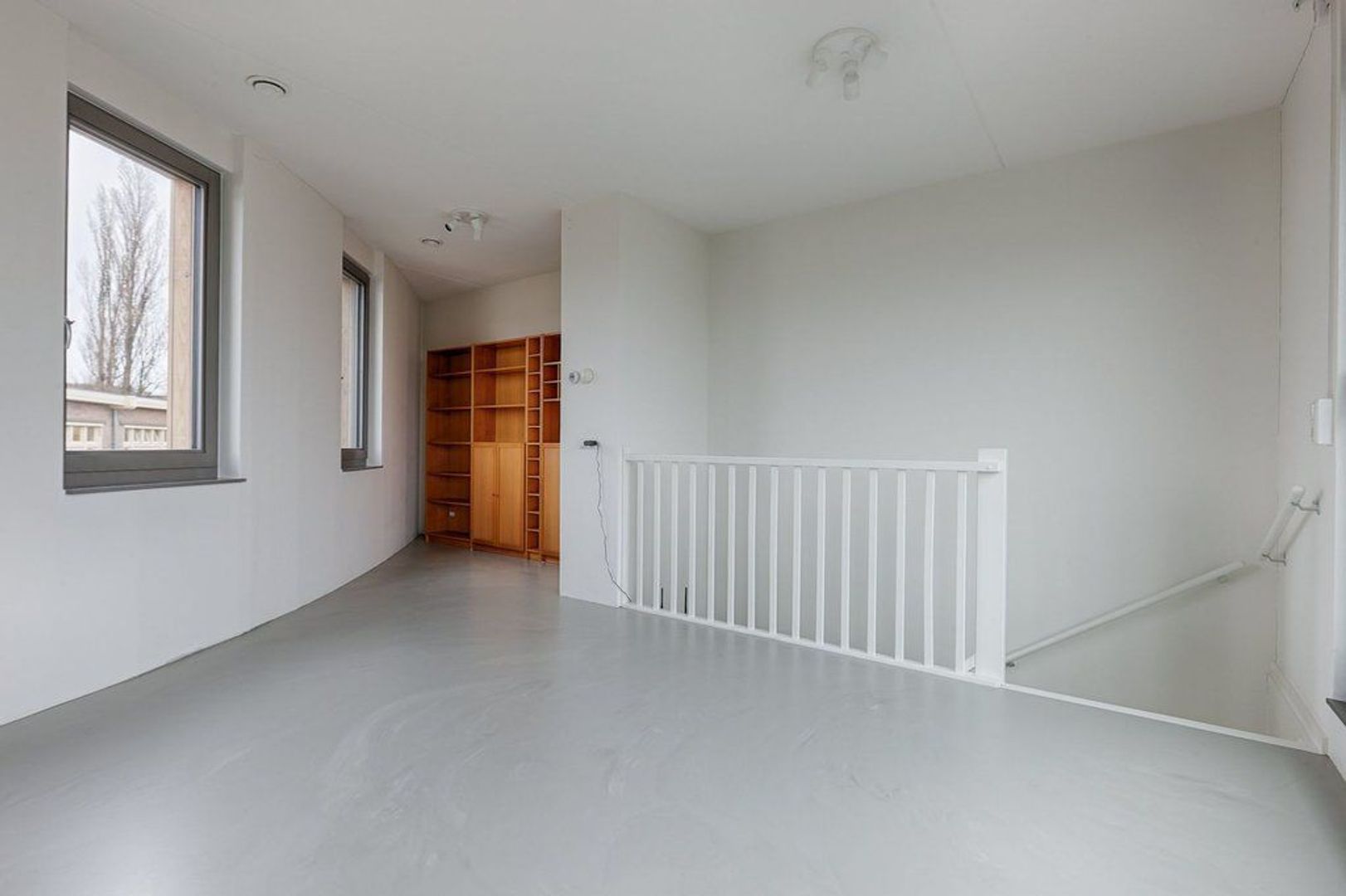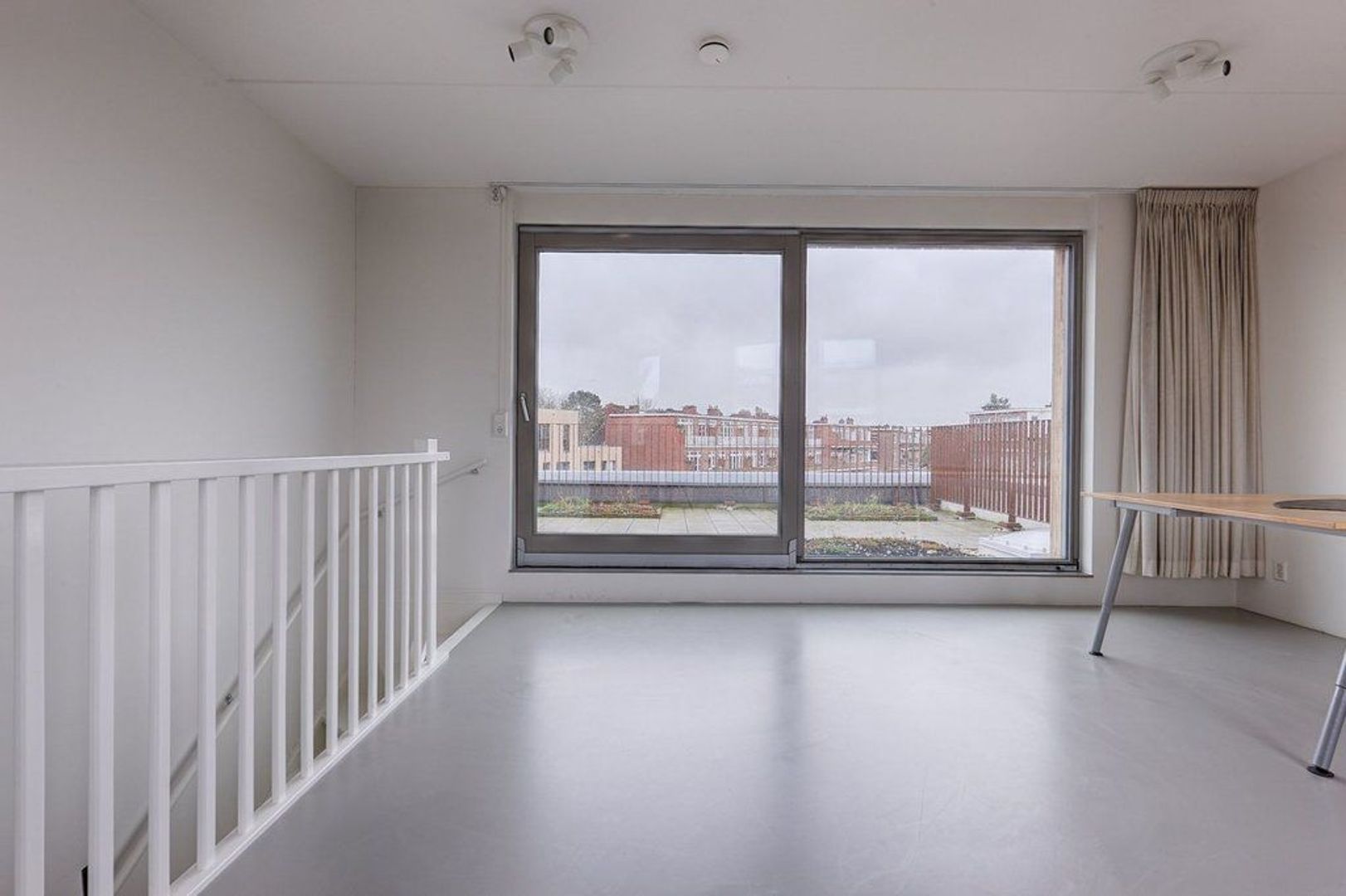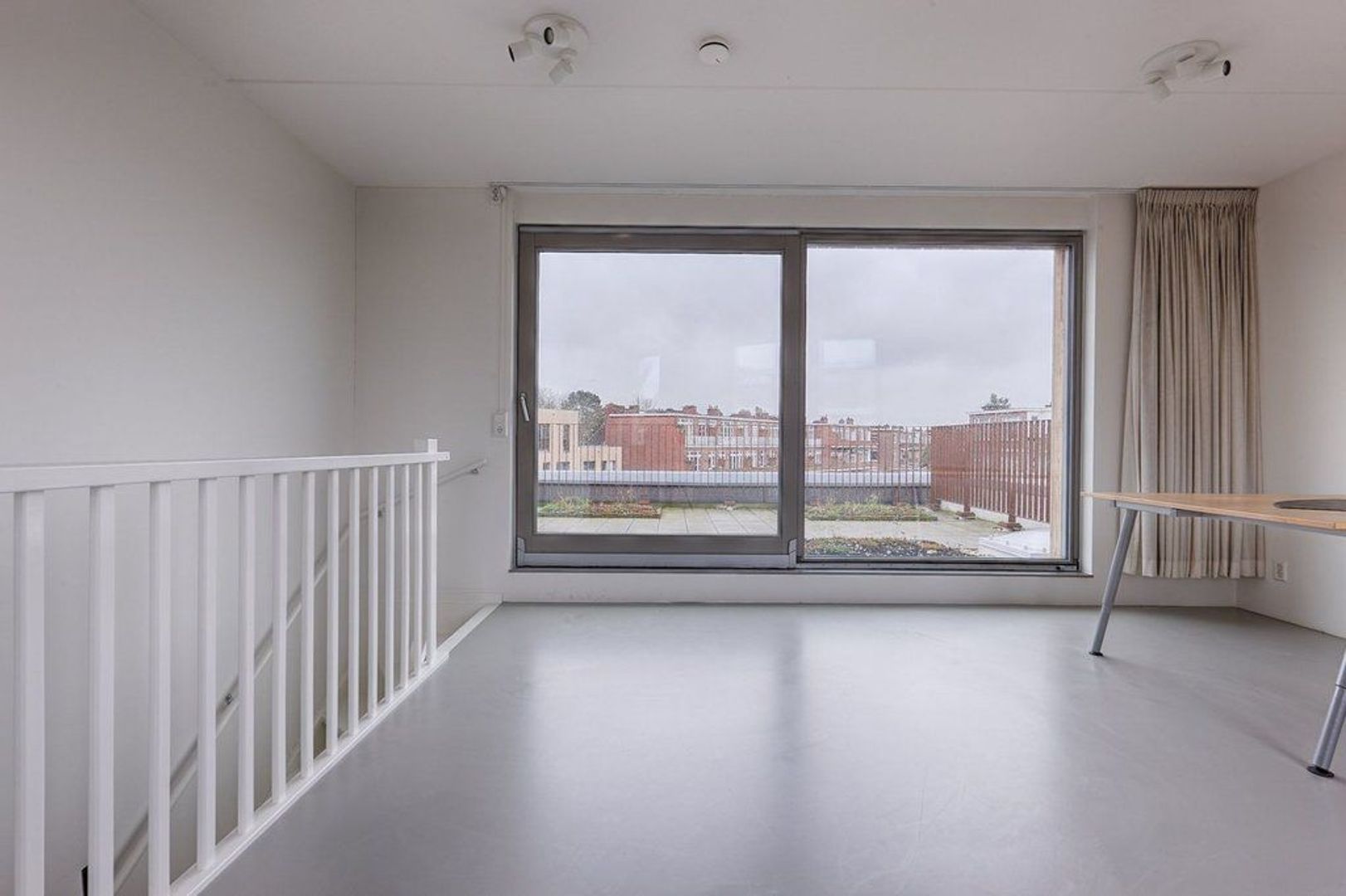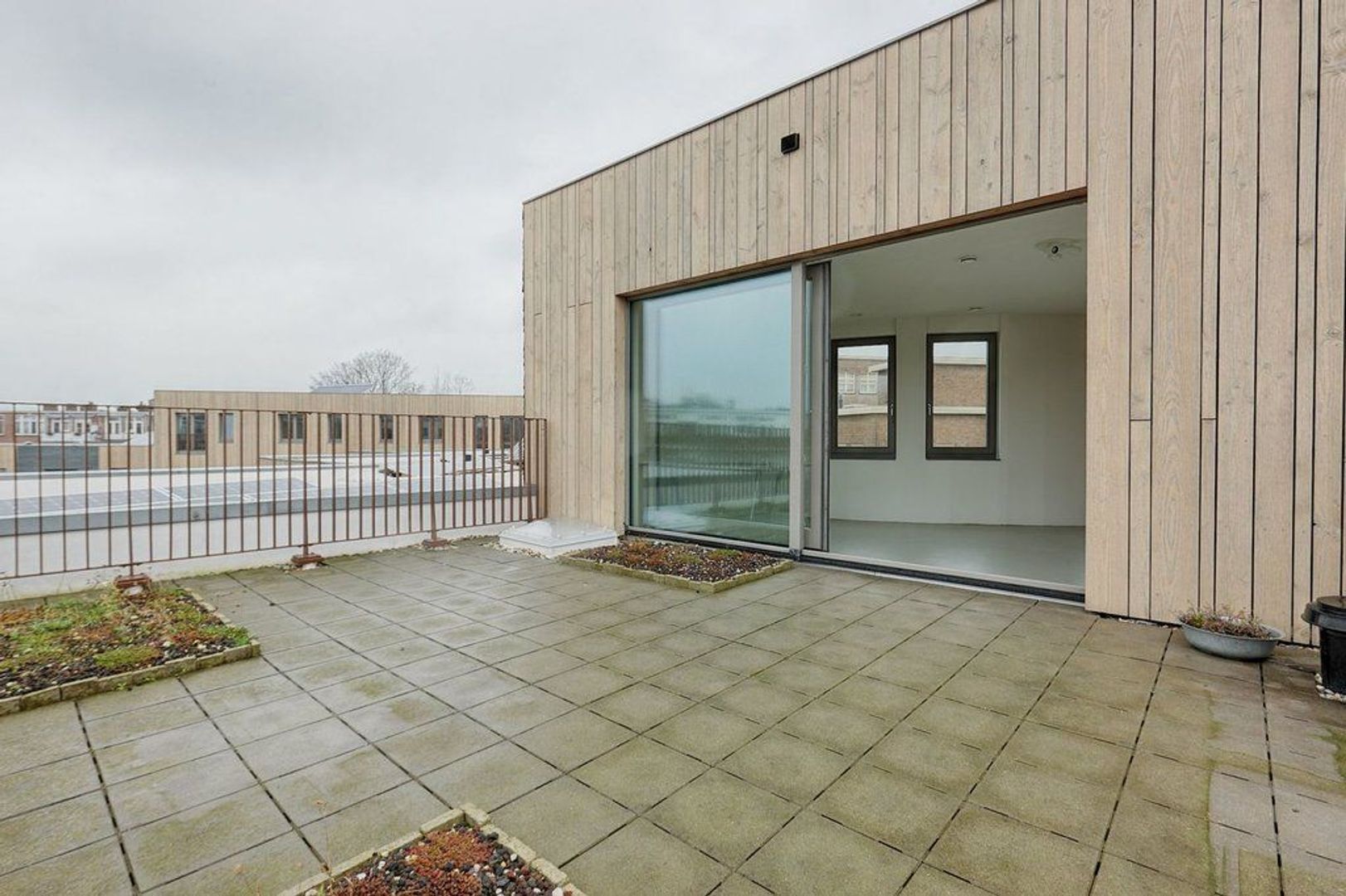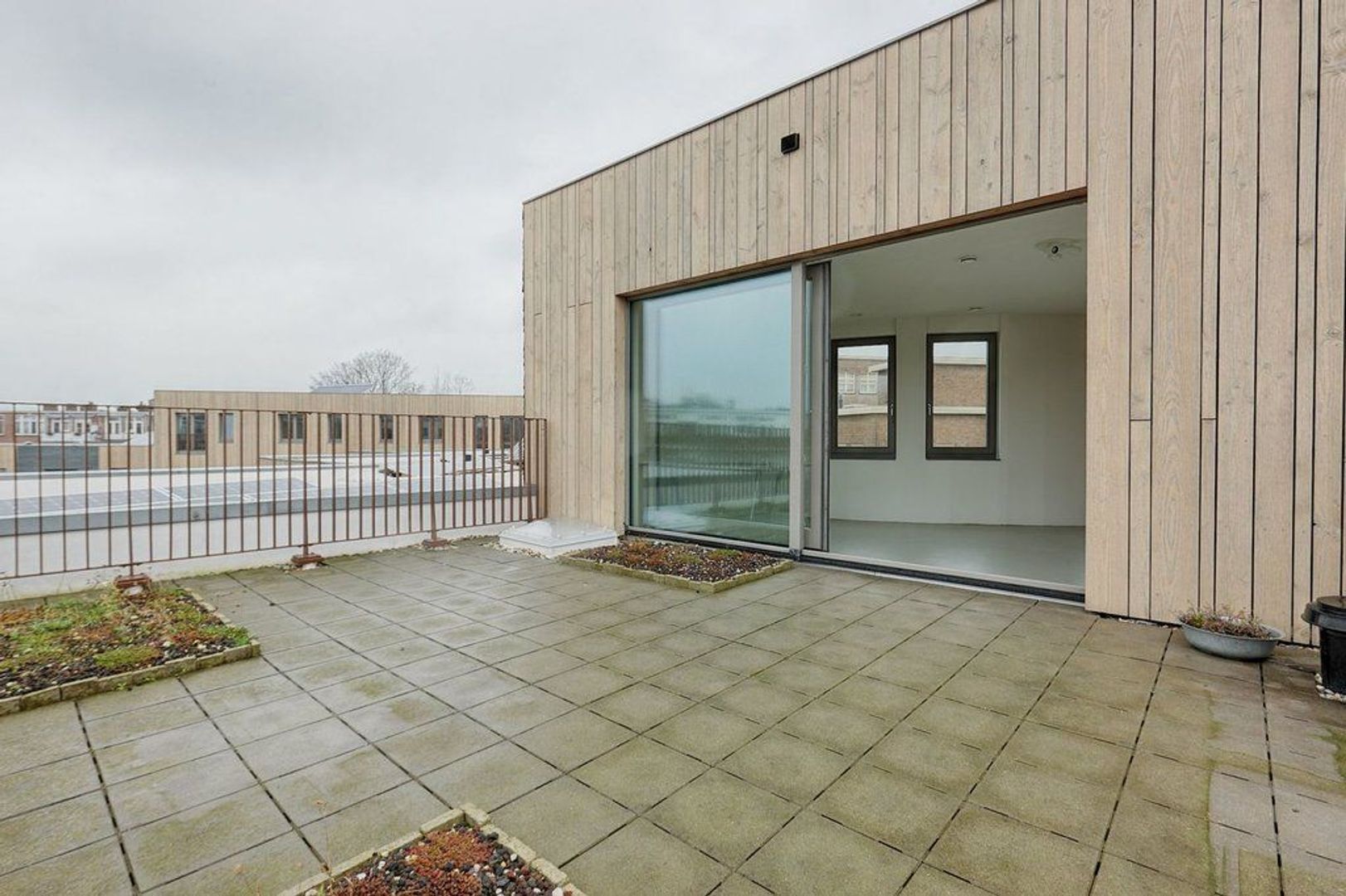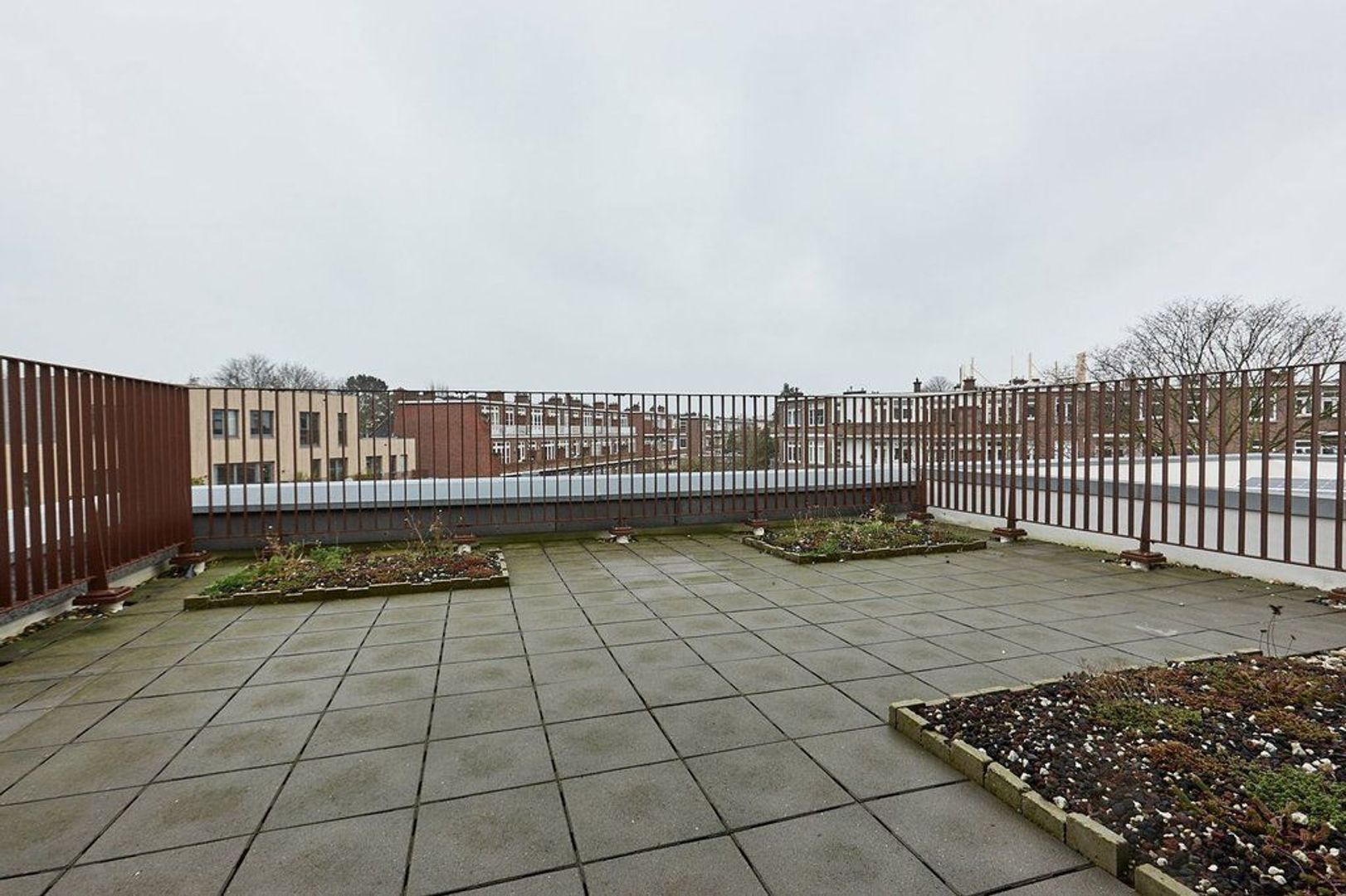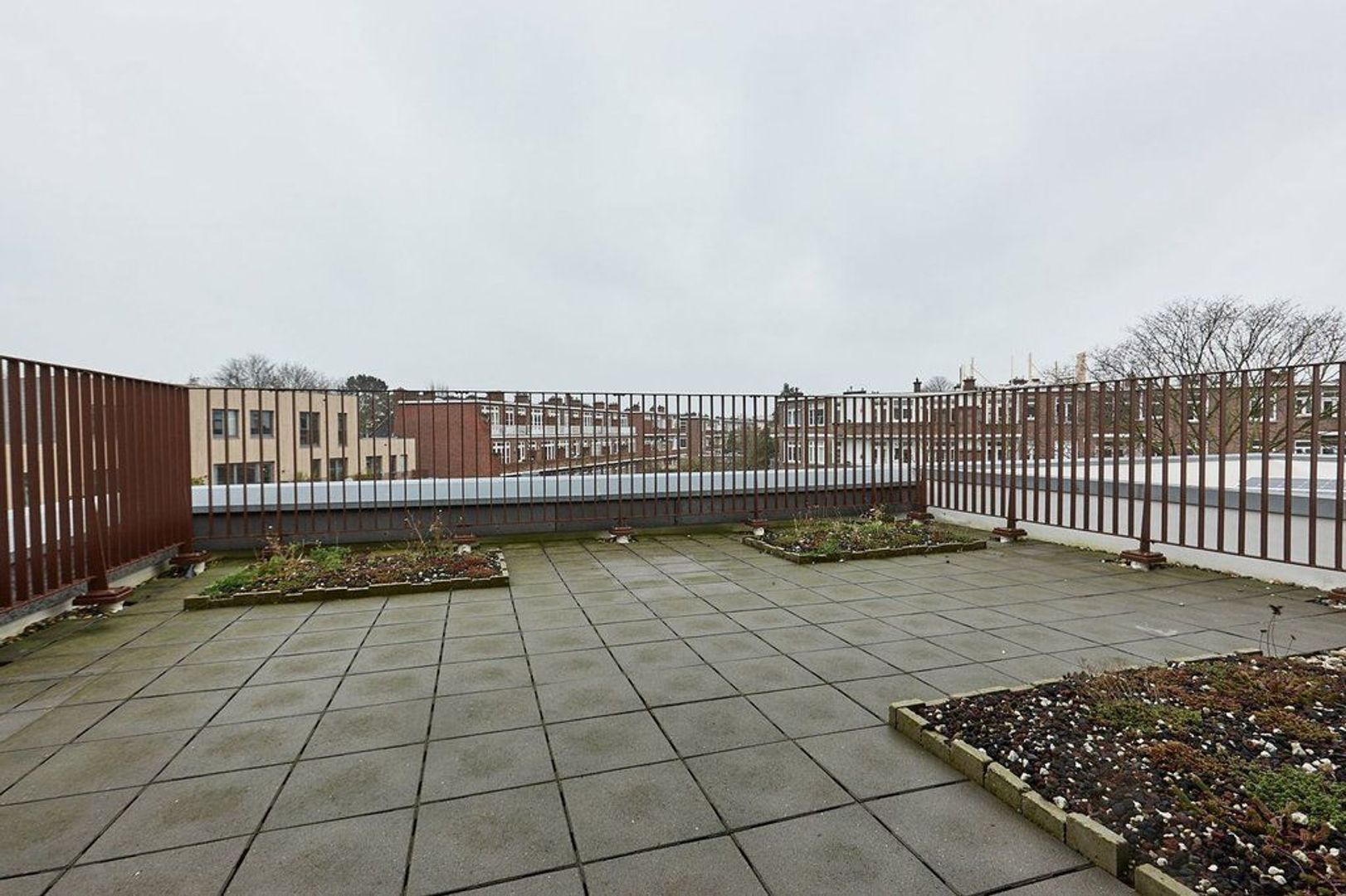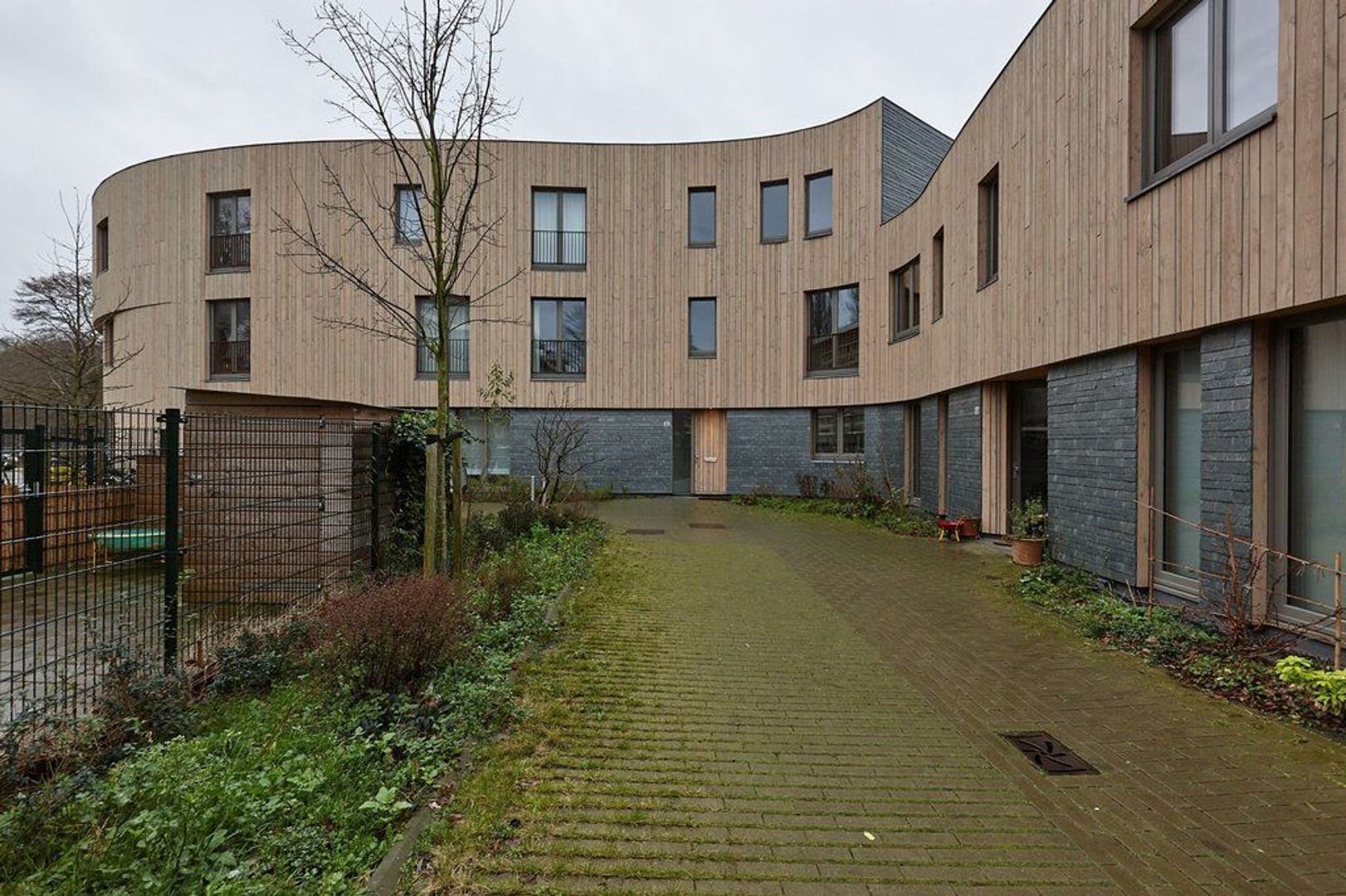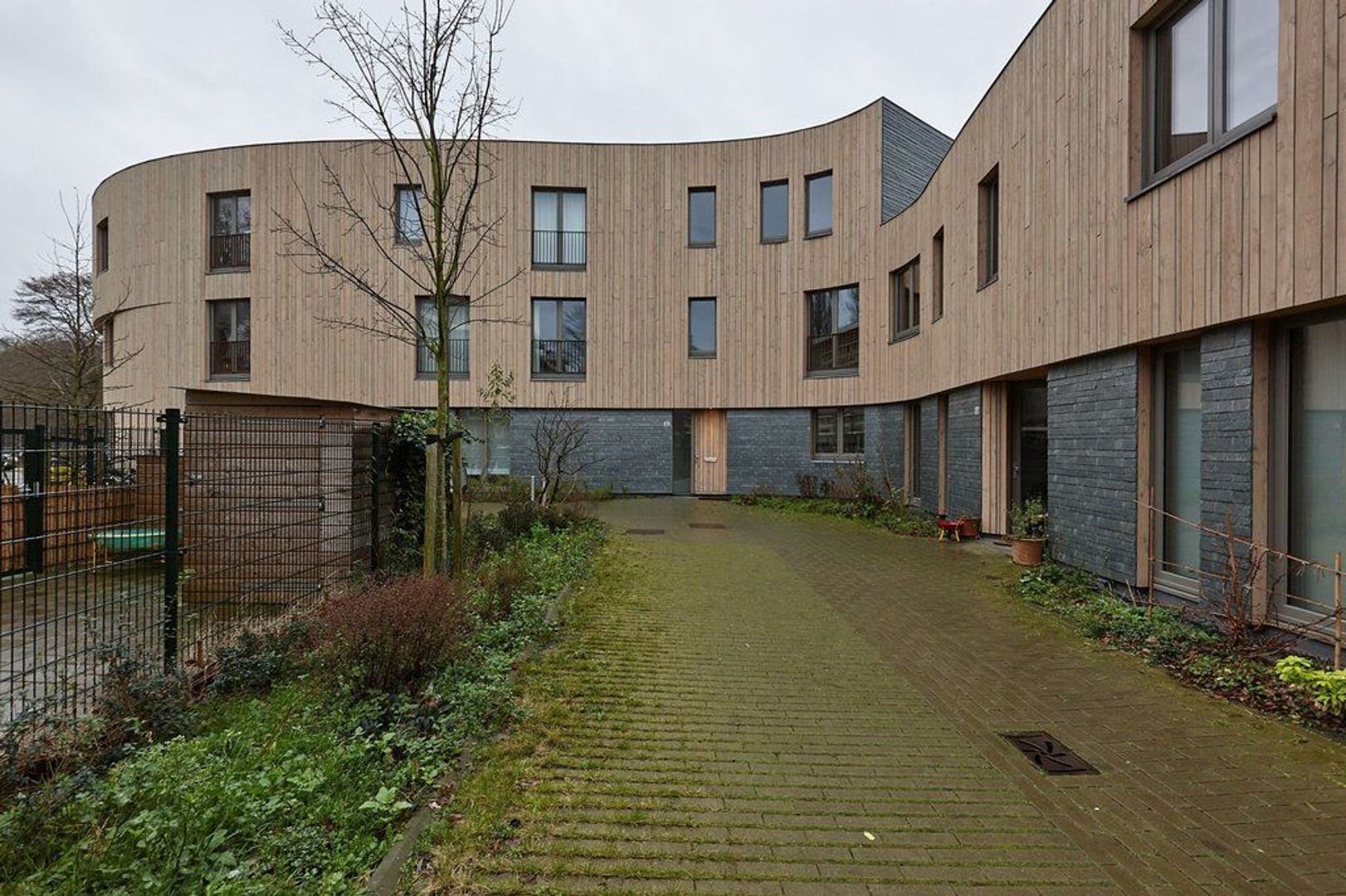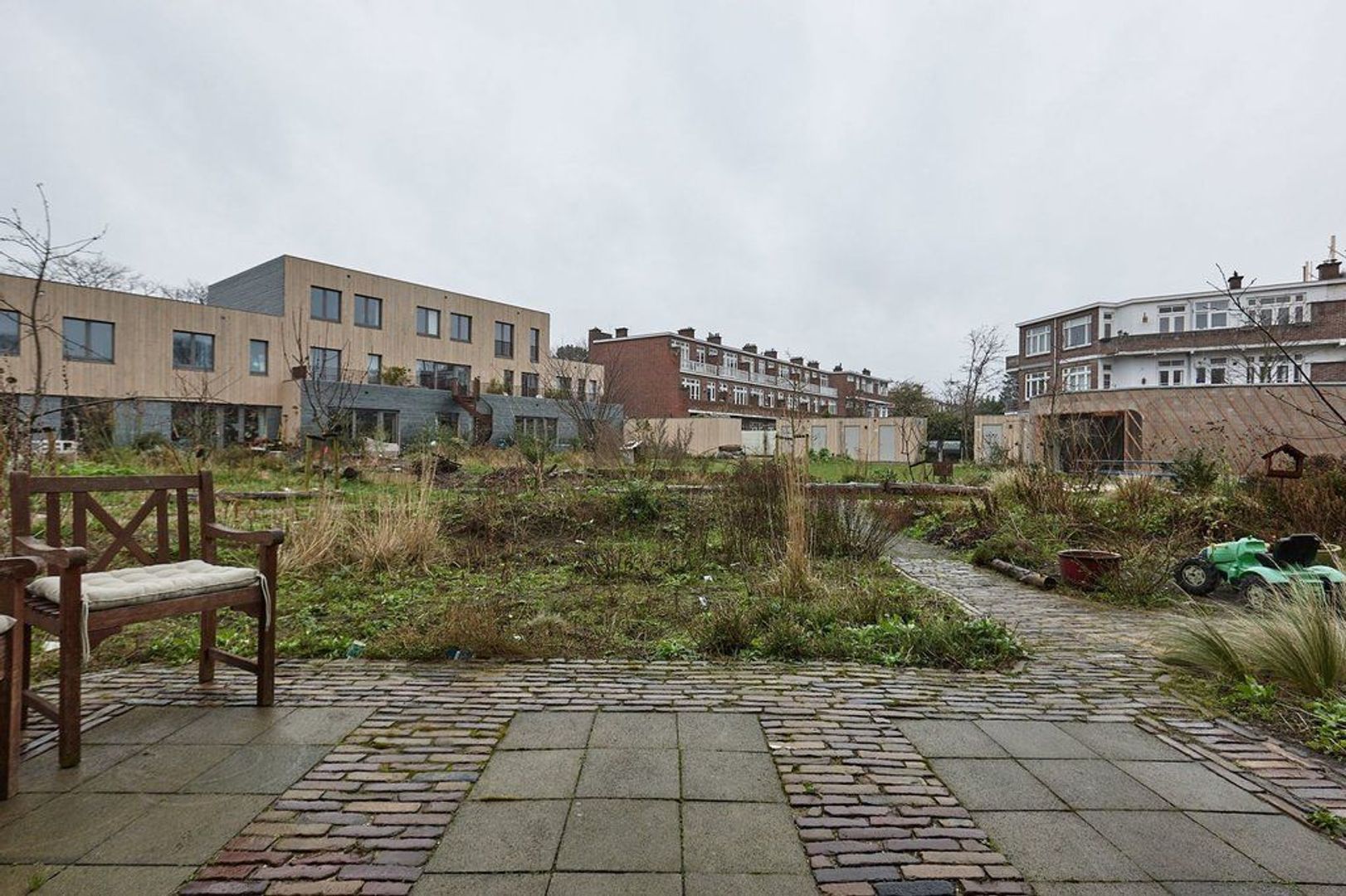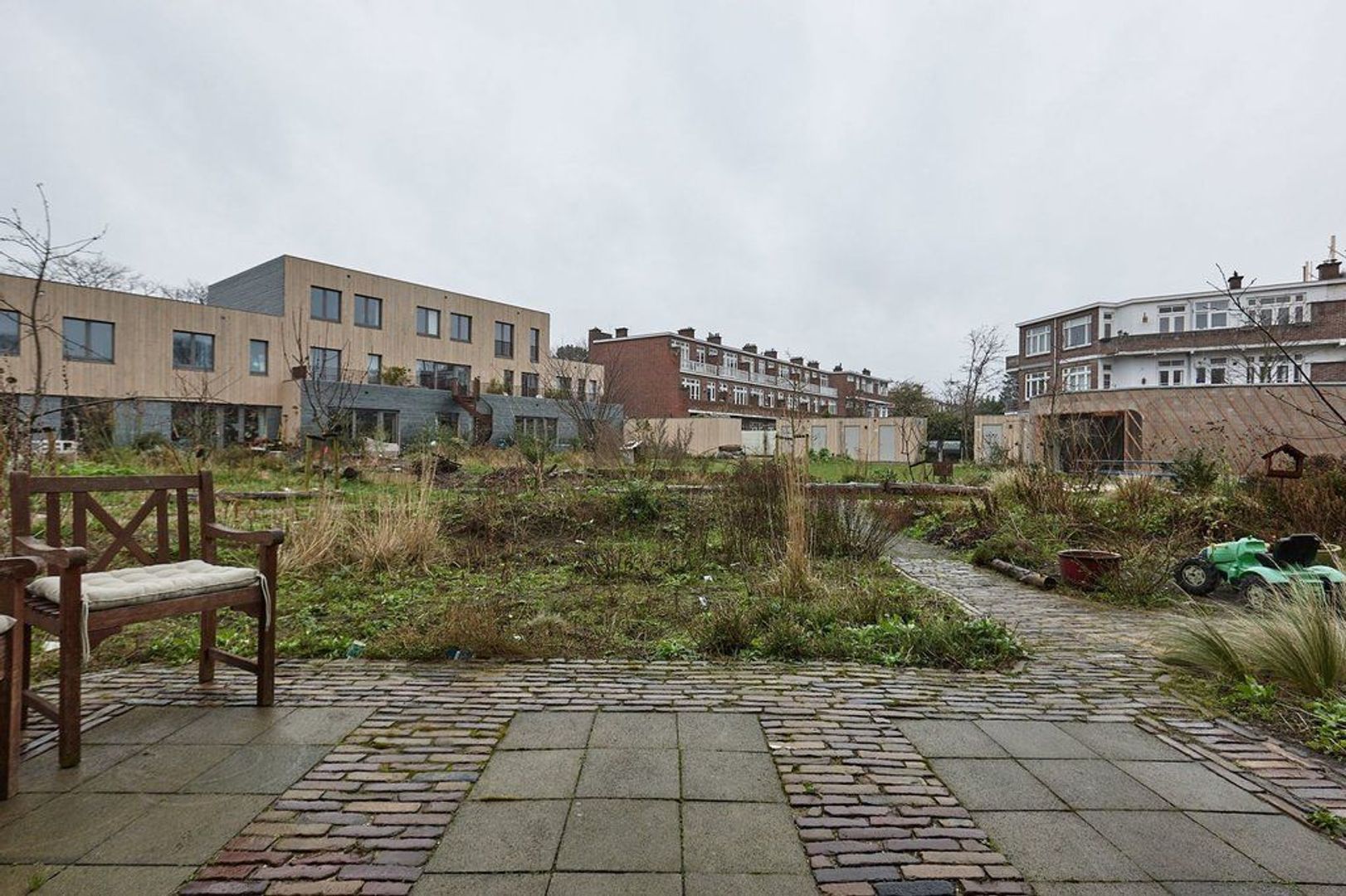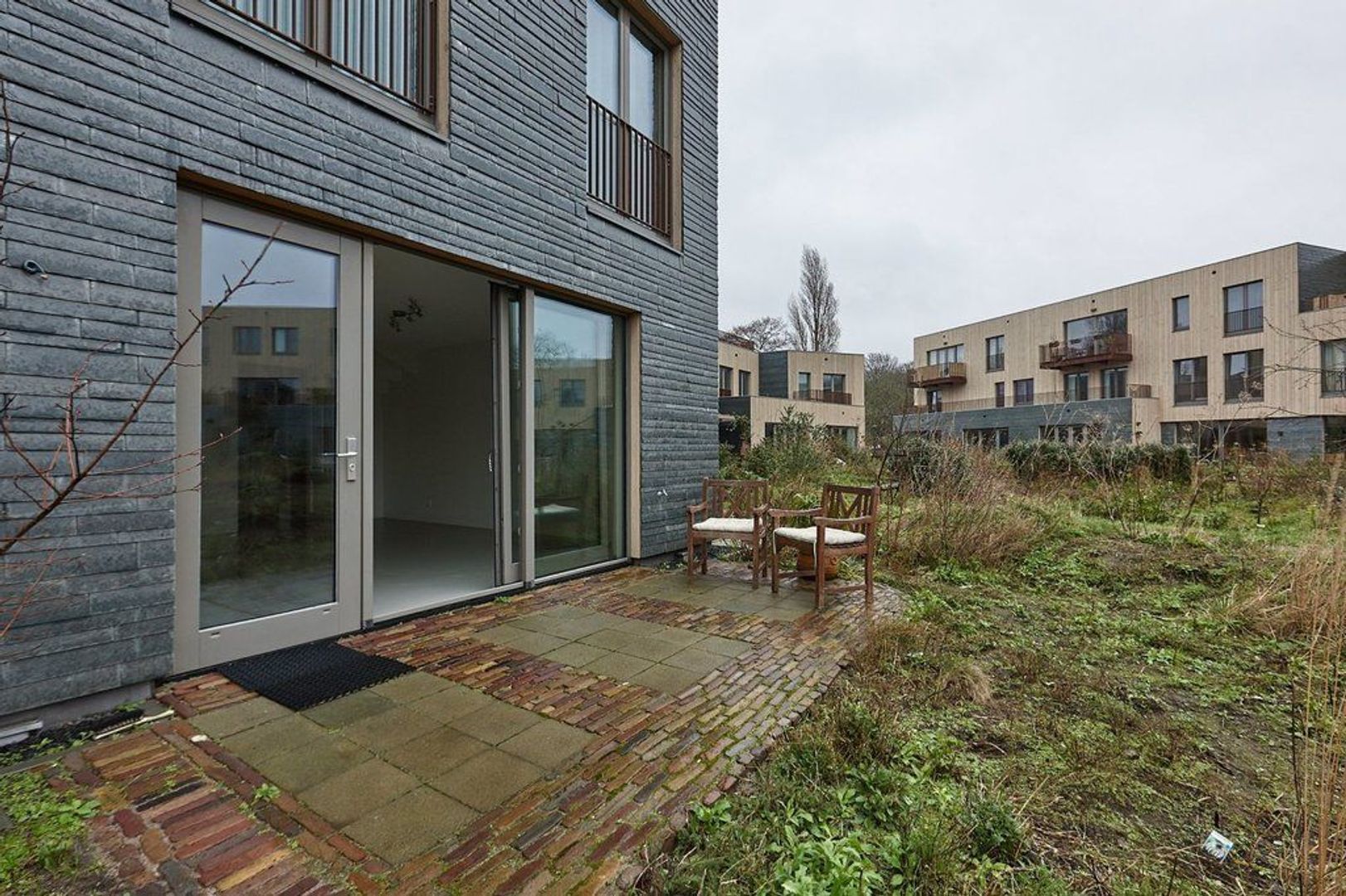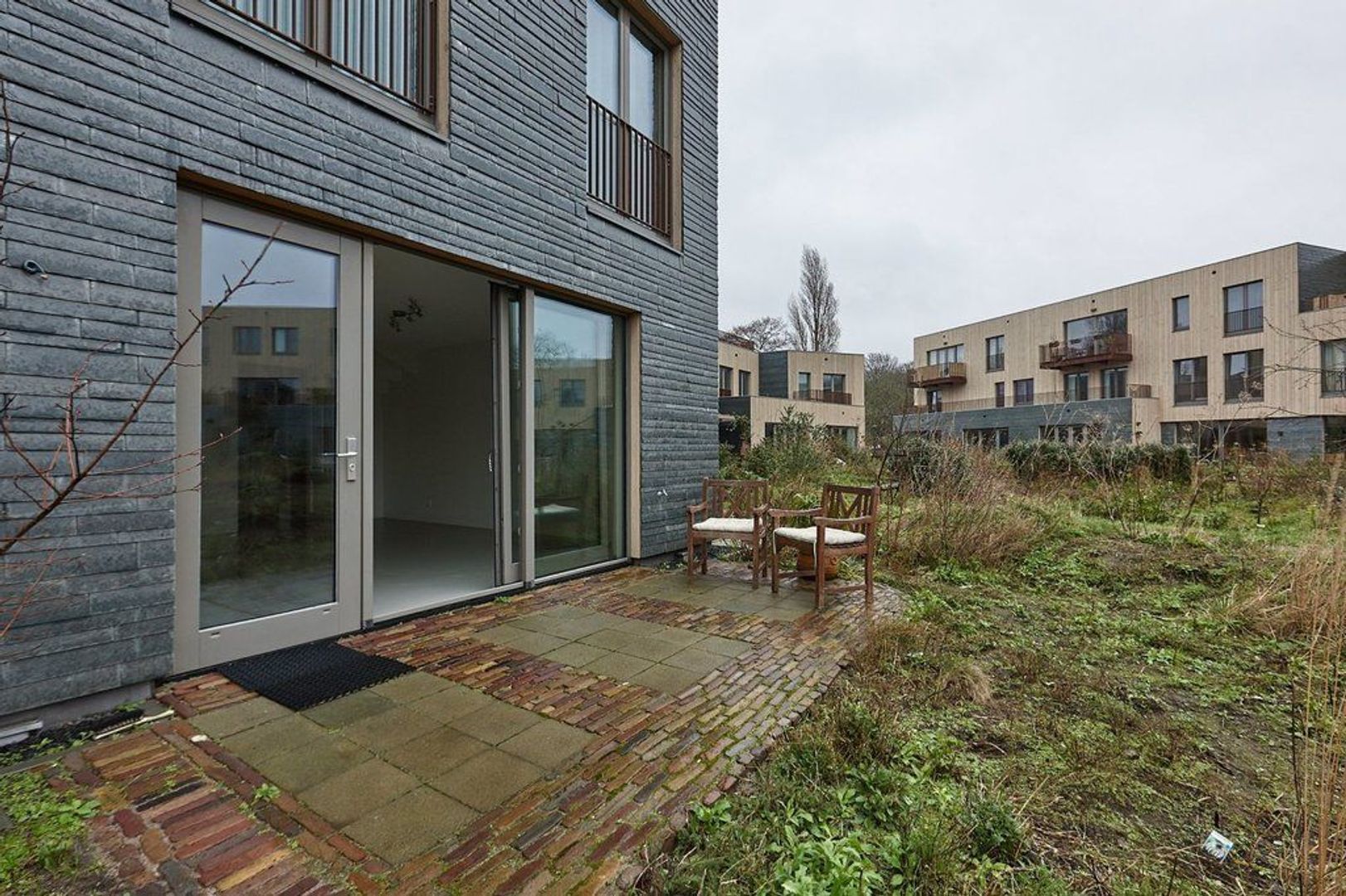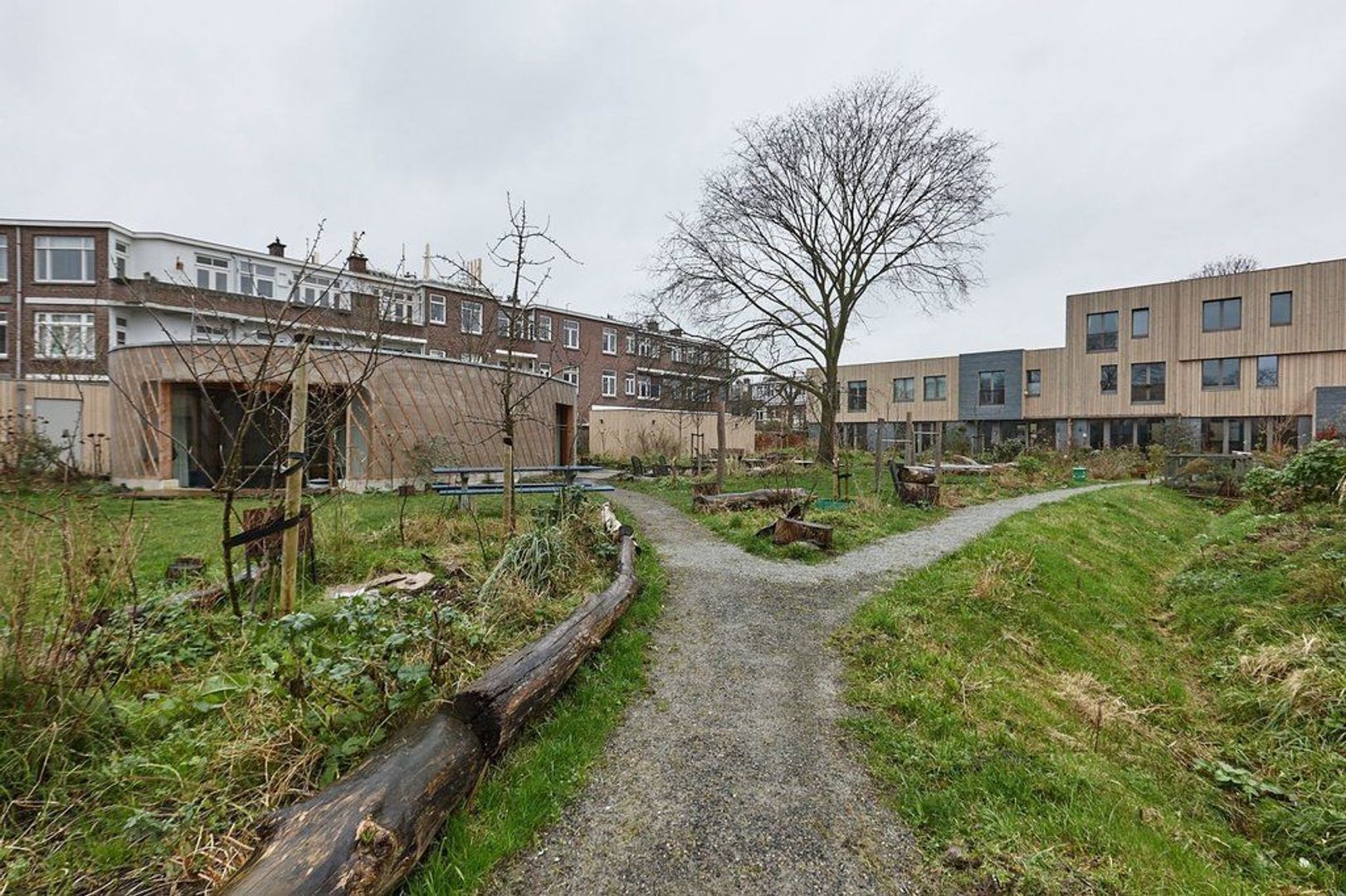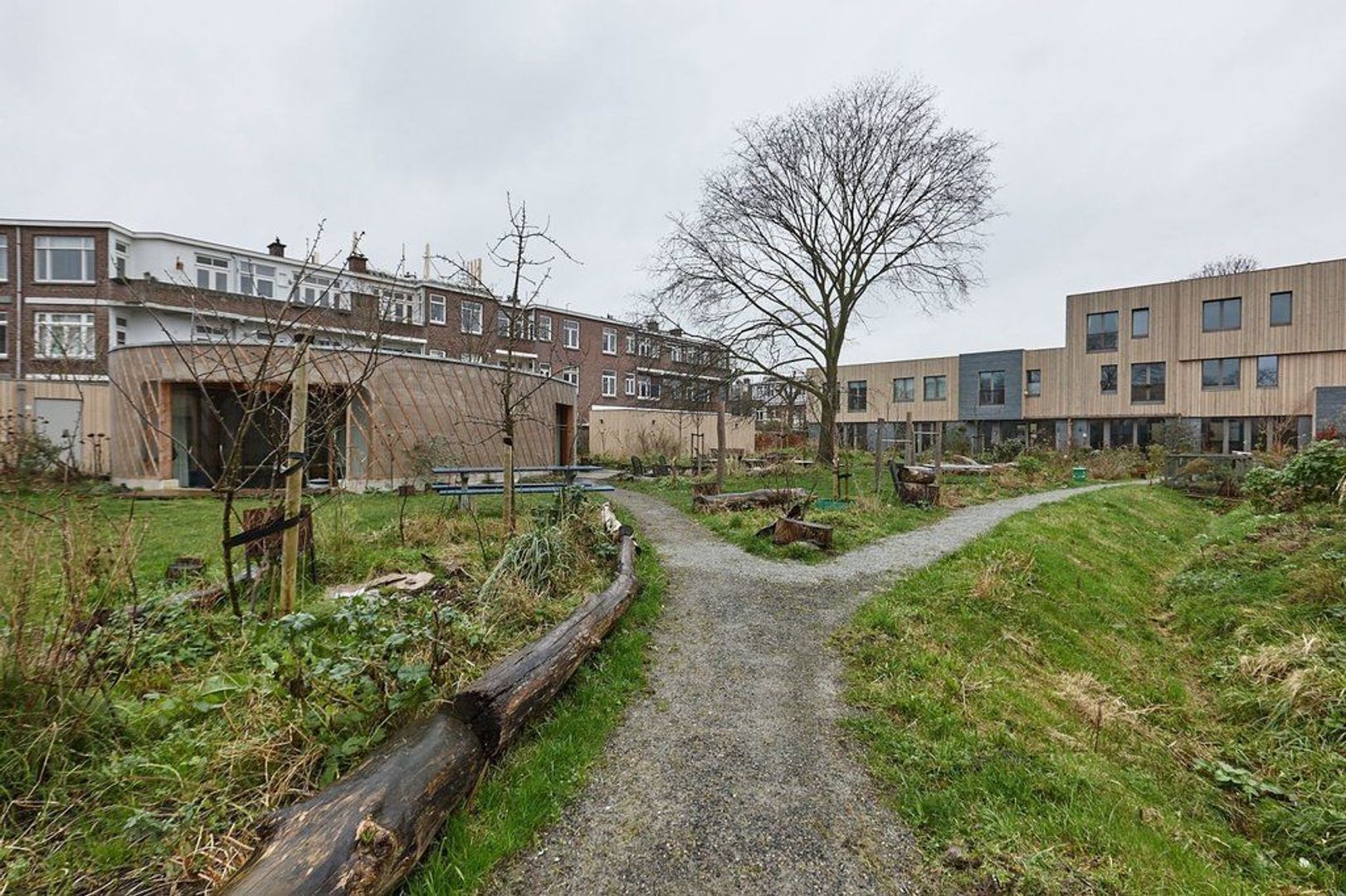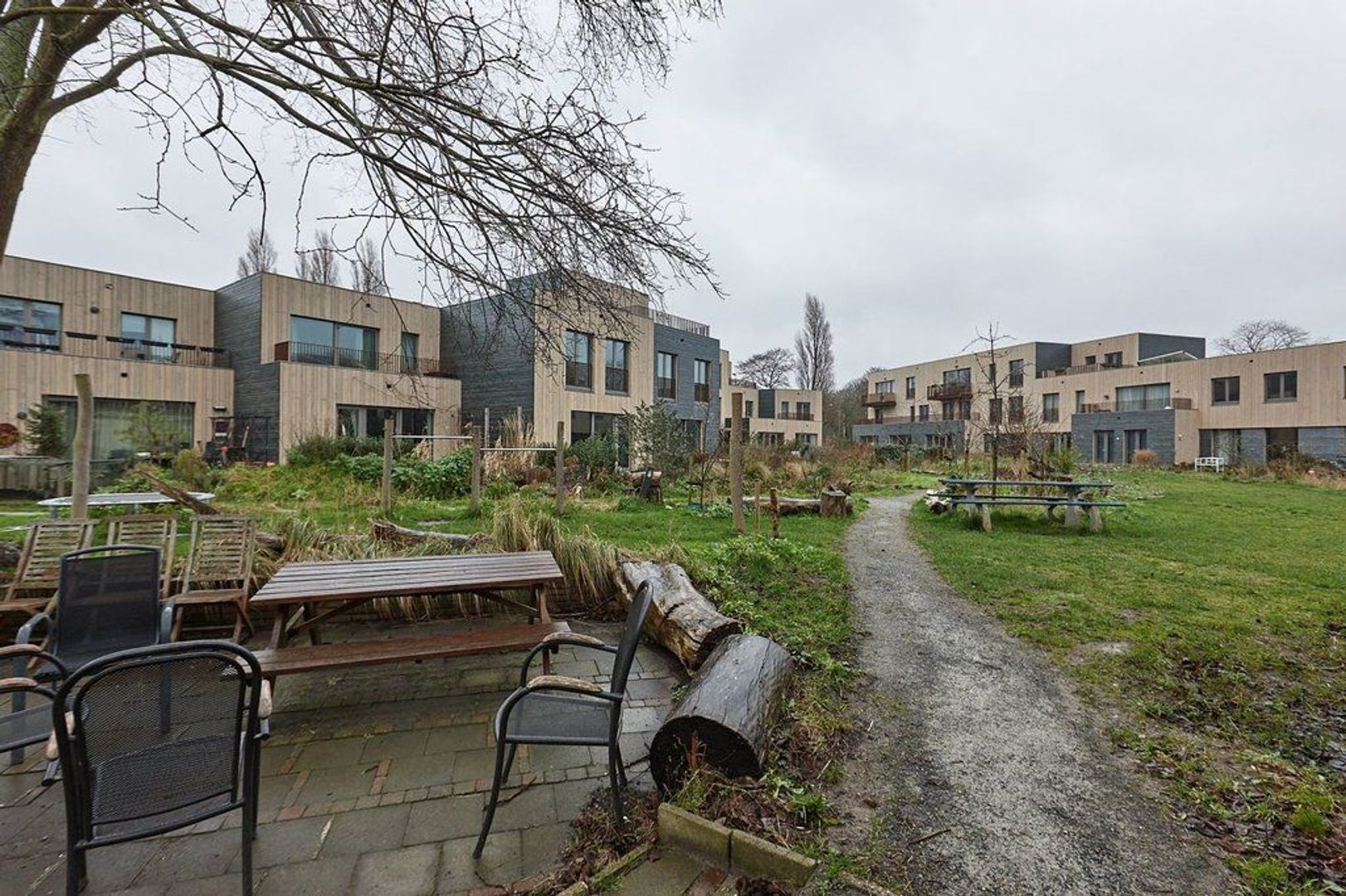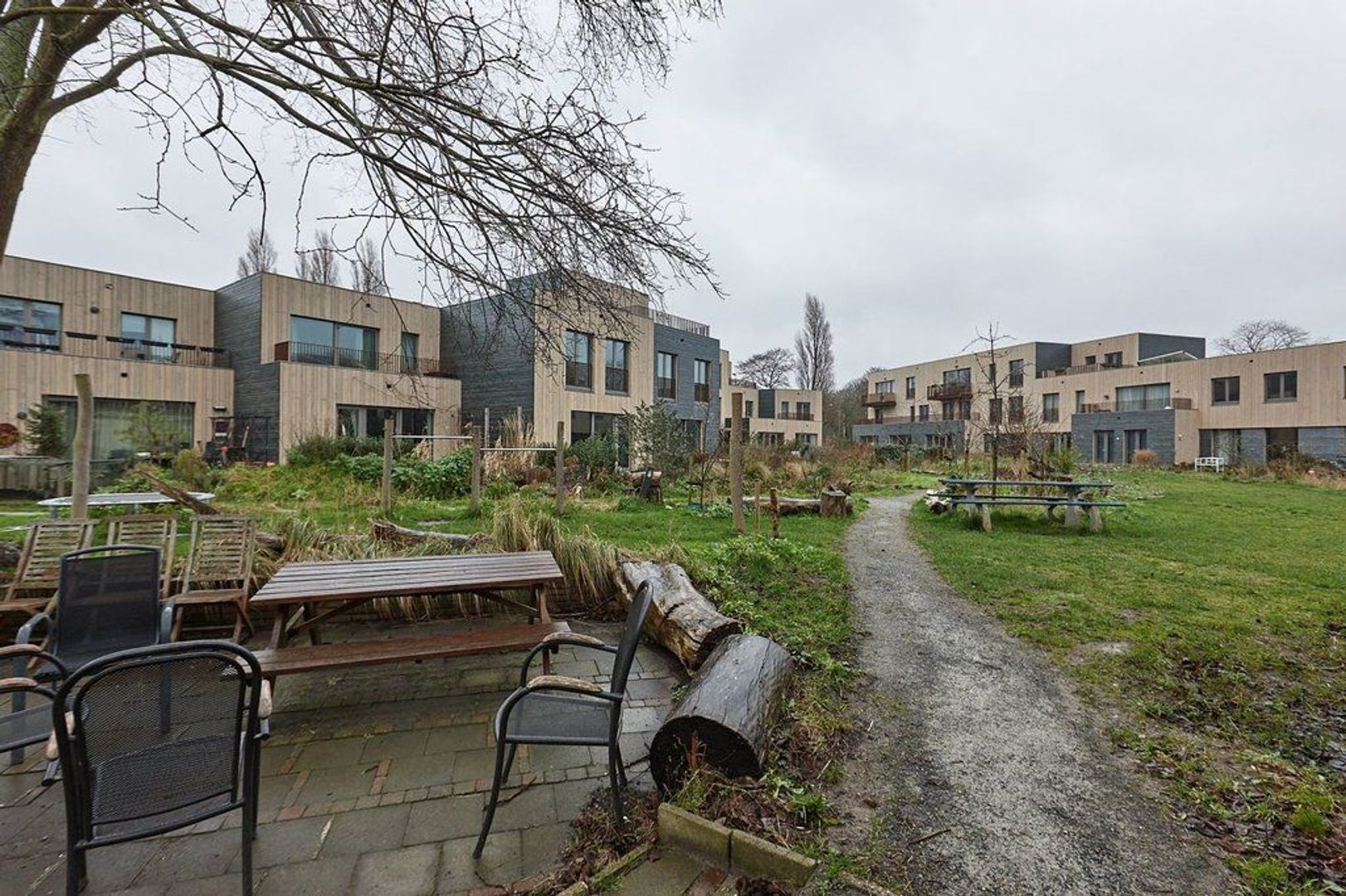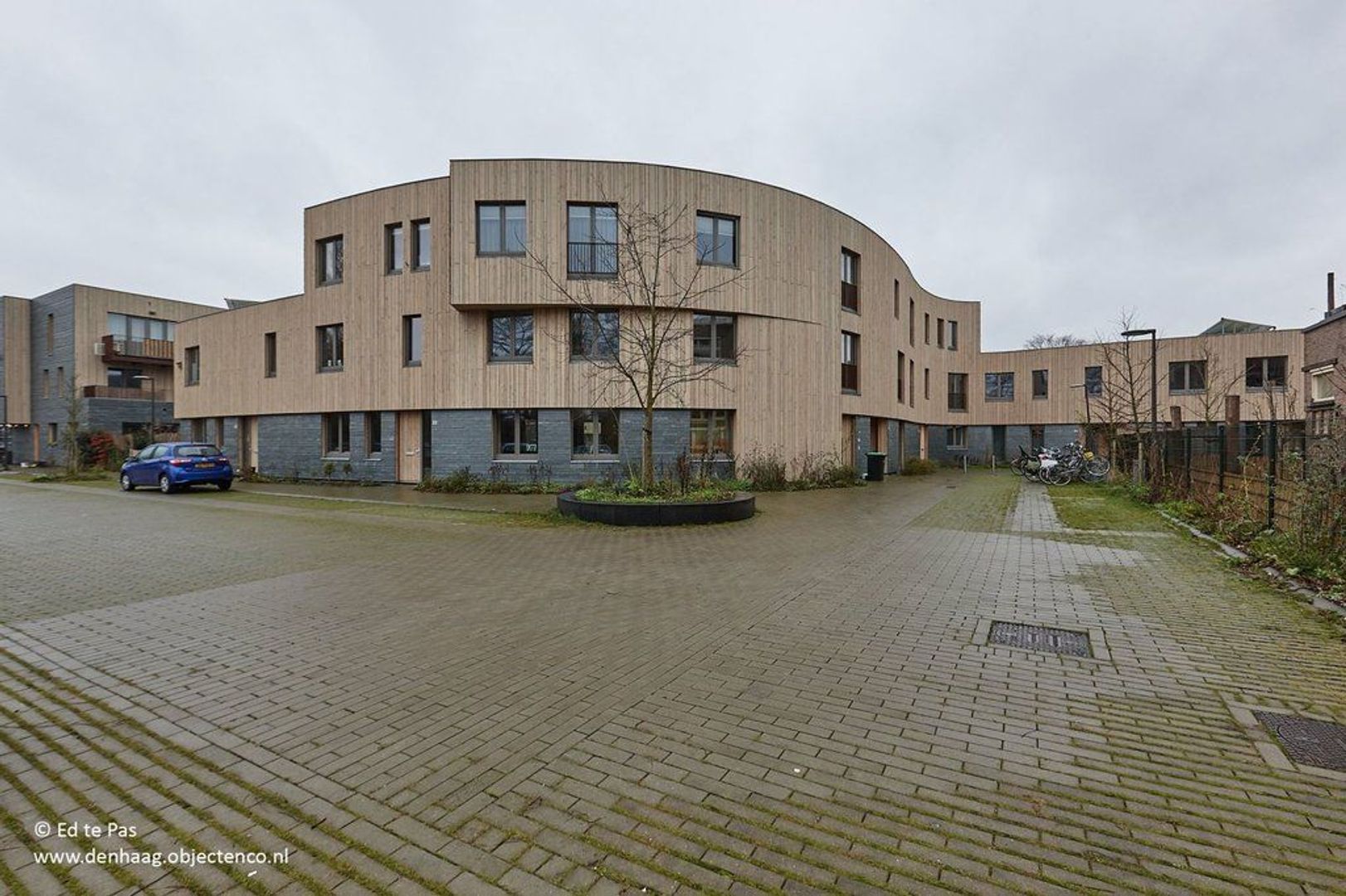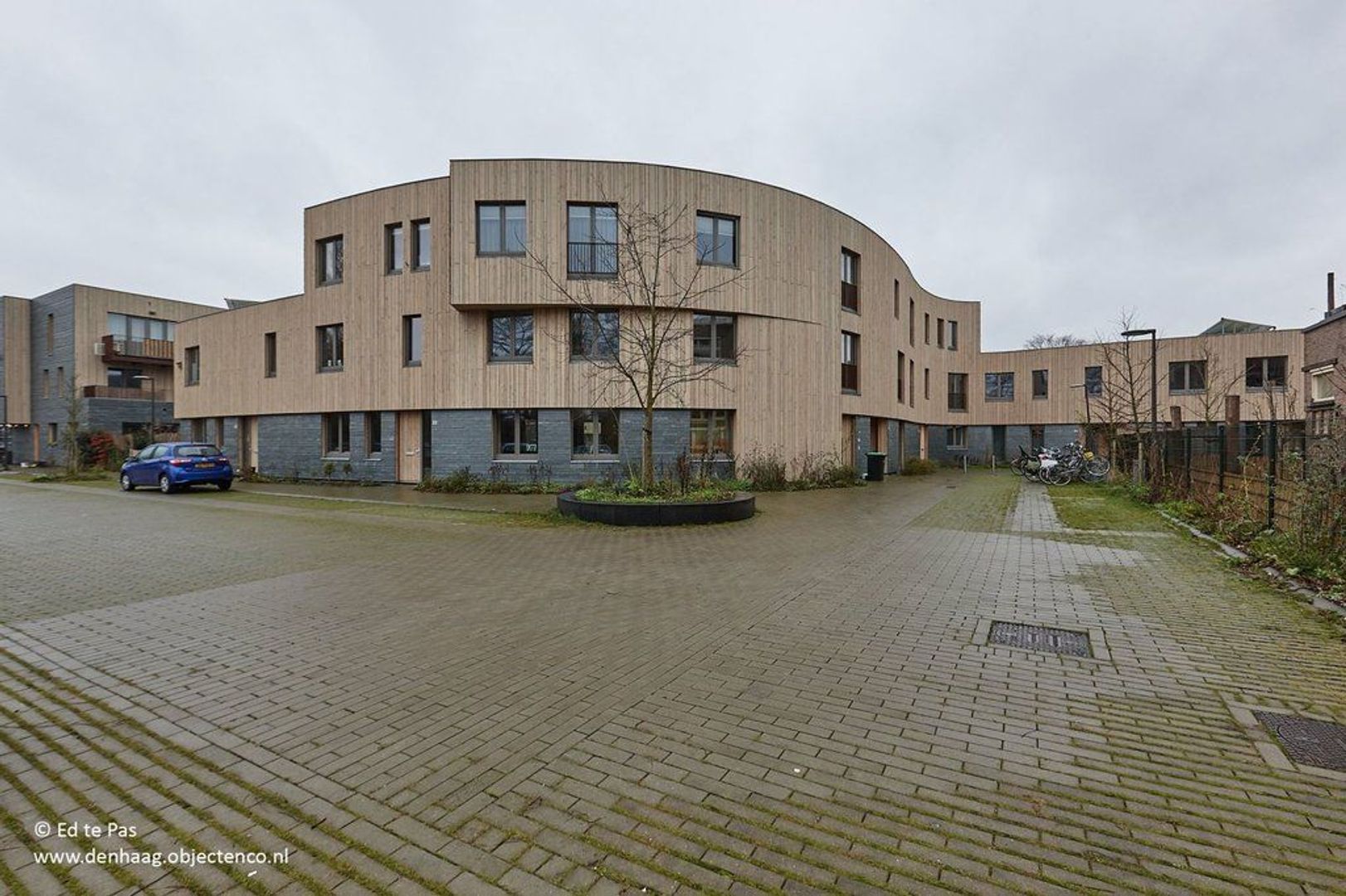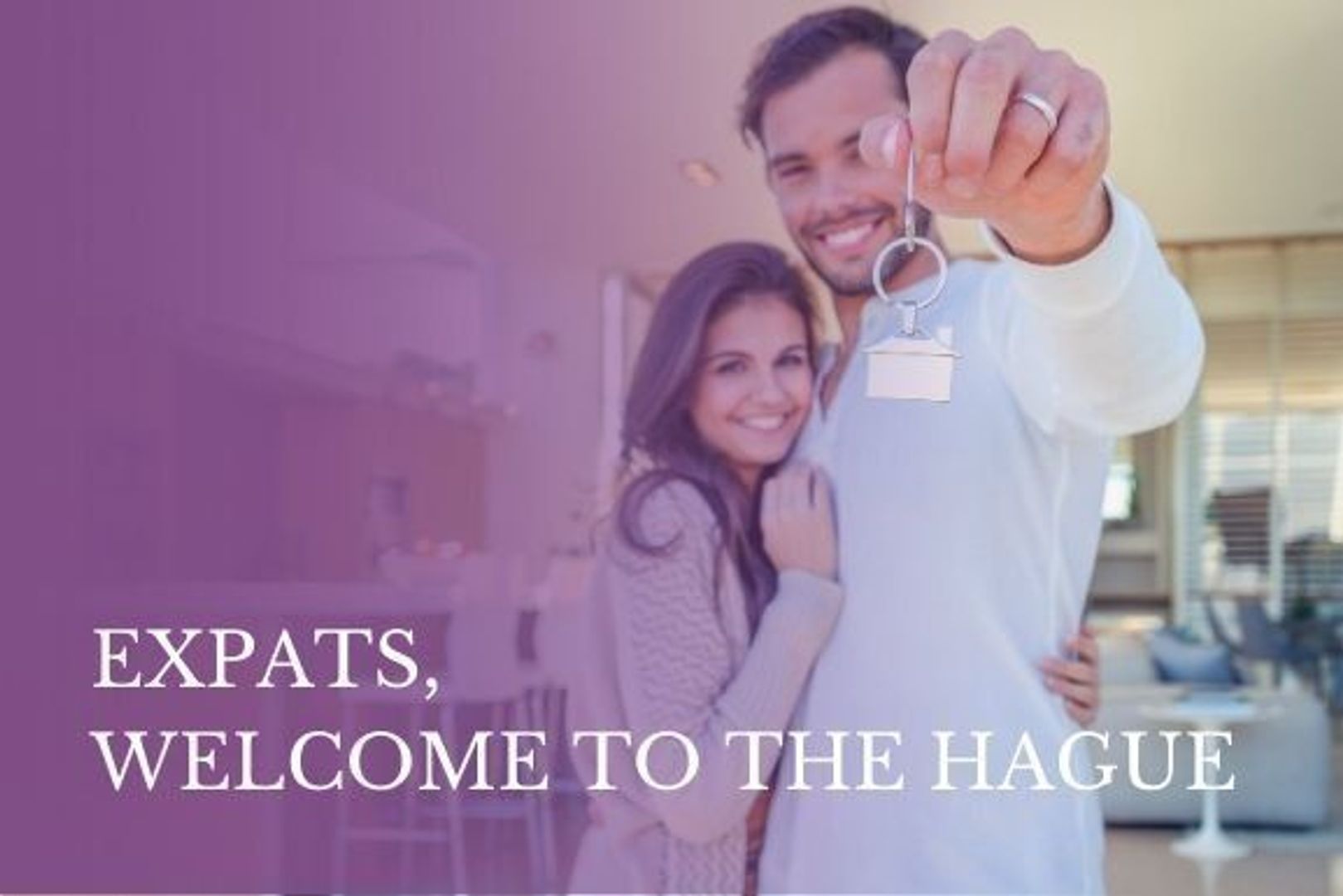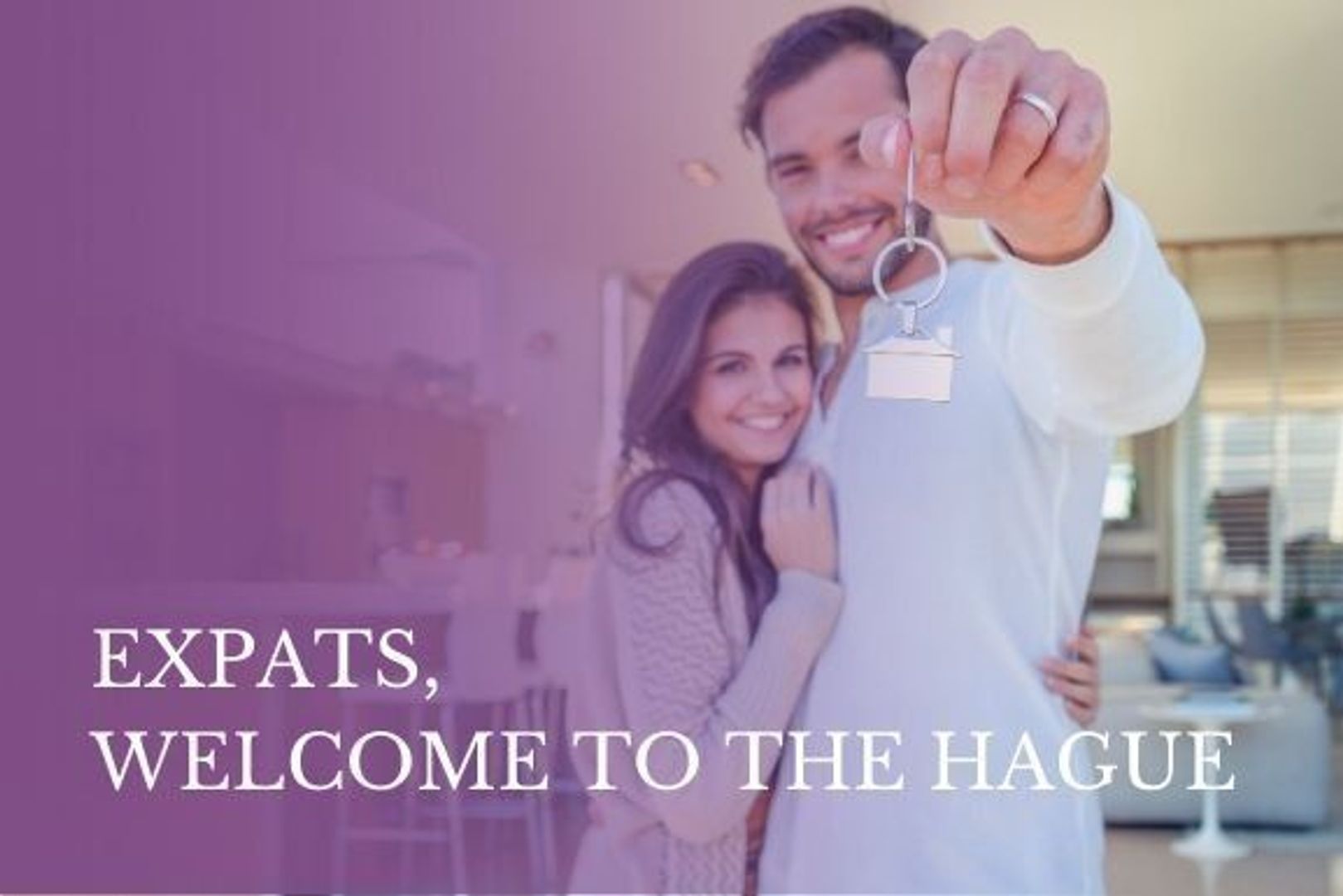 vermietet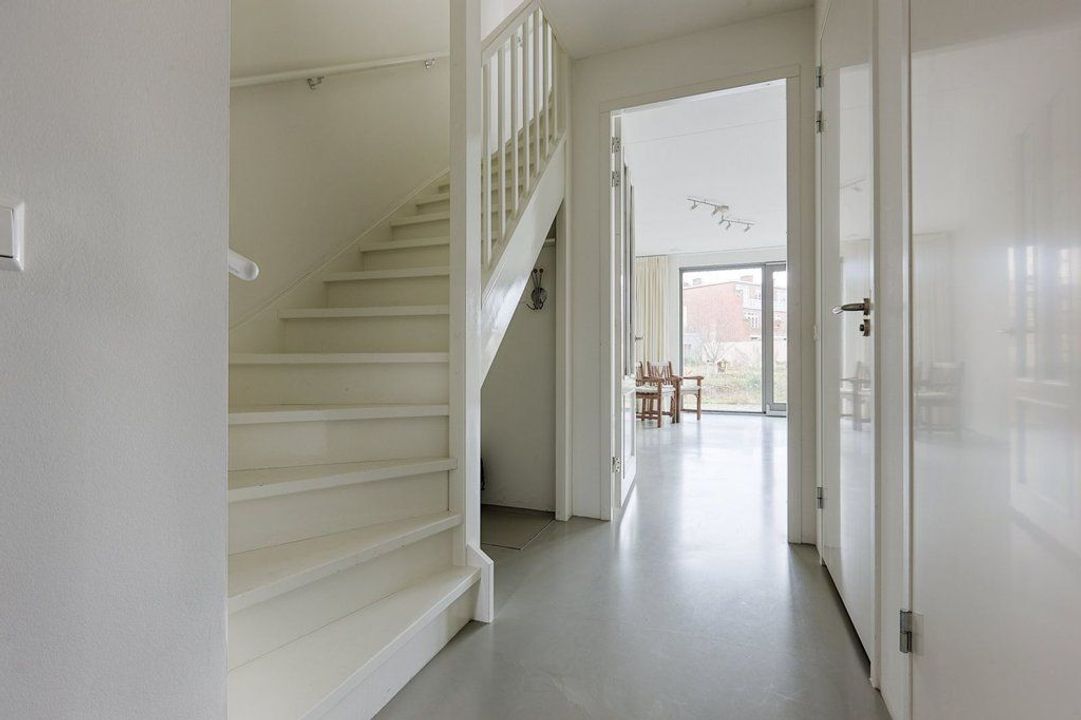 31 Fotos ansehen
Bist du interessiert?
Kontaktiere uns. Gerne geben wir weitere Informationen oder vereinbaren einen Besichtigungstermin.
Beschreibung
(English text below)

In de gezellige, populaire Vruchtenbuurt bevindt zich deze moderne eengezinswoning (2017) van ca. 135m2 met een ruime woonkamer met half open keuken, maar liefst 5 slaapkamers, een tuin op het zuiden en een heerlijk dakterras.

Dit is werkelijk een unieke kans om te wonen in een prachtige woning die deel uitmaakt van een sociale en duurzame community van 33 verschillende woningen, dat architectonisch fraai vormgegeven is met natuurlijke en duurzame materialen zoals hout en leisteen. Dankzij de zonnepanelen en een warmtepomp zijn er lage, dan wel geen energiekosten. Tussen de woningtuinen ligt een geweldige gemeenschappelijke tuin waar kinderen veilig kunnen spelen, deze wordt gezamenlijk onderhouden door bewoners. Er is ook een gemeenschappelijke ruimte waar bewoners gebruik van kunnen maken voor bijvoorbeeld bijeenkomsten en partijen.

Locatie:
De woning bevindt zich in de zeer populaire Vruchtenbuurt. De gezellige Vlierboomstraat en Appelstraat met een variëteit aan winkels en lunchrooms liggen op loopafstand en ook het winkelcentrum Savornin Lohmanplein is snel te bereiken. Zowel het Zuiderstrand als het centrum van Den Haag zijn met de fiets binnen een kwartier te bereiken. Dankzij de nabijheid van bus 21 en tram 2 en 3 is het reizen in en rondom en Den Haag makkelijk en snel.

Indeling:
Entree, hal die toegang biedt tot alle vertrekken op de begane grond.

Heerlijke, ruime woonkamer met veel natuurlijk licht en een schuifpui die toegang biedt tot de tuin (zuid) van ca 40m2.
De moderne, half open keuken beschikt over inductiekookplaat met afzuigkap, combi-oven, vaatwasser en koelkast met vriesvak.
In de hal bevindt zich een separaat zwevend toilet met fonteintje en een garderoberuimte onder de trap. Ook de opstelplaats van de warmtepomp bevindt zich in de hal.

Trap naar eerste verdieping.
Op deze verdieping bevinden zich 4 slaapkamers waarvan 2 zeer ruime slaapkamers. Zowel 1 slaapkamer aan de voorkant als 2 slaapkamers aan de achterkant van de woning beschikken over een Frans balkon.
De moderne badkamer is ruim opgezet en beschikt over een inloopdouche, wastafel, badkamerkast en vloerverwarming.

Separaat zwevend toilet met fonteintje.

Trap naar de tweede verdieping.
De ruime kamer op de tweede verdieping kan gebruikt worden als bijvoorbeeld slaapkamer, gastenkamer of studeer/hobbykamer. Deze ruime kamer biedt via een schuifpui toegang tot het zonnige terras van ca. 20 m2.

Bijzonderheden:
- Woonoppervlak ca 135 m2
- Tuin ca 40 m2
- Dakterras ca 20 m2
- Volledig voorzien van prachtige gietvloeren
- Volledig voorzien van vloerverwarming
- Volledig voorzien van 3-dubbele beglazing
- Ecologische en duurzame woning voorzien van zonnepanelen
- Beschikt over een warmtepomp die zorgt voor verwarming in de winter en verkoeling in de zomer
- Gemeenschappelijke tuin en gemeenschappelijke ruimte, goede onderlinge betrokkenheid tussen de
bewoners van het project
- Op de gemeenschappelijke parkeerplaats is ruimte voor één auto
- Geweldige locatie
- Meer informatie over het project: www.groenemient.nl (vertaalknop rechtsboven op de site)
- Huurprijs € 2.250,- p.m. excl.
- Per direct beschikbaar

**********************************************************************************
In the lively , popular Vruchtenbuurt you will find this modern family home (2017) of approx.135 m2 with a spacious living room with half open kitchen, 5 bedrooms, a south-facing garden and a lovely roof terrace.

This is truly a unique opportunity to live in a beautiful property which is part of a social and sustainable community of 33 different properties. It has been architecturally beautifully designed with natural and sustainable materials such as wood and slate. Due to the solar panels and a heat pump, there are low or no energy costs. Between the private gardens a great communal garden has been realised where children can play safely. This garden is jointly maintained by residents. There is also a common area which residents can use for private meetings and parties.

Location:
The property is located in the very popular Vruchtenbuurt. The lively Vlierboomstraat and Appelstraat with a variety of shops and lunchrooms are within walking distance and the Savornin Lohmanplein shopping center can also be reached quickly. Both Zuiderstrand and the center of The Hague can be reached within 15 minutes by bike. Due to the proximity of bus 21 and tram 2 and 3, traveling in and around and The Hague is easy and fast.

Layout:
Entrance, hall which provides access to all rooms on the ground floor. Lovely, spacious living room with a lot of natural light. A sliding door provides access to the garden (south) of approx. 40 m 2.
The modern, half open kitchen has an induction stove with extractor hood, combi-oven, dishwasher and refrigerator with freezer compartment.
The separate toilet with hand basin can be found in the hall and, there is also a wardrobe under the stairs. The heat pump is also located in the hall.

Stairs to first floor.
There are 4 bedrooms on this floor, of which 2 are very spacious. Both 1 bedroom at the front and 2 bedrooms at the rear of the property have French balconies.
The modern bathroom has a spacious lay-out and is fitted with a walk-in shower, washbasin, bathroom cabinet and underfloor heating.
Separate toilet with hand basin.

Stairs to the second floor.
The spacious room on the second floor can be used as a bedroom, guest room or study / hobby room. This spacious room offers access to the sunny terrace of approx. 20 m2 through a sliding door.

Features include:
- Living area approx. 135 m2
- Garden approx. 40 m2
- Roof terrace approx. 20 m2
- Fully equipped with beautiful cast floors
- Fully equipped with underfloor heating
- Fully equipped with triple glazing
- Ecological and sustainable property with solar panels
- Equipped with heat pump which provides heating in the winter and cooling in the summer
- Common garden and common room, mutual involvement between the residents of the project
- Parking space for one car in the communal parking area
- Great location
- More information about the project: groenemient.nl (translation button at the top right corner)
- Rent € 2.250,- p.m. ex.
- Available immediately
Details
Transfer

Preis

€ 2.250 p.M.

Dekor

Dekoriert

Status

vermietet

Lieferung

sofort
Bau
Wohnungen Typ

einzelne Familie, Terrassenhaus

Art des Aufbaus

Bestehend

Baujahr

2017

Wartung in

exzellent

Wartung außen

exzellent
Oberflächen und Inhalte
Wohnfläche

135m²

Inhalt

400m³
Format-Eigenschaft
Zimmer

6

Schlafzimmer

5

Badezimmer

1

Etagen

3
Energie
Энергия

A

Isolierung

Dachisolation, Wandisolation, Bodenisolation, vollständig isoliert, triple_glazed

Heißes Wasser

Zentralversorgung
Außenbereiche
Lage

in Wohngebiet, geschützte Lage

Garten

Hinterhof, sun_terrace

Hinterhof

Süden, 40m², 700×600cm

Scheune

Freistehend Holz
Staßenansicht
Kartenansicht
Transportmittel wählen
Maximale Reisezeit
Ergebnisse anzeigen
Geben Sie an, welche Sonderziele Sie auf der Karte anzeigen möchten.
Wählen Sie Ihre Sehenswürdigkeiten
Schule
Arzt
Apotheke
Restaurant
Fitnessstudio
Transportmittel
Supermarkt
Krankenhaus
Kirche
Zahnarzt
Kino
Friseur
Ergebnisse anzeigen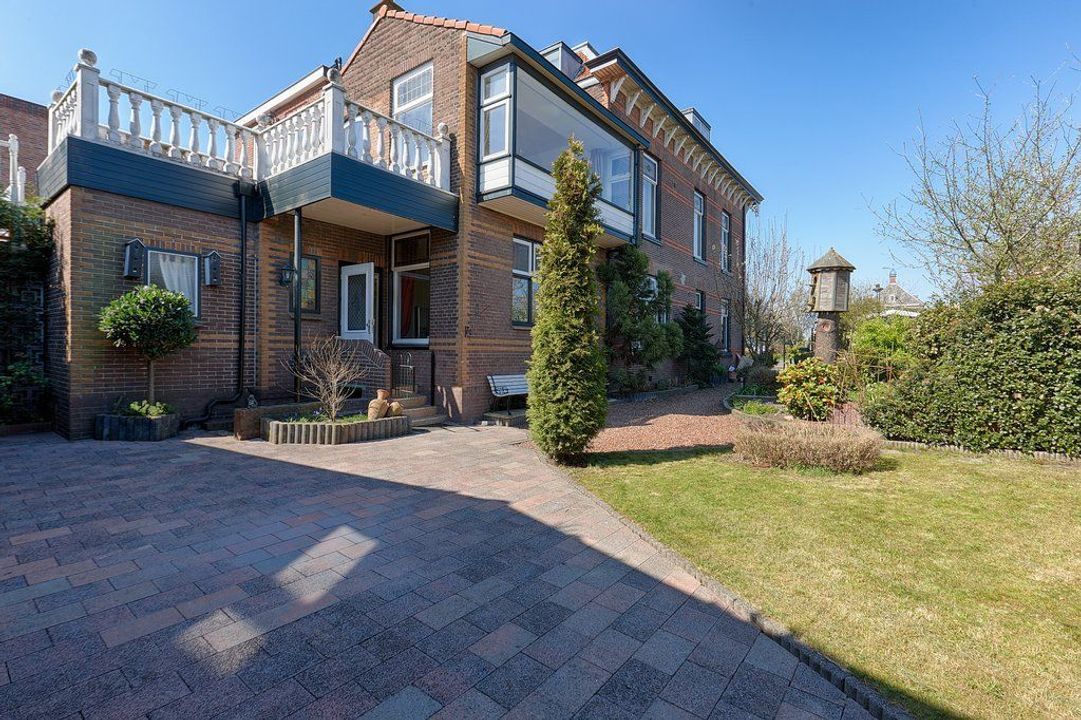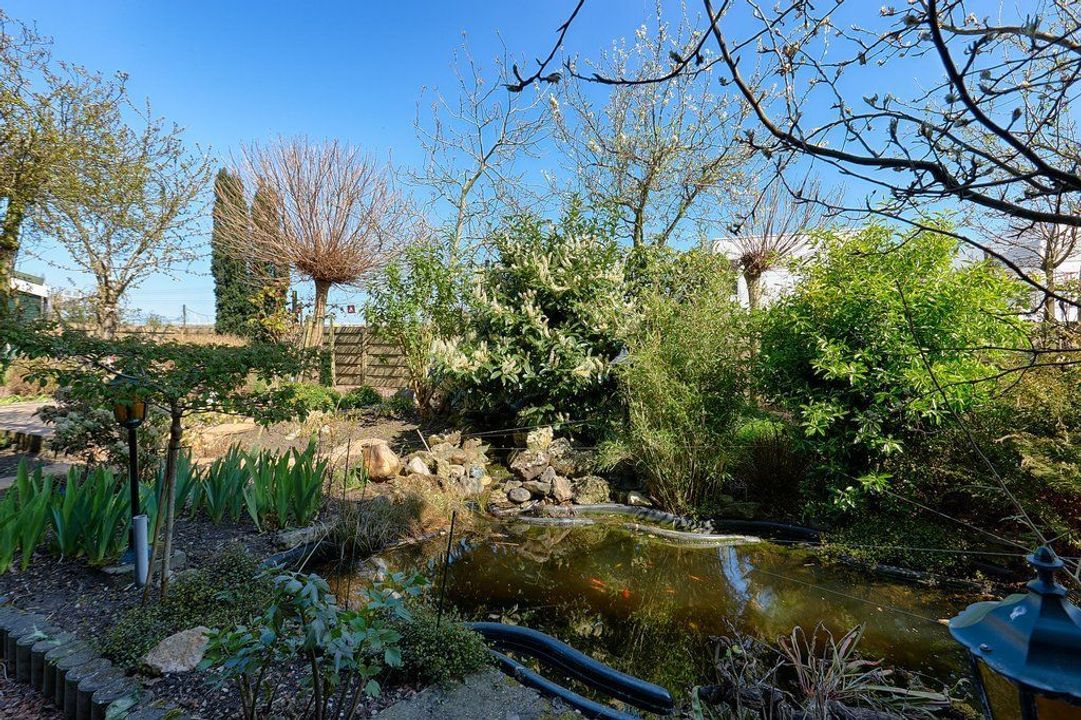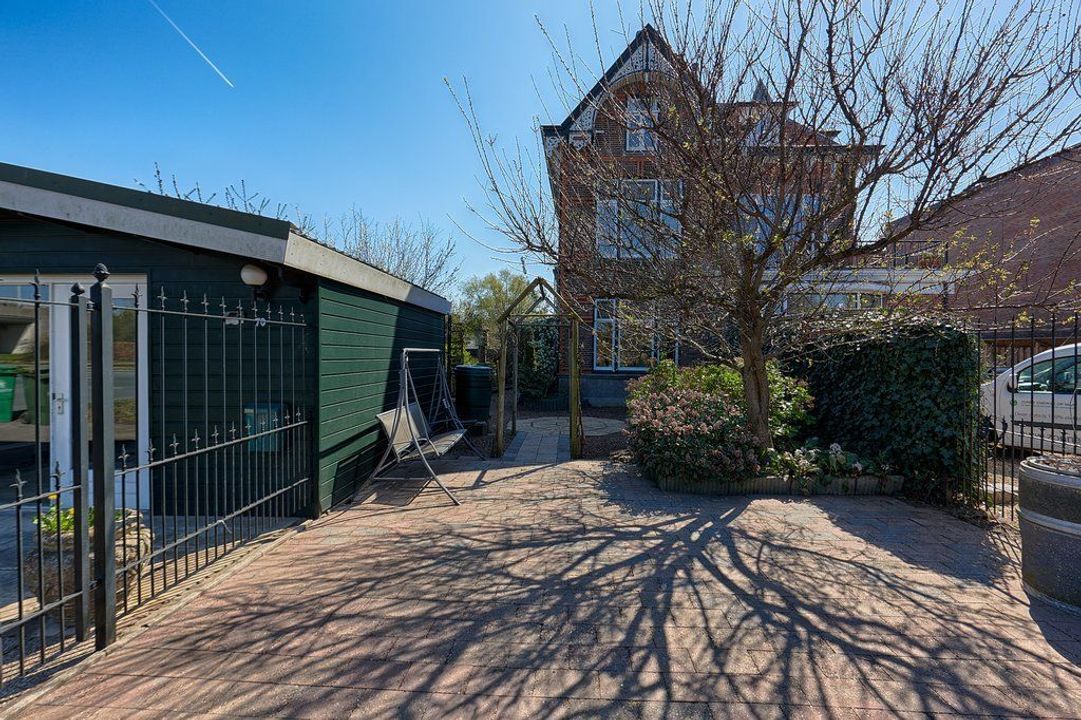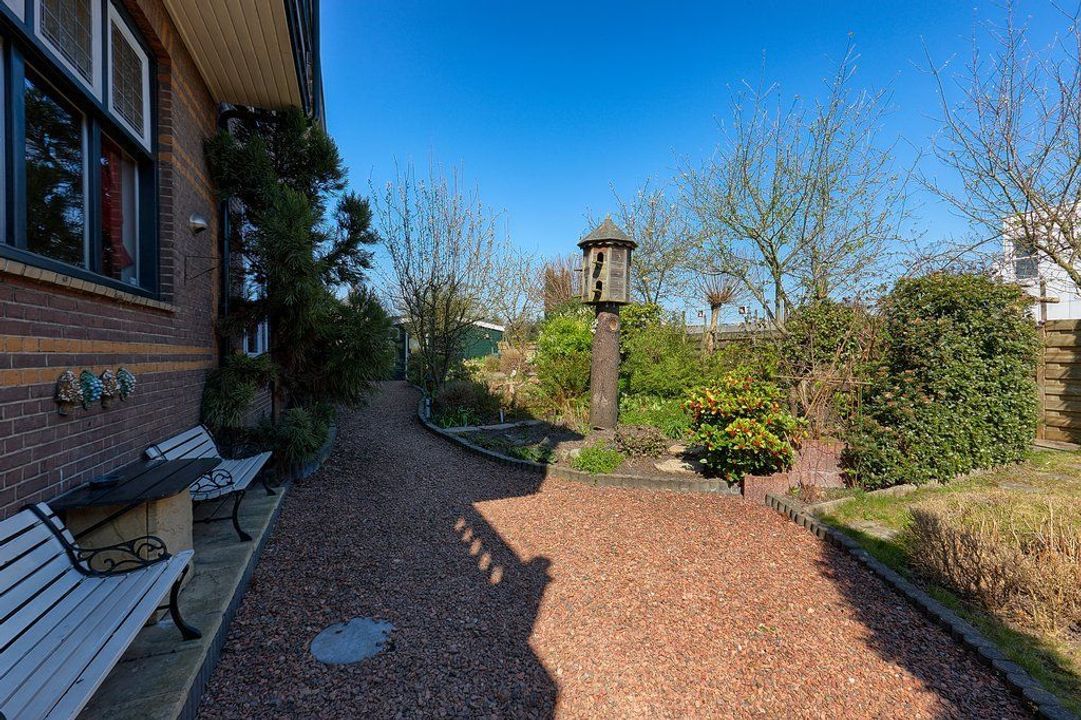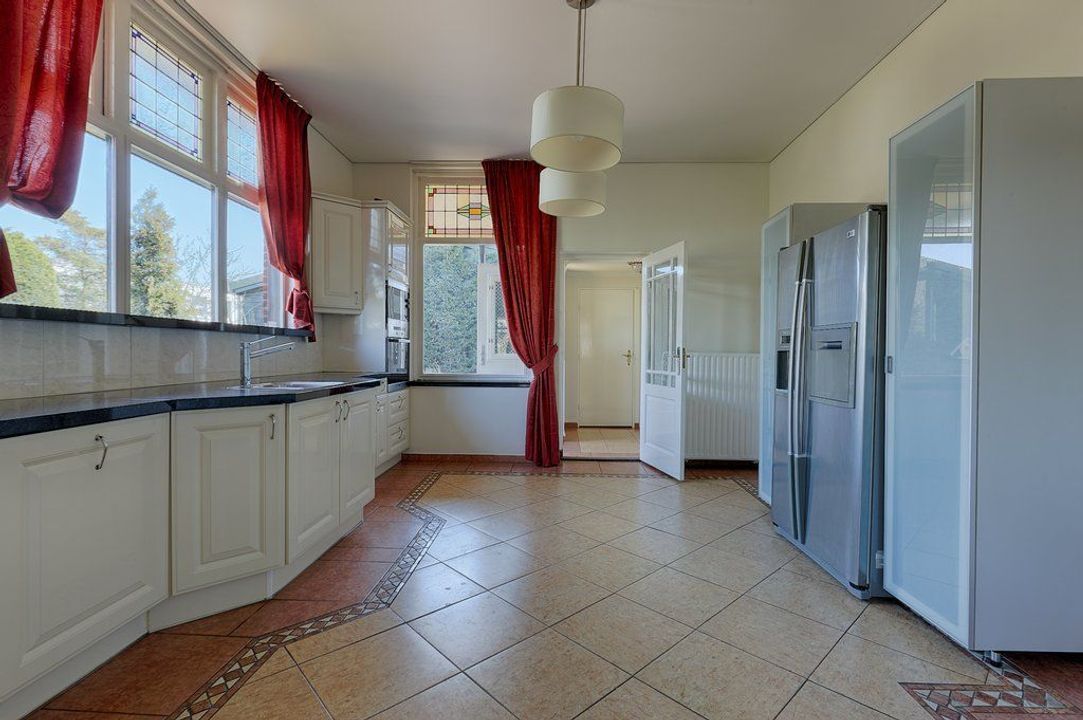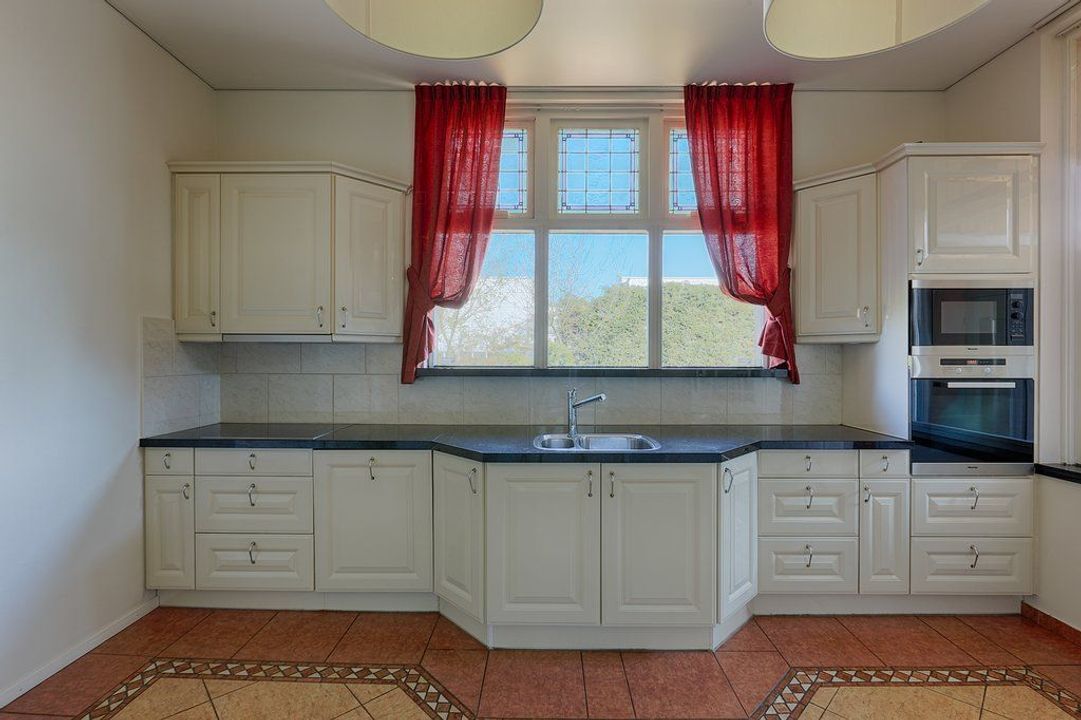 vermietet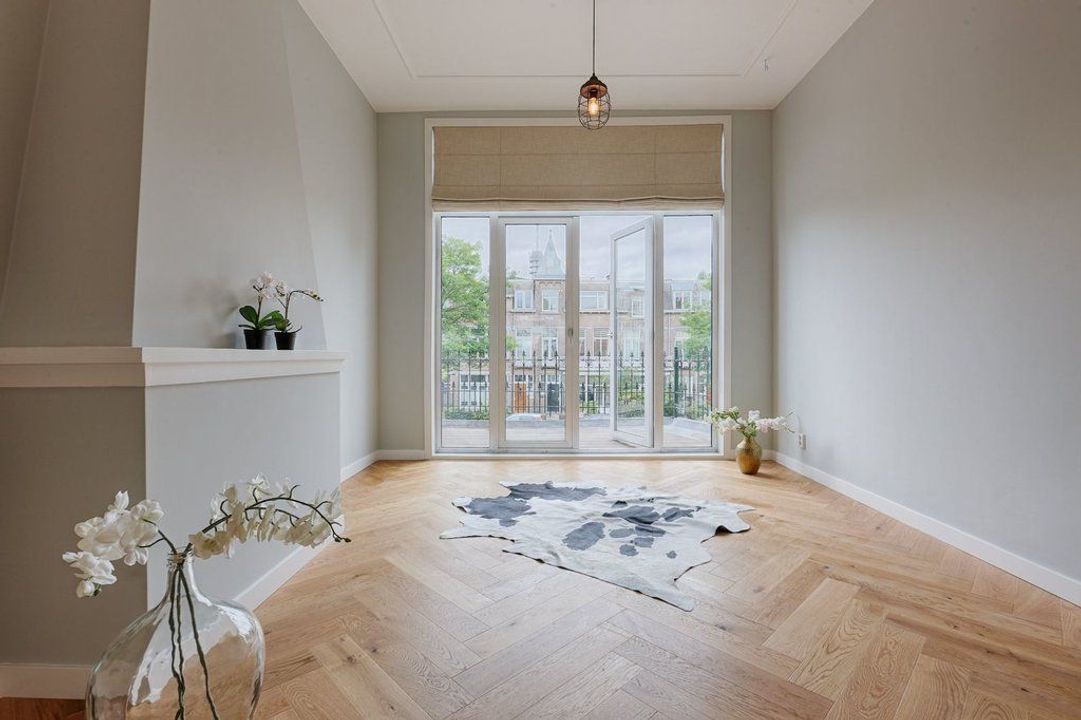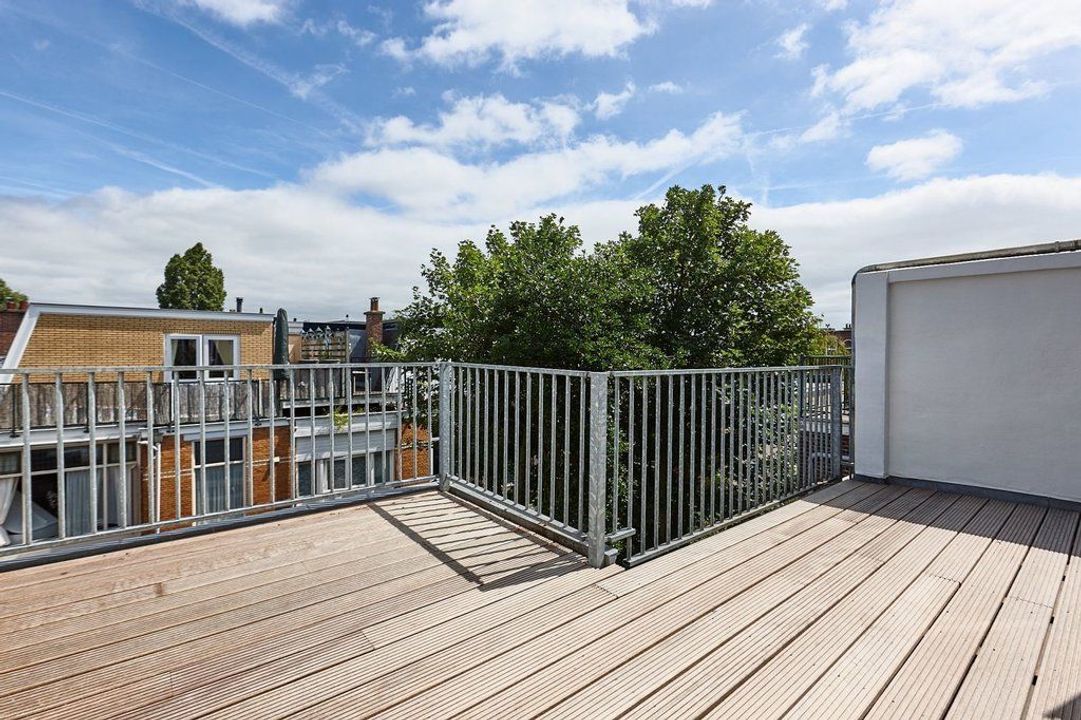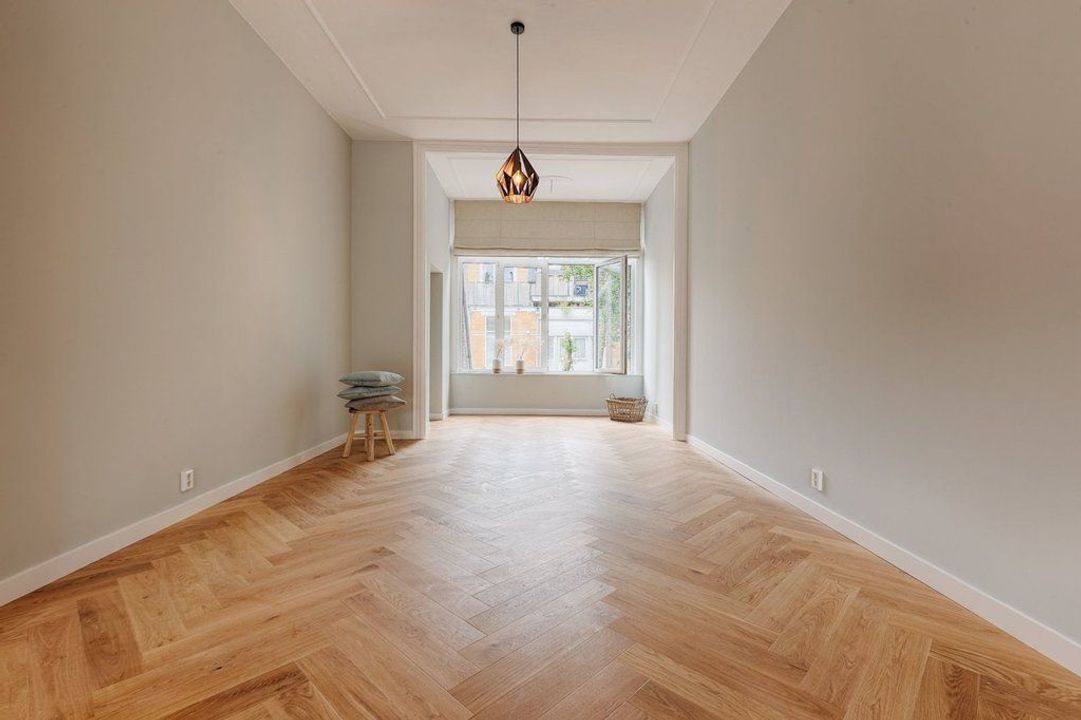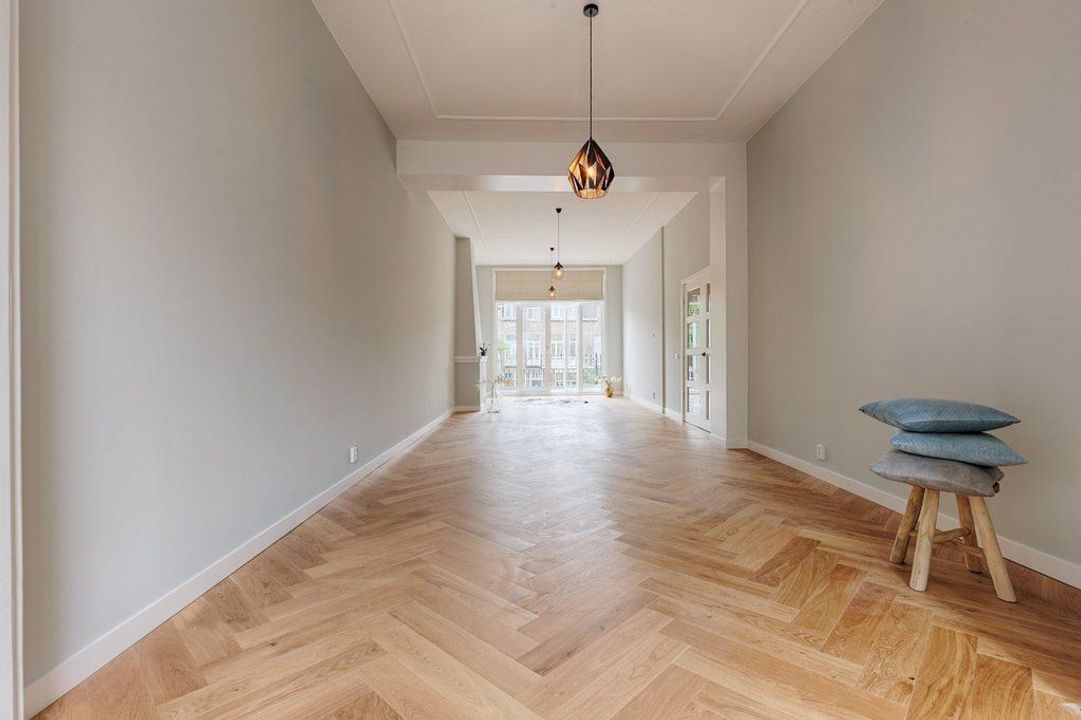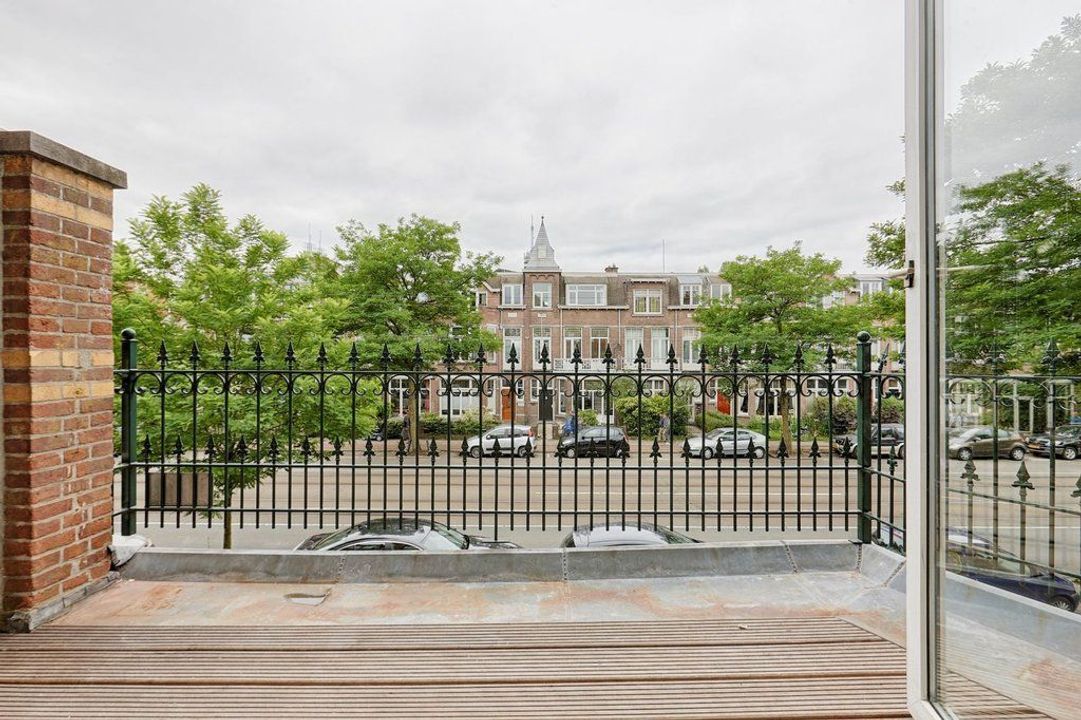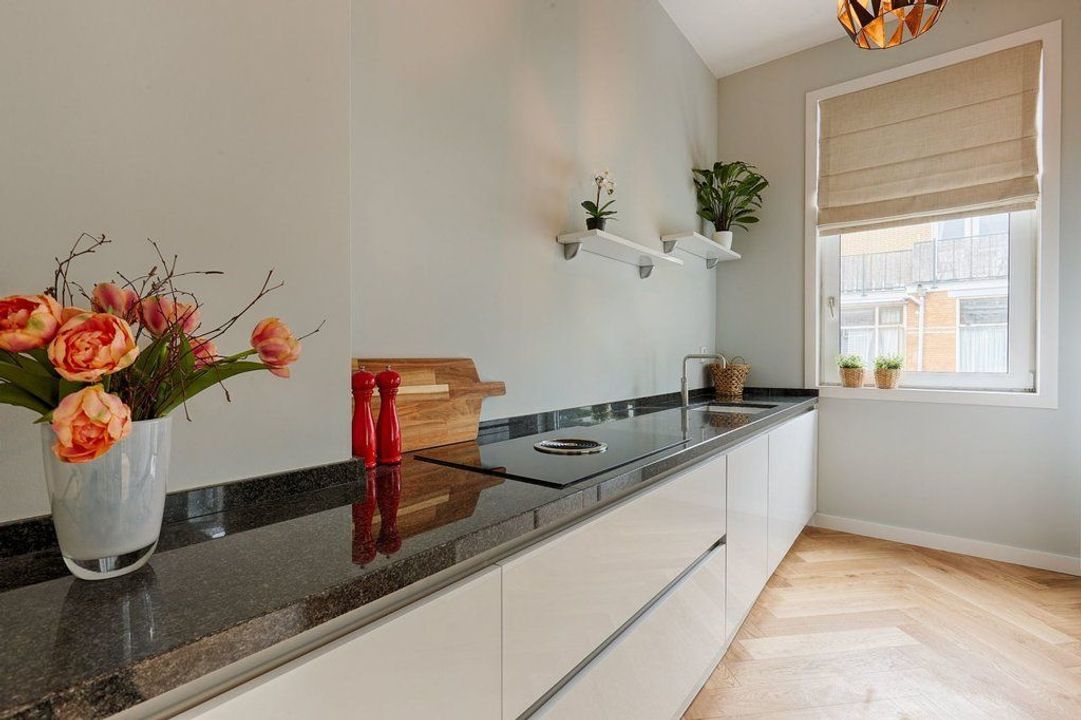 vermietet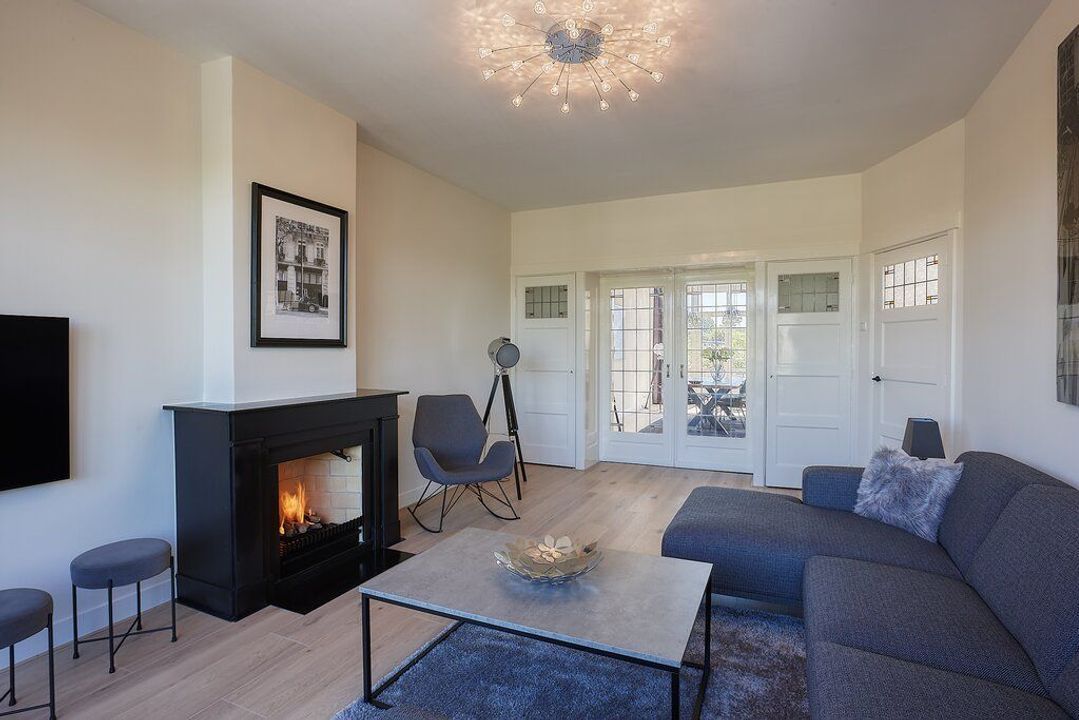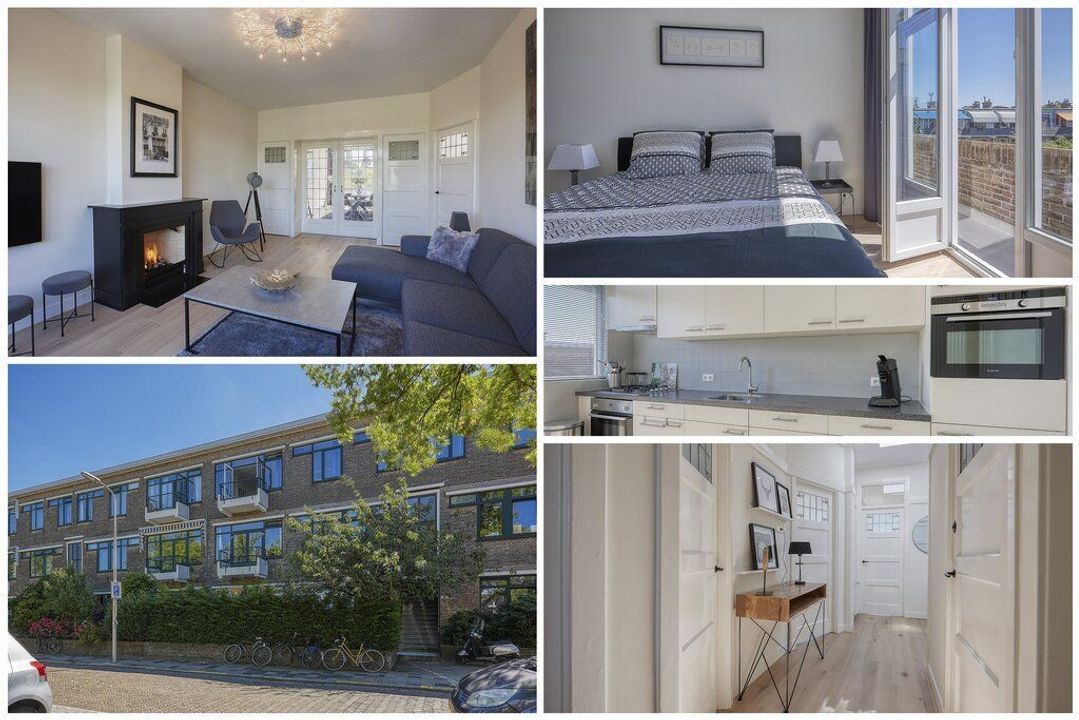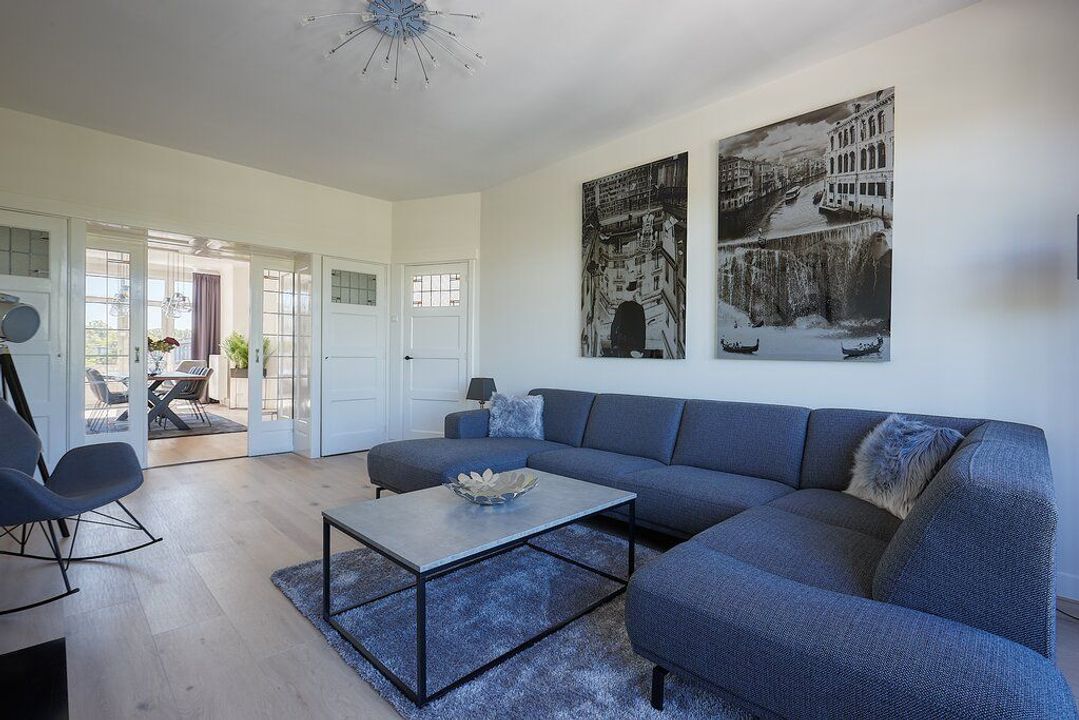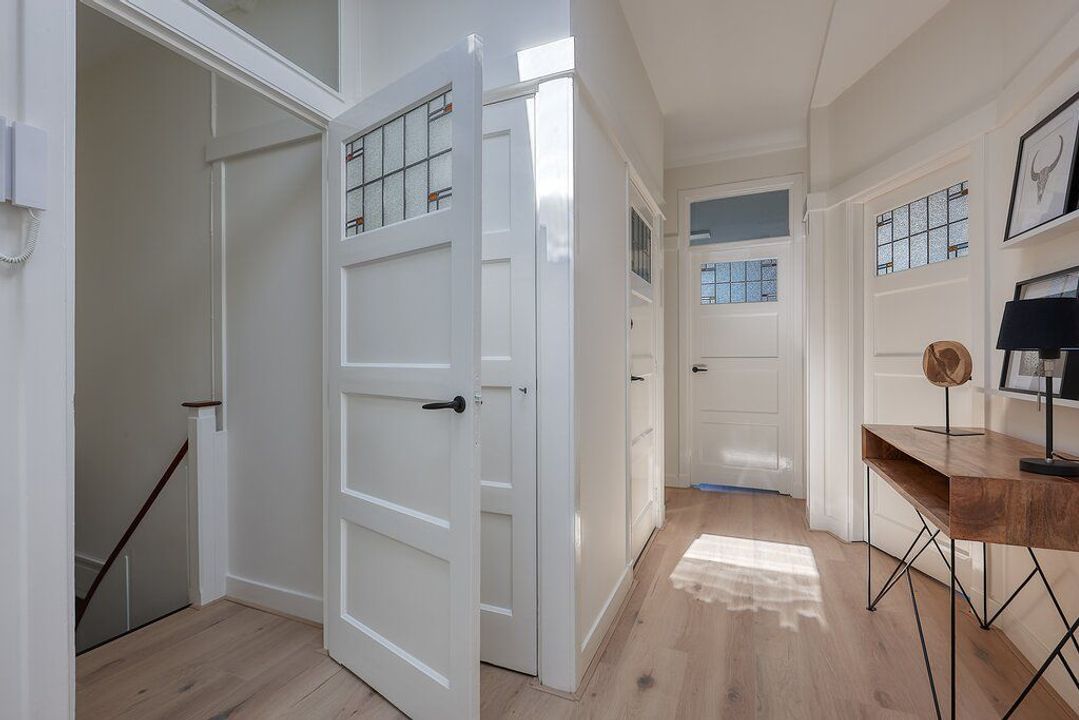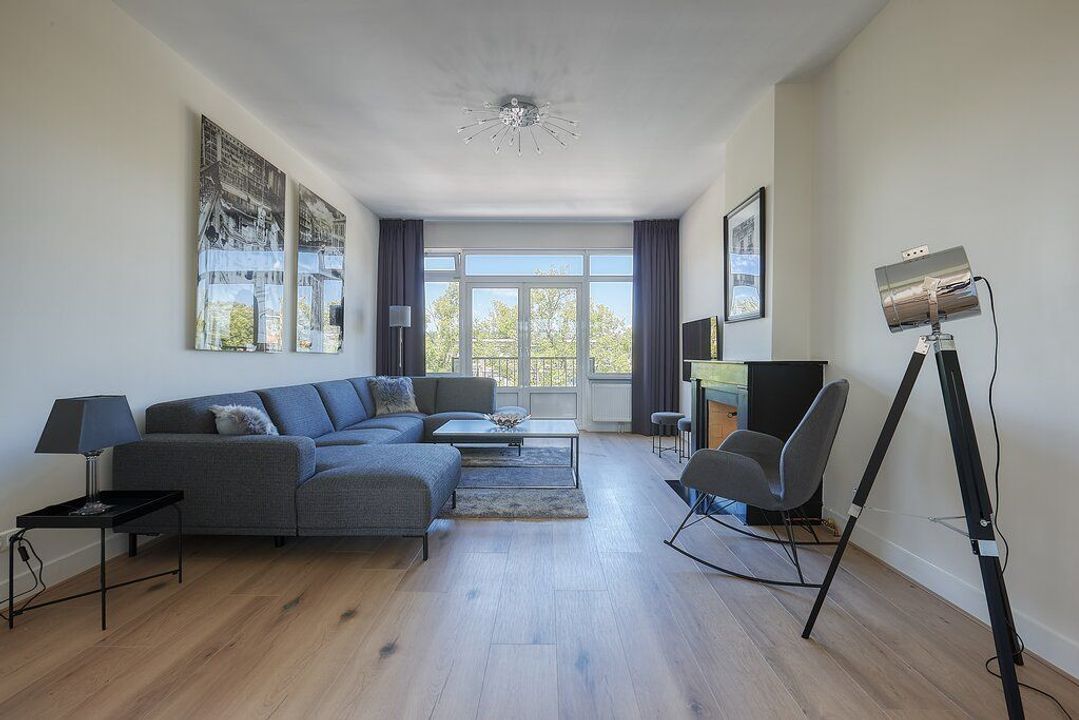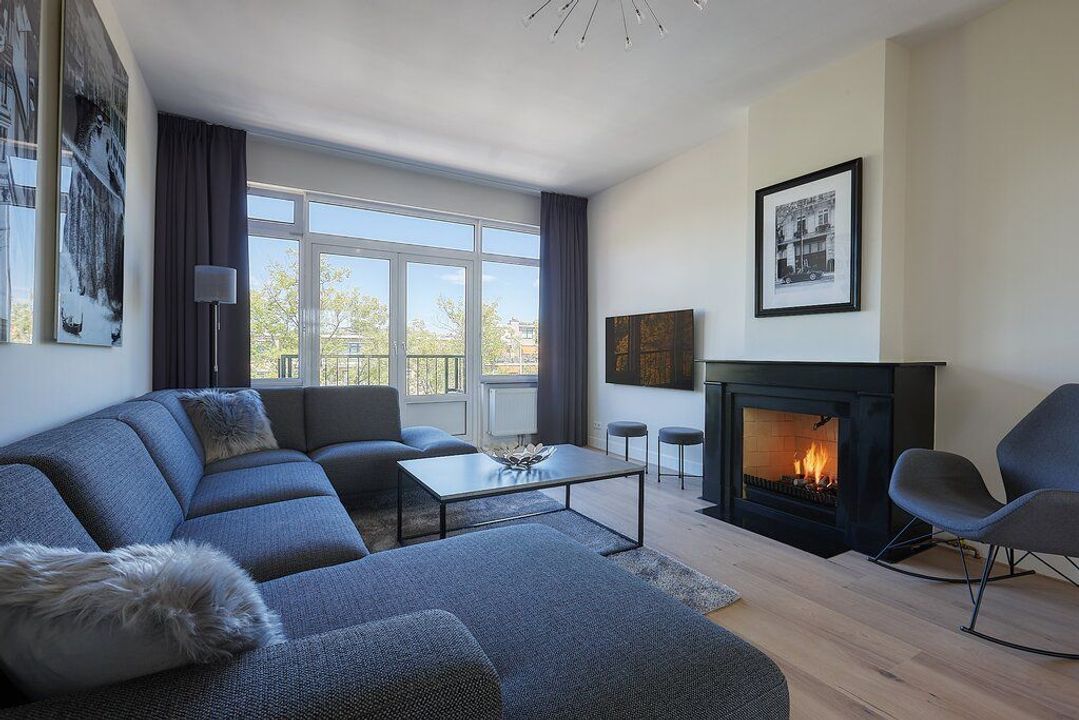 vermietet